This project is located within the Bennett Building on main campus, a 1960's concrete structured ground scraper of 7 floor levels, which is locally listed. The project comprised the re-planning and interior renewal of two auditorium lecture theatres, configured in a stacked and staggered interconnected layout at lower ground and 
ground floor levels. 
The lecture halls comprise of two capacious linked concrete void spaces holding around 450 seats, requiring a complete rethink for functionality, layout, acoustic separation and room modelling, audio visual and comfort condition servicing. The interiors are developed to provide a wow factor, delivering state of the art live lecture, lecture capture and broadcast facility auditorium lecture theatres with high quality environmental comfort, enabling them to become the primary lecture and public speaking lecture facility on main campus.
The Lecture Theatres required significant structural alteration to the terrace and stage floors, along with full MEP re-servicing, with new mechanical ventilation service risers taken through four floor levels to an upgraded roof top plant room serving the new lecture theatres and entrance foyer.
Highly creative design solutions were developed to deliver the significant structural and re-servicing challenges of the project, which required to be constructed within an occupied live site building. The design included developing acoustically modeled interiors, audio visual and MEP servicing installations, requiring a high level of co-ordination with the existing building structure. 
The new mechanical ventilation scheme was highly challenging, requiring new riser ducts to roof top plant room routed through occupied floor levels with significant structural and temporary works and layout alterations required.
The design proposals were developed through a BEP controlled BIM process delivered to BIM Level 2 standards, comprising design and construction stage information, which allowed the coordination of the new design with the existing building structure. 
The acoustic interior cladding system comprised a bespoke design with fabric faced and timber slatted panel assemblies, mounted on structural timber frames with built up acoustic lining membranes.
Acoustic and Slatted Panels were manufactured off site, with background support frames constructed onsite. This required a high level of component design co-ordination, and was enabled through the BIM process, coordinating on-site construction of structural support frames with off-site manufactured acoustic cladding panel components. 
This process delivered construction benefits through making available construction quality and highly coordinated information at tender stage, enabling the contractor to appraise the design and building coordination requirements, establishing quality early engagement with the supply chain, for pre start construction planning and early development of shop drawings and contractor team engagement, to inform project deliverables. 
The process comprised of the following BIM information stages controlled through a pre and post contract BEP Plan delivering design, tender and construction information.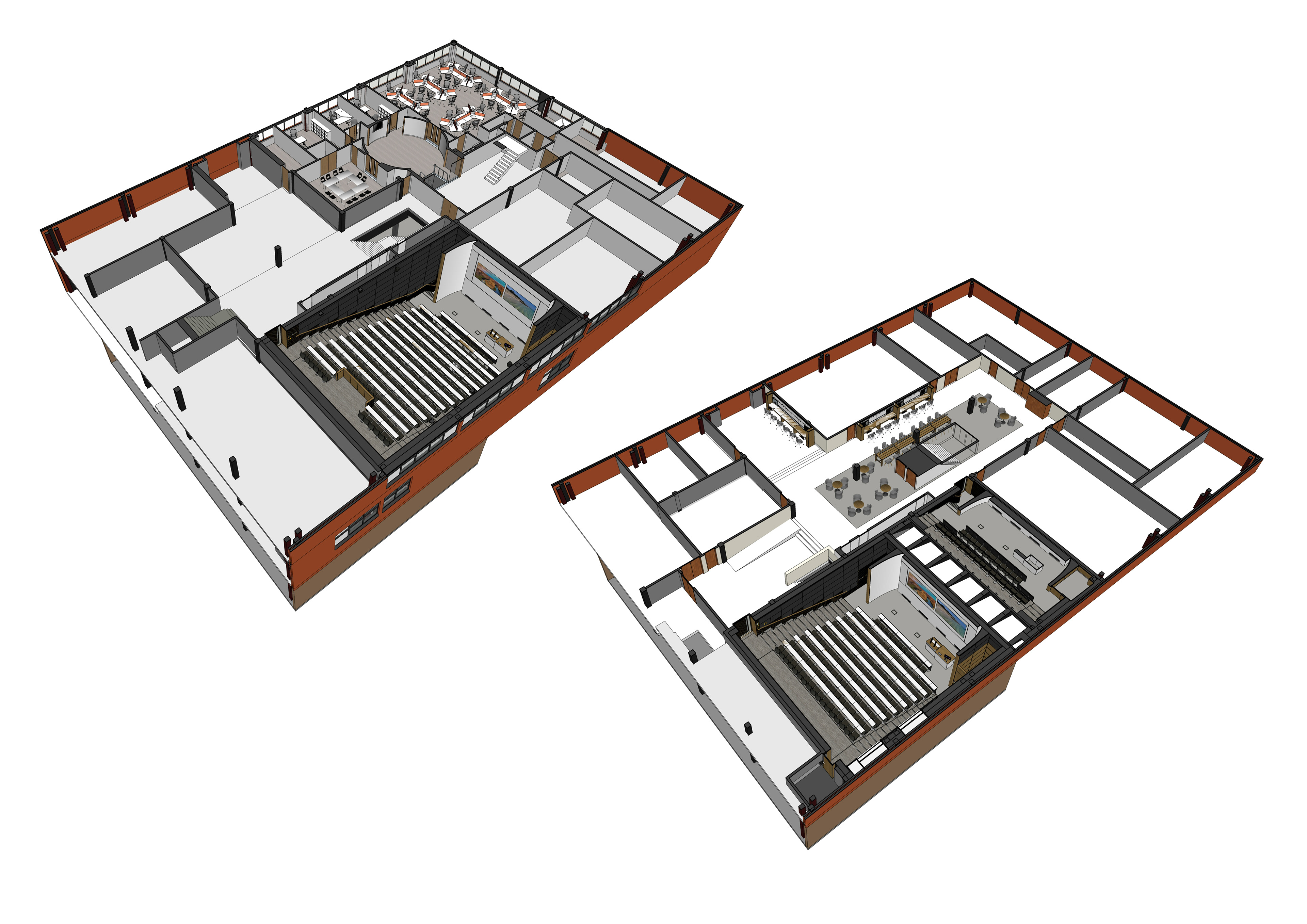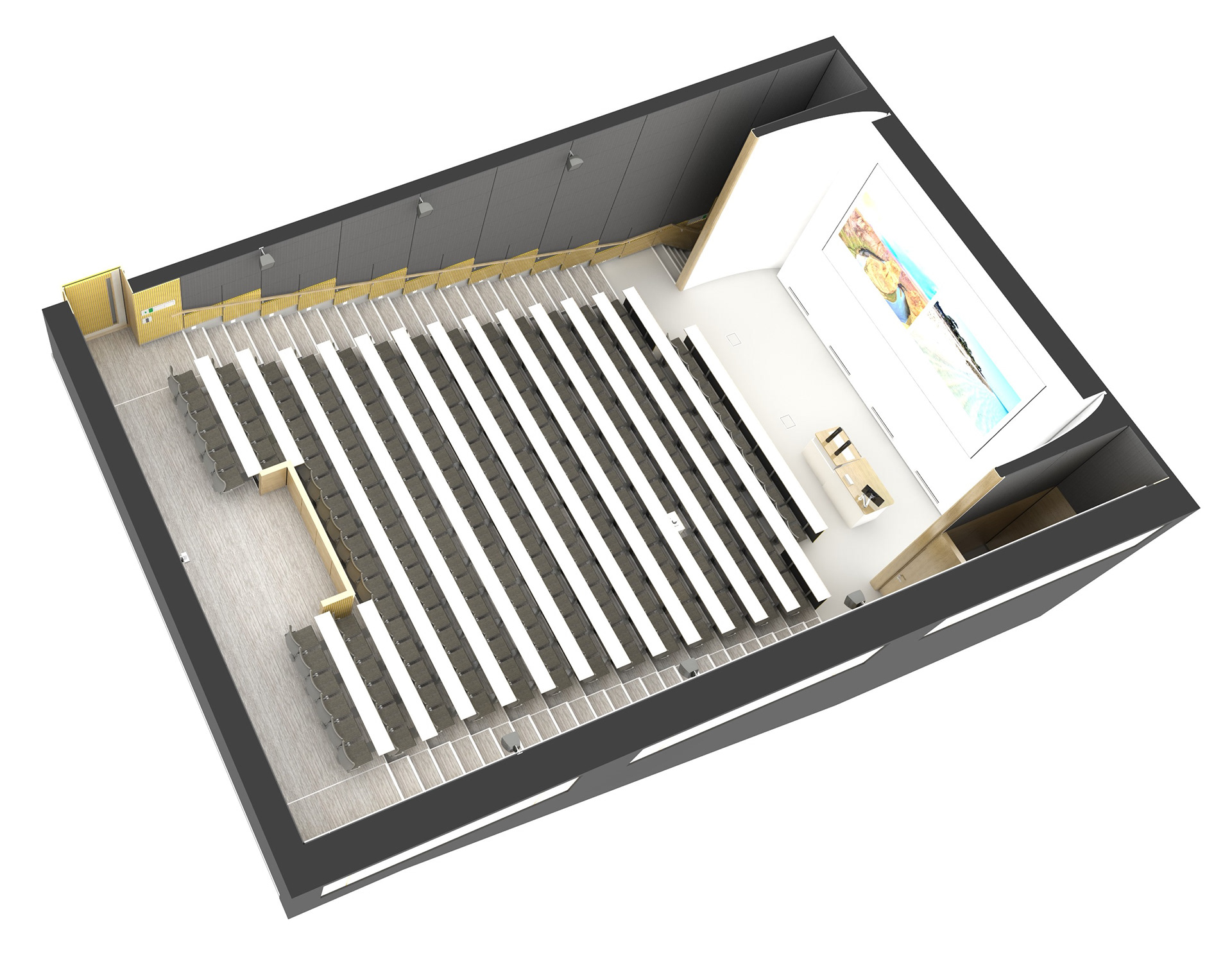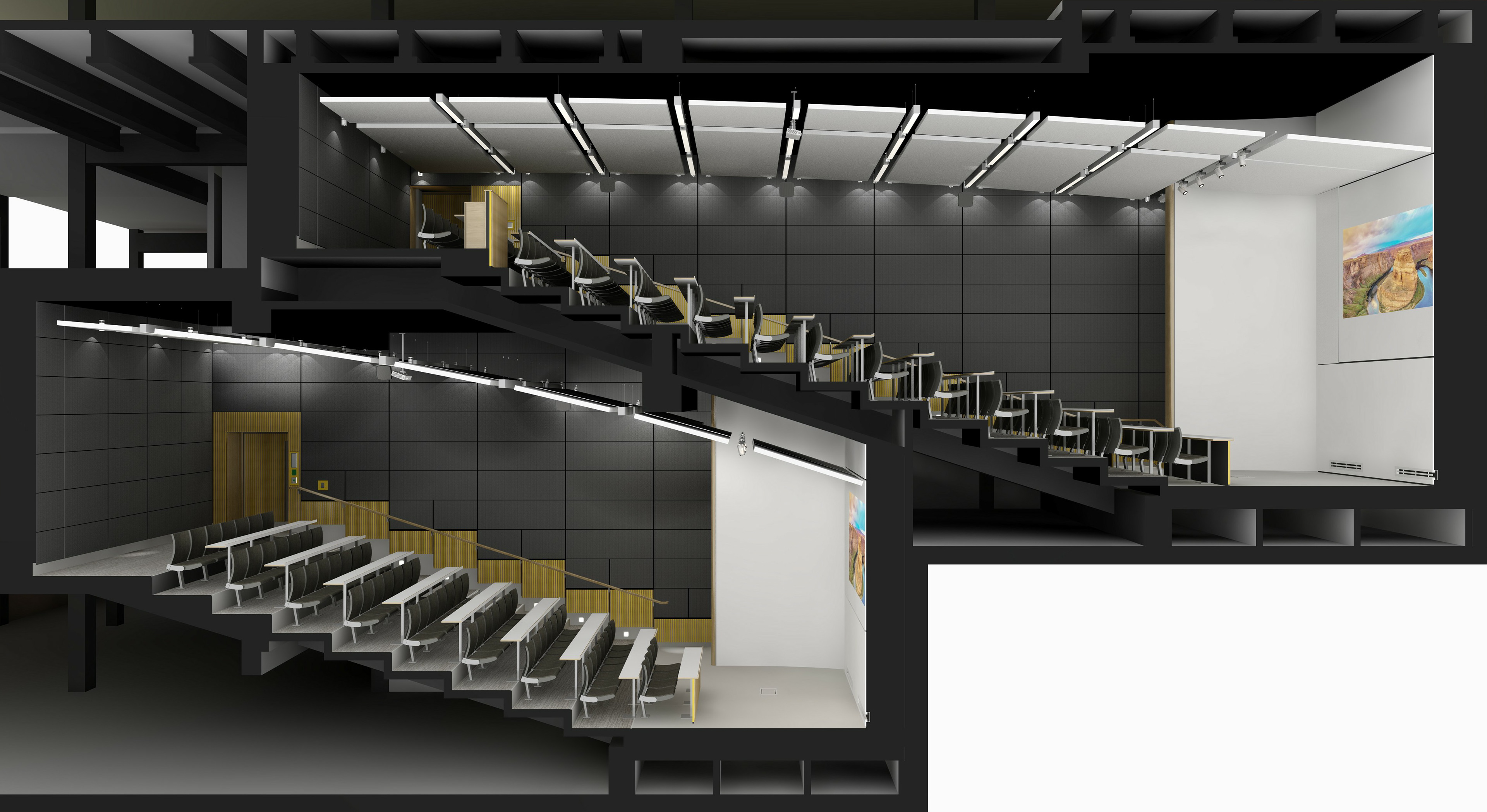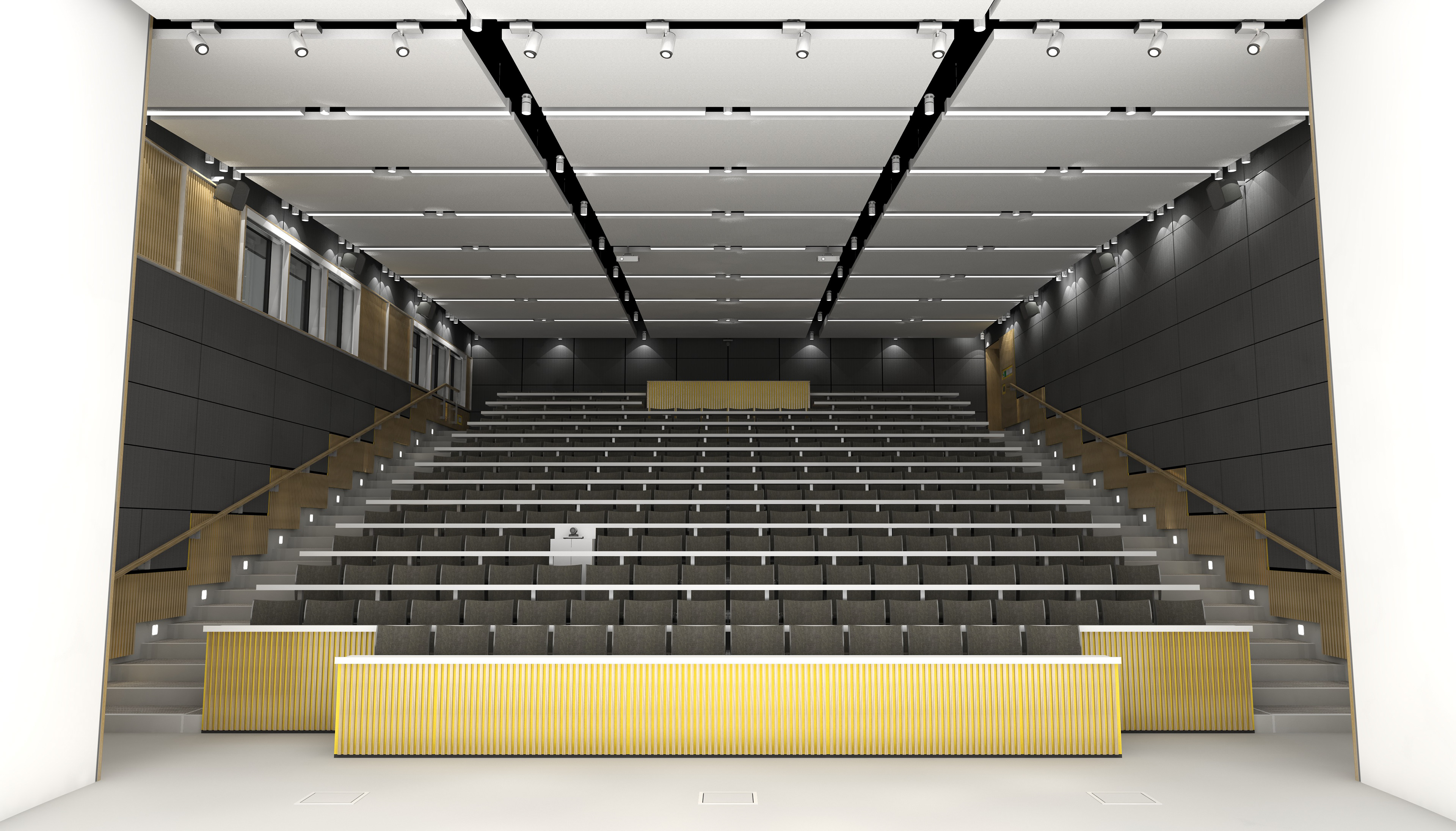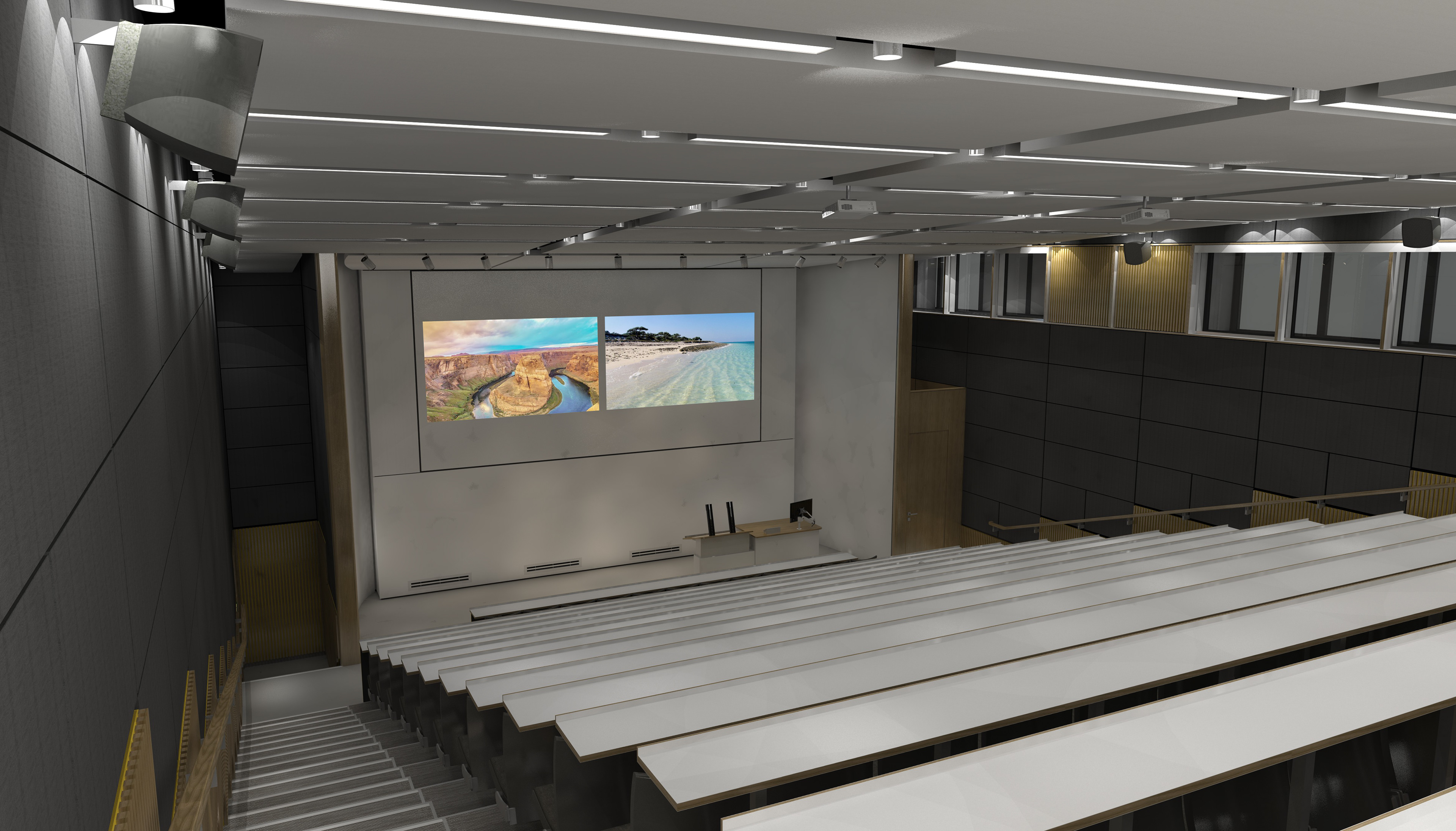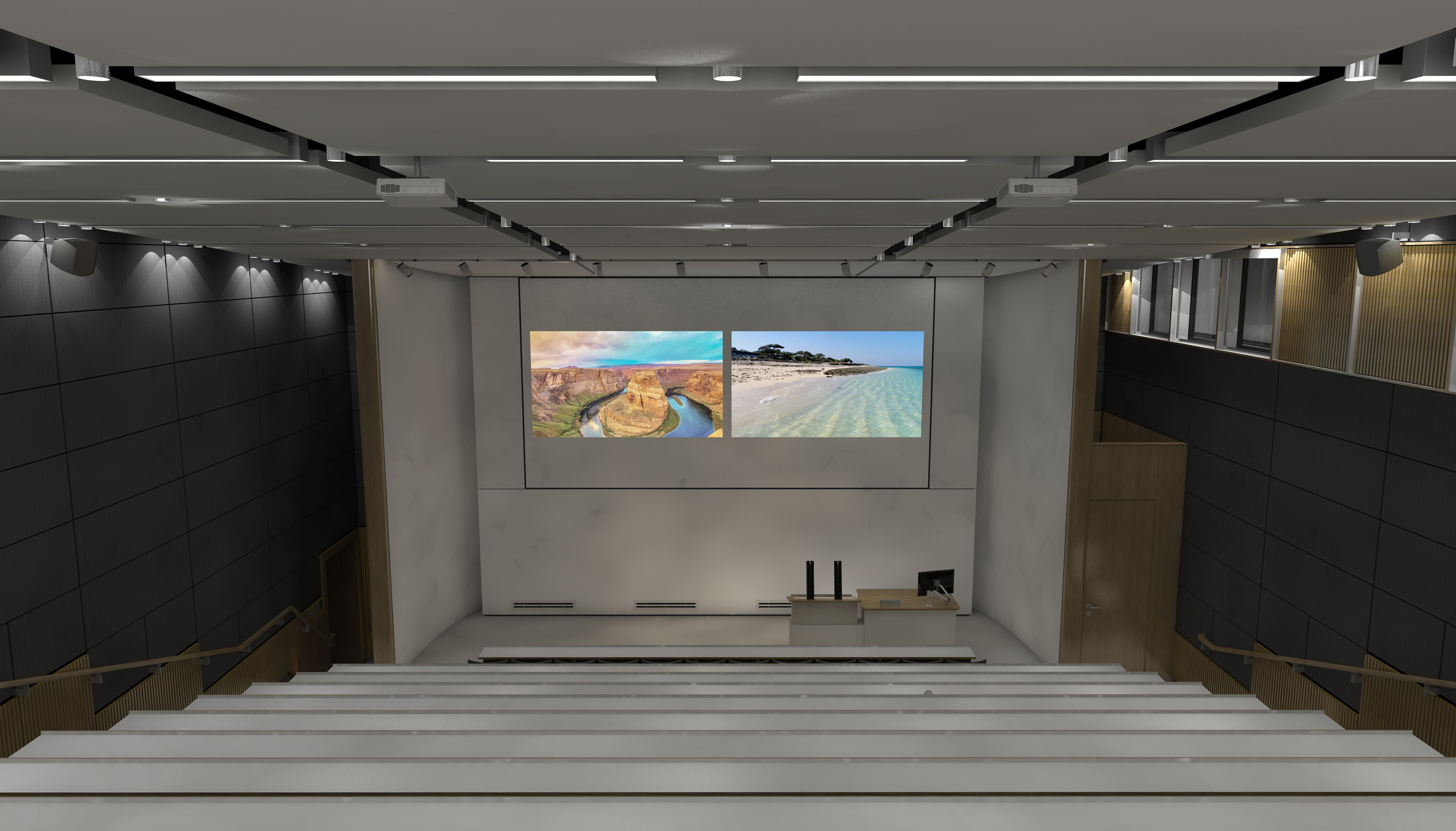 Stage 1: Existing Building Model
The building structure model was initially developed in Archi-cad from historical record information comprising hand drawn imperial dimension record drawings. The theatres remained in use up to the start of works on site precluding invasive surveys.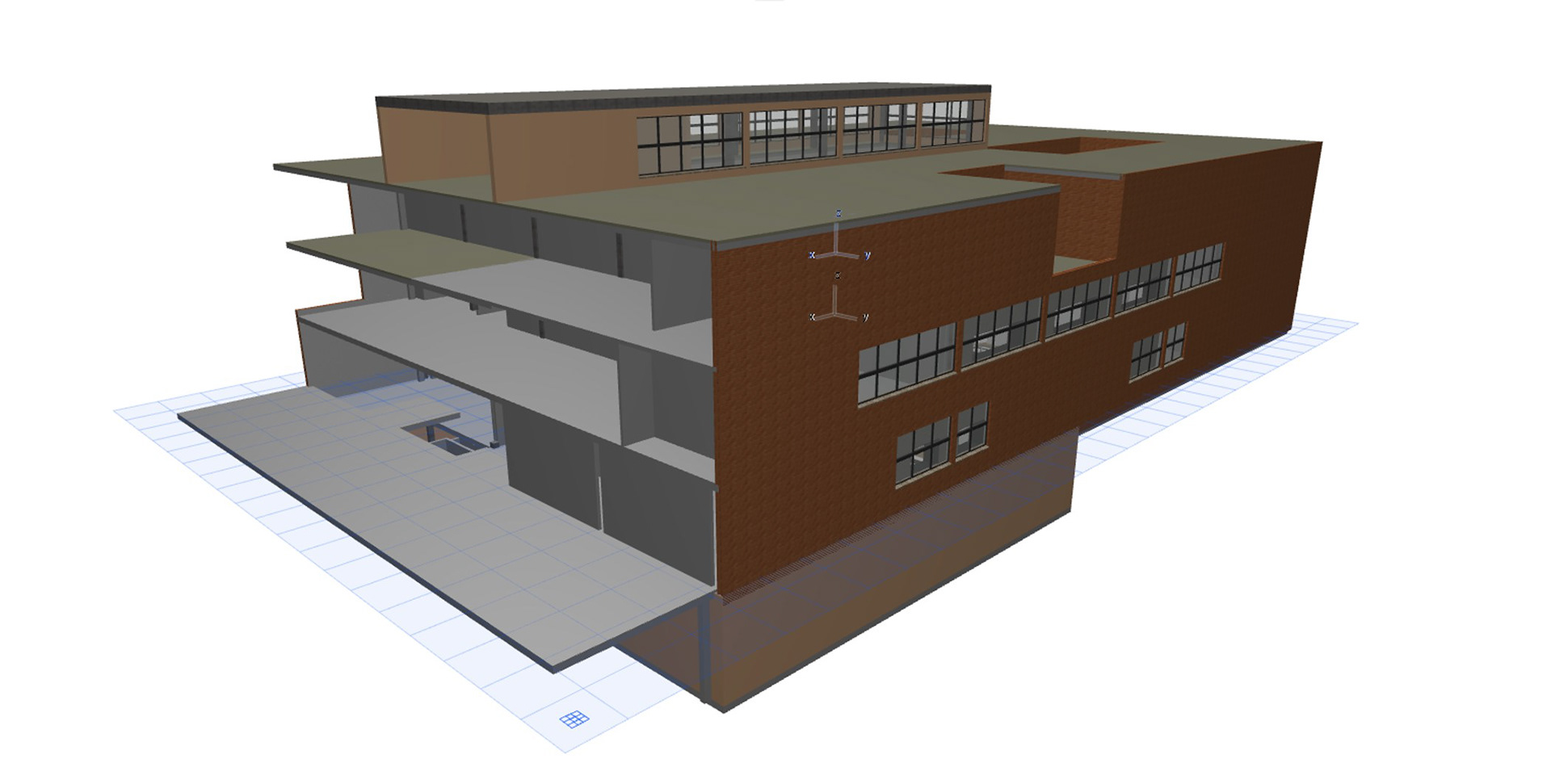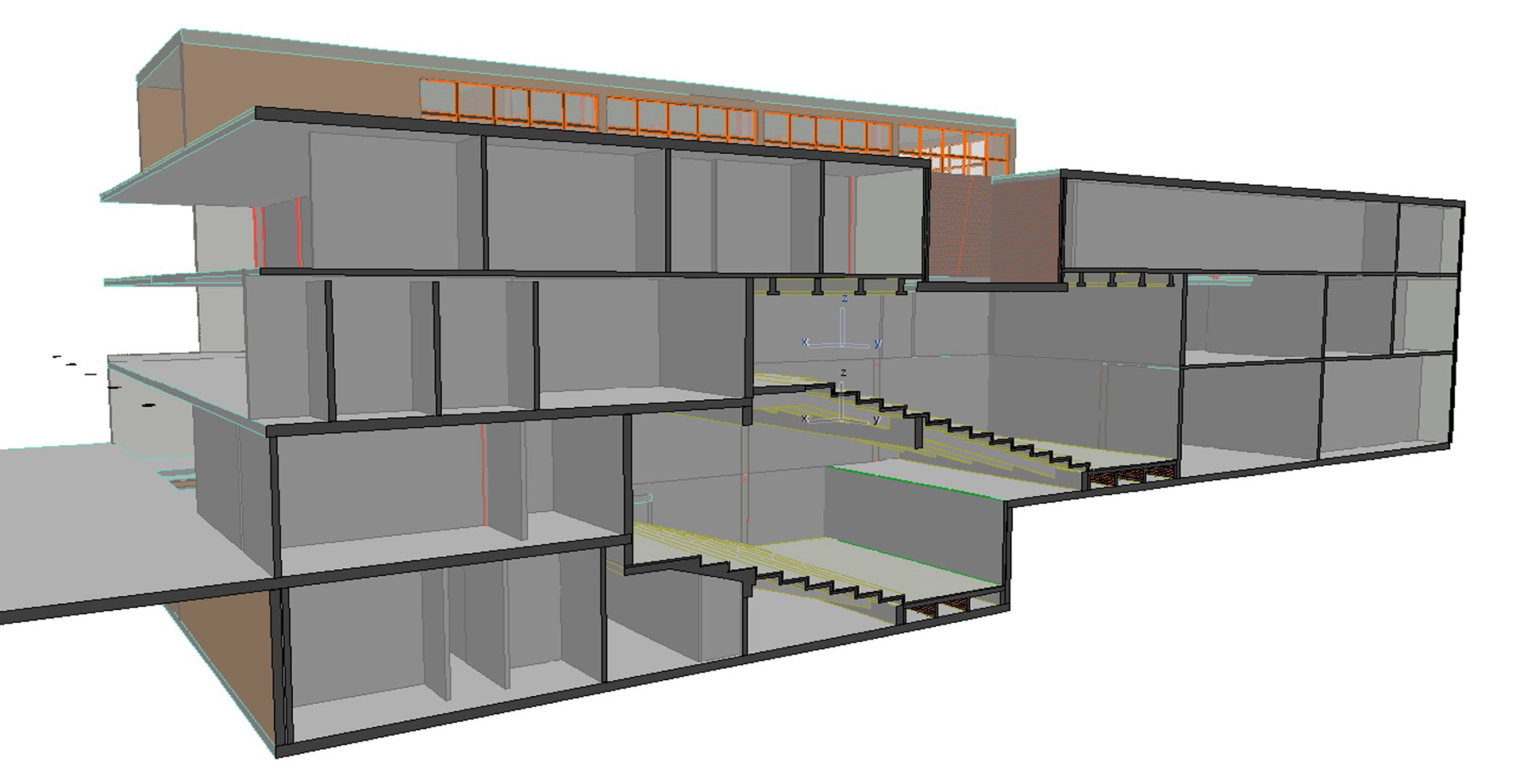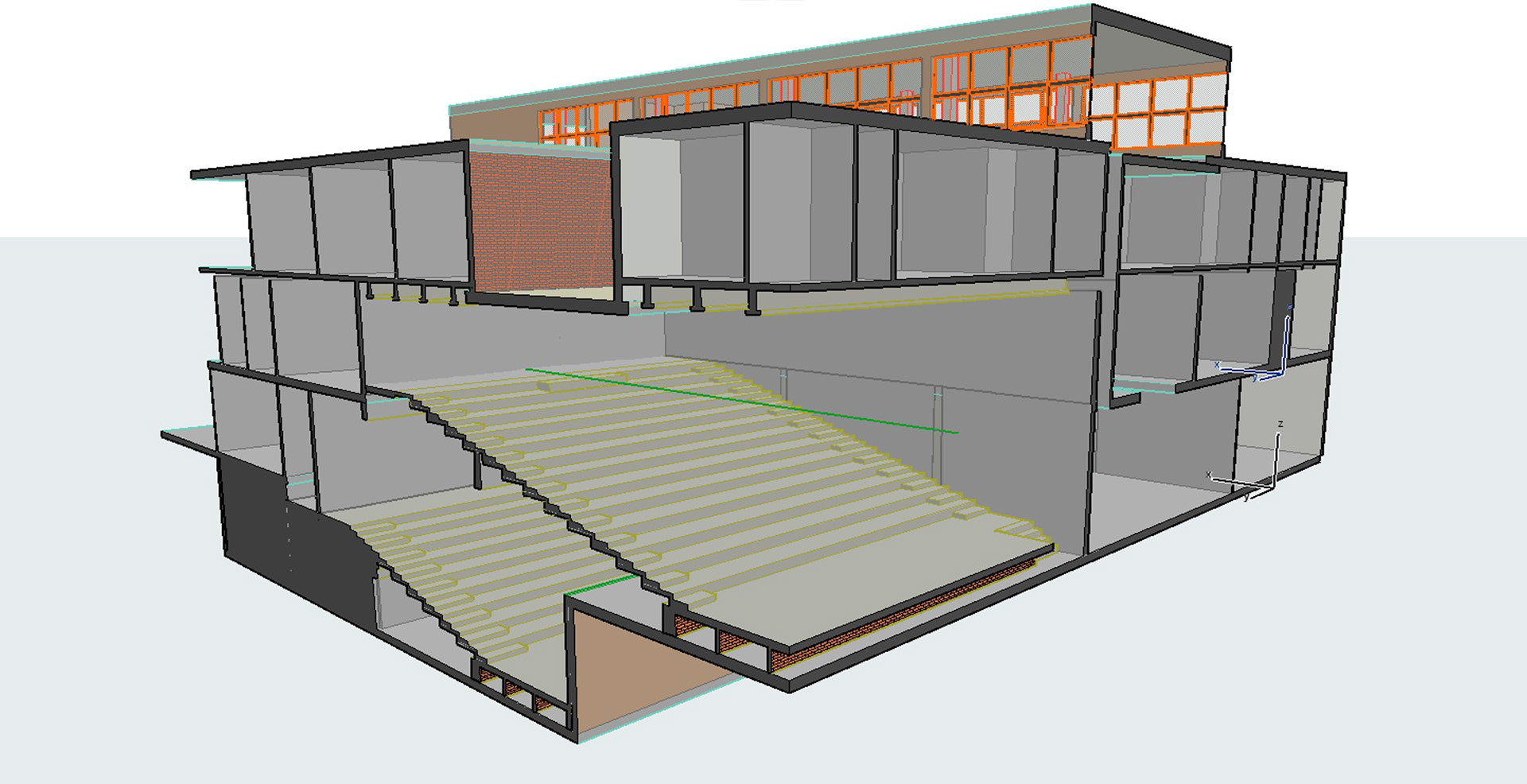 Stage 2: Cloud Point survey
A Cloud Point Survey was completed at completion of the enabling works contract, to record the exposed shell structure used to verify the BIM model.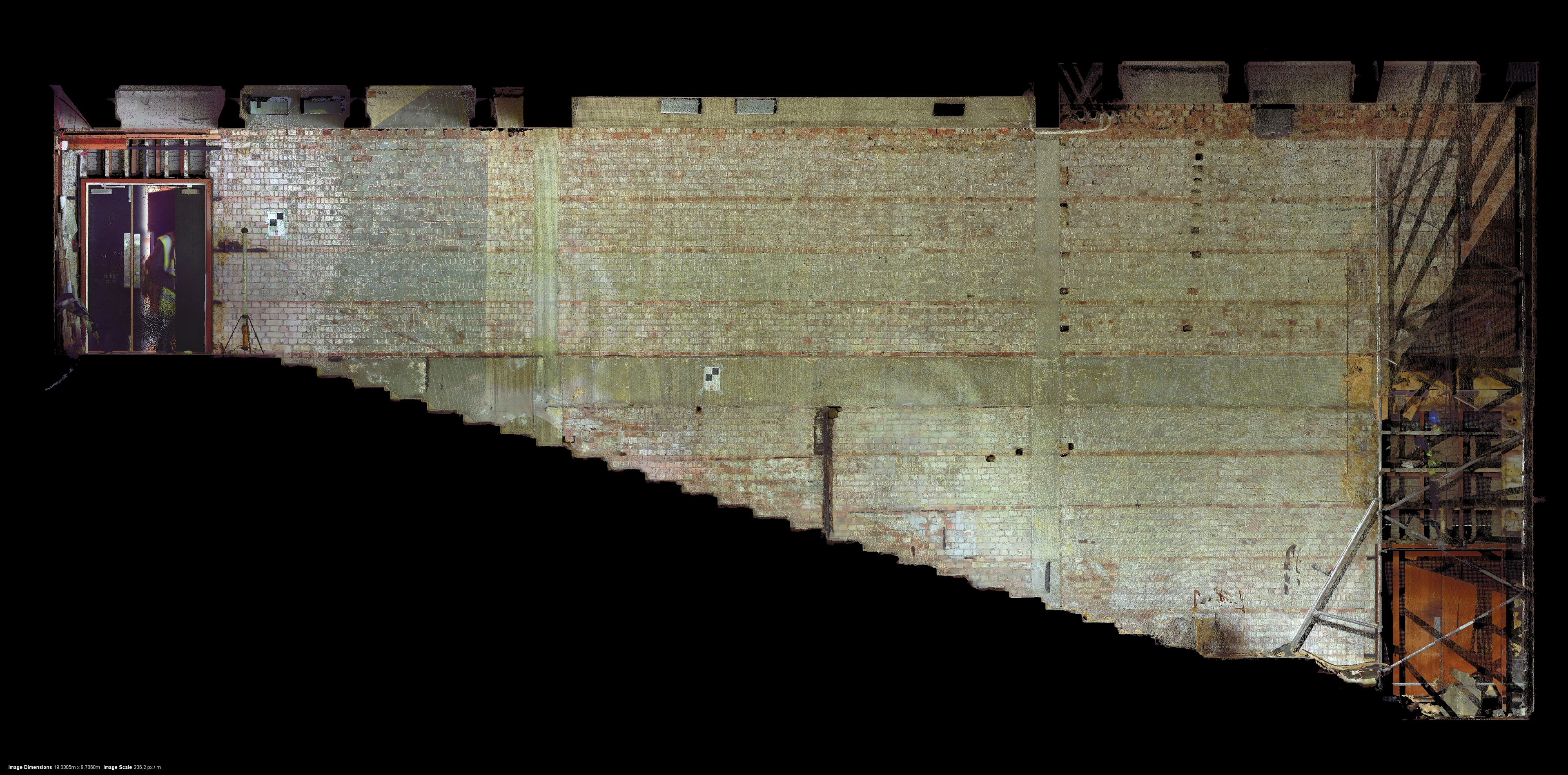 Stage 3: Multi-disciplinary Information
The site verified BIM model was then developed into a multidisciplinary design model to include structure and MEP installations through controlled inputs from the engineering design team developing the BEP protocols, to include:
-  Acoustic cladding frames and panels
-  Structural shell adaptions and new structure
-  New riser duct assemblies through four floors to roof level
-  New MEP & Audio Visual installation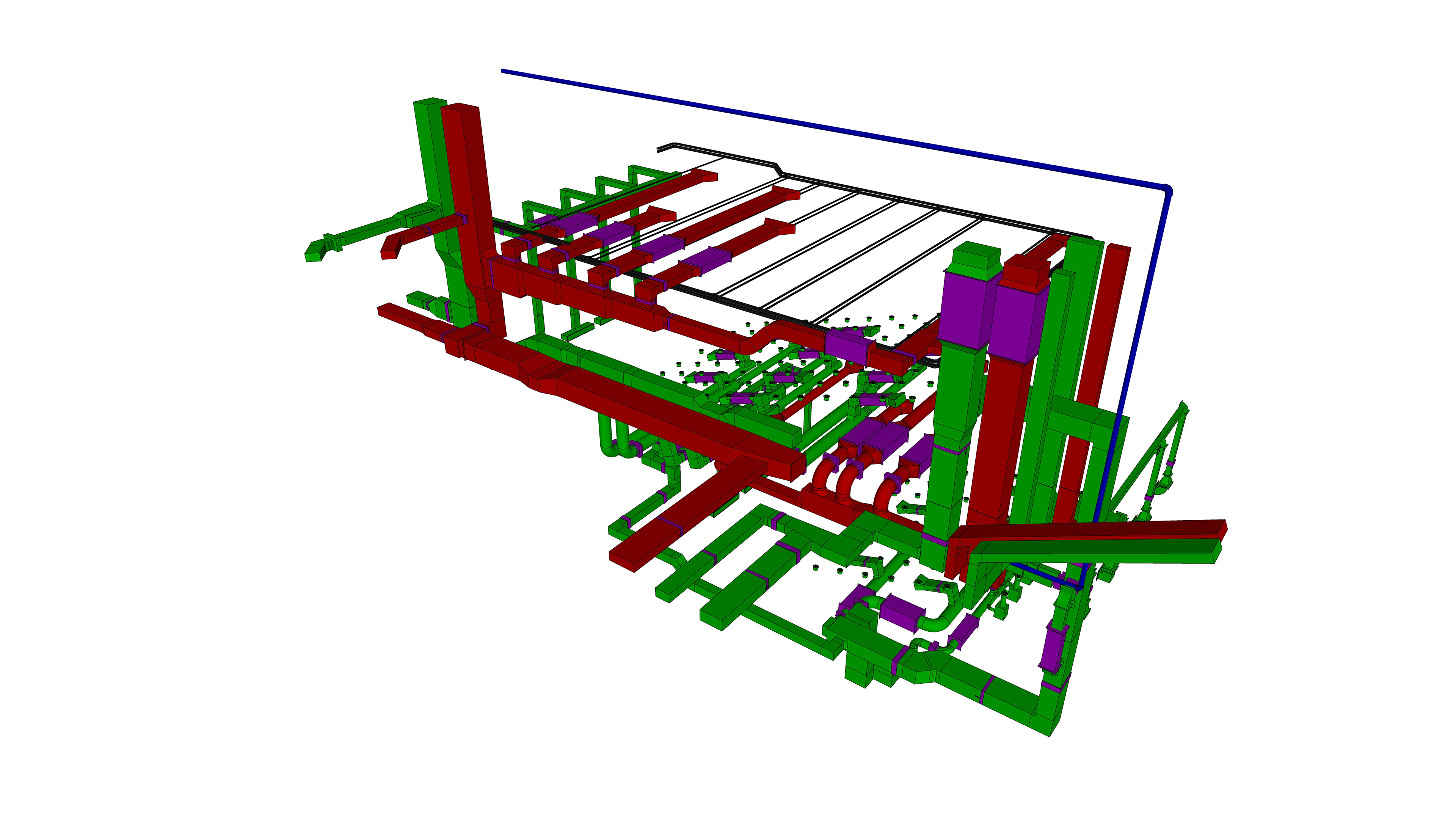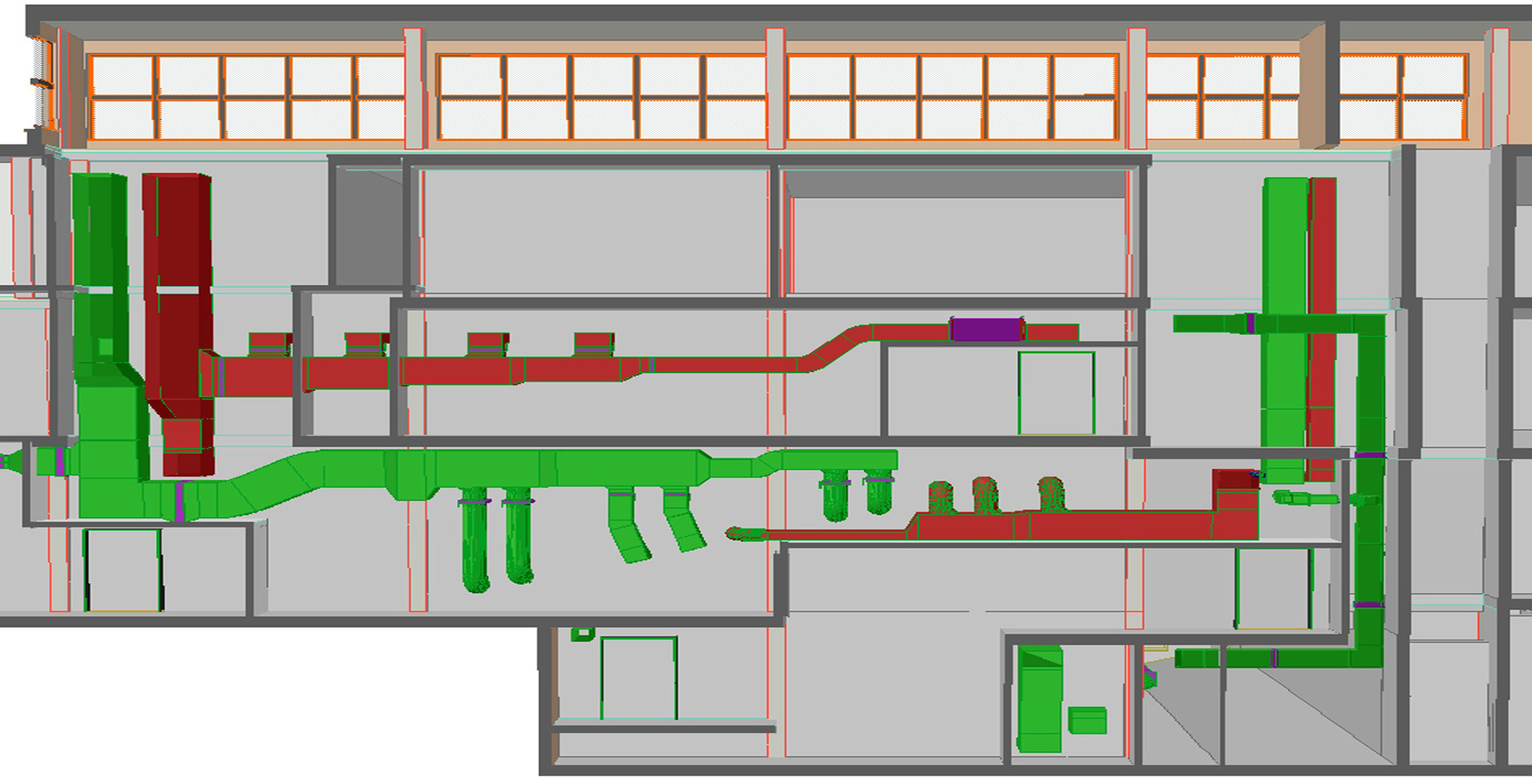 Stage 4: Design Presentation
The BIM model was developed to produce rendered 3D design visuals for client design verification to ensure designs remained client centric meeting key brief objectives. 
Presenting the design proposals in 3D visuals ensured the understanding of the design proposals by the widest audience, enabling embedment of the design proposals across the client and wider stakeholder team, influencing client decisions and empowering the client with quality information on which informed project instructions were based.
The 3D information was supported with 2D elevations, plans and material samples to agree design decisions for finishes and final layout to include detail consideration of M&E switching and accessories locations to include student monitoring, and controls.

​​​​​​​
The model was used to establishing projection screen image ratio and image size through developing scale viewing scenarios from front, middle and rear terrace seating locations ensuring the redeveloped viewing lines and image size worked.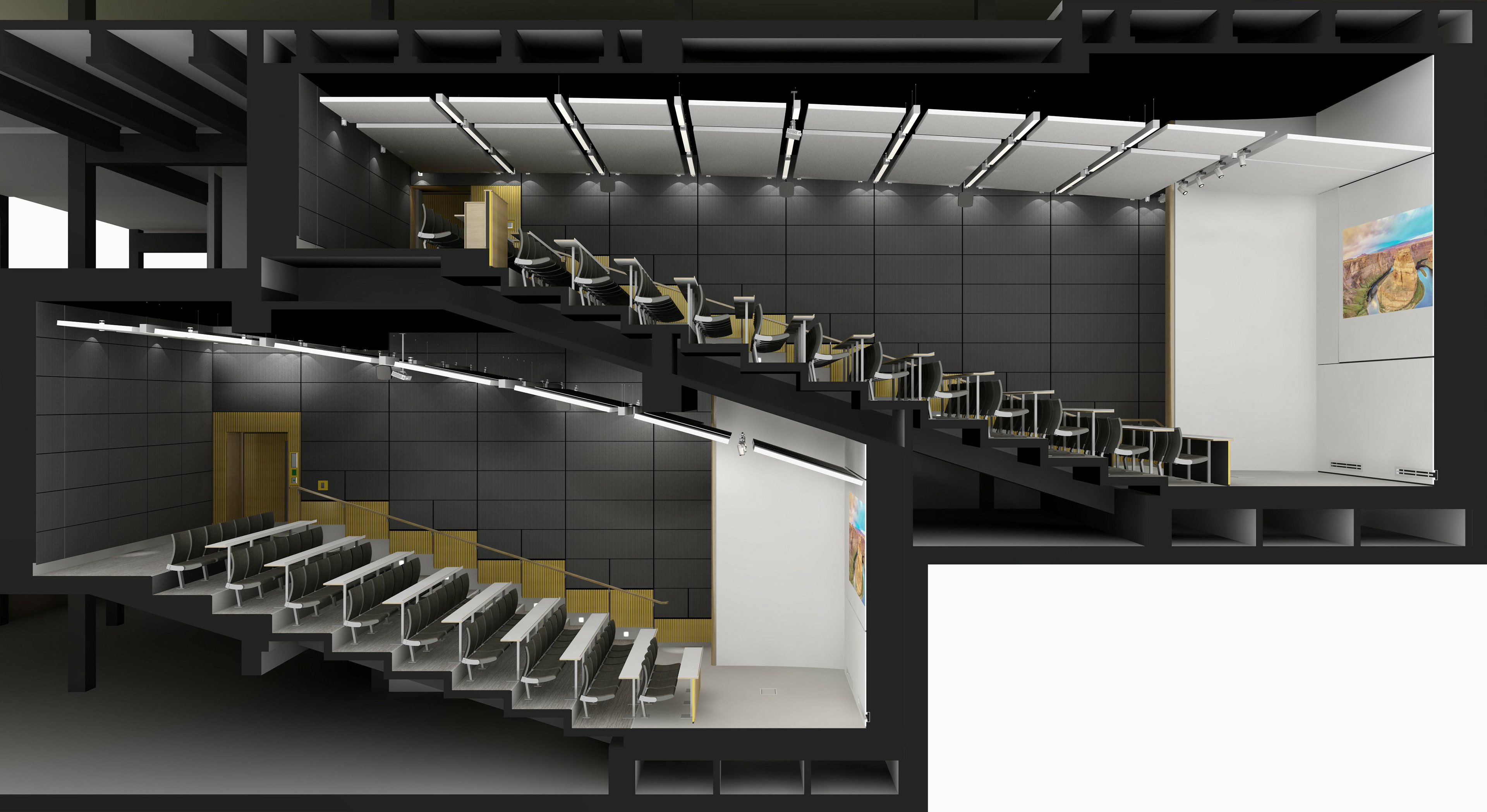 Stage 5: Construction Information
The BIM model was then developed into general arrangement plan, section and elevation drawings for construction detail information for tender and construction purpose. 
Through group view, the BIM Model was used to develop dimensionally coordinated solutions accessed simultaneously by the multi-disciplinary engineering design team consultants controlled through the structured BEP plan process.
The model, along with the BIM M&E ventilation and electrical containment models, were released to the contractor team, assisting in simplifying the complex coordination of M&E installations, production of shop drawings, ensuring coordinating with the structural shell. 
This BIM Level 2 Compliant process enabled us to deliver construction quality information at tender stage, delivering consistent high quality tendering and empowering the supply chain early, adding value to the construction process across the board ensuring the design was delivered through completion of the build result.