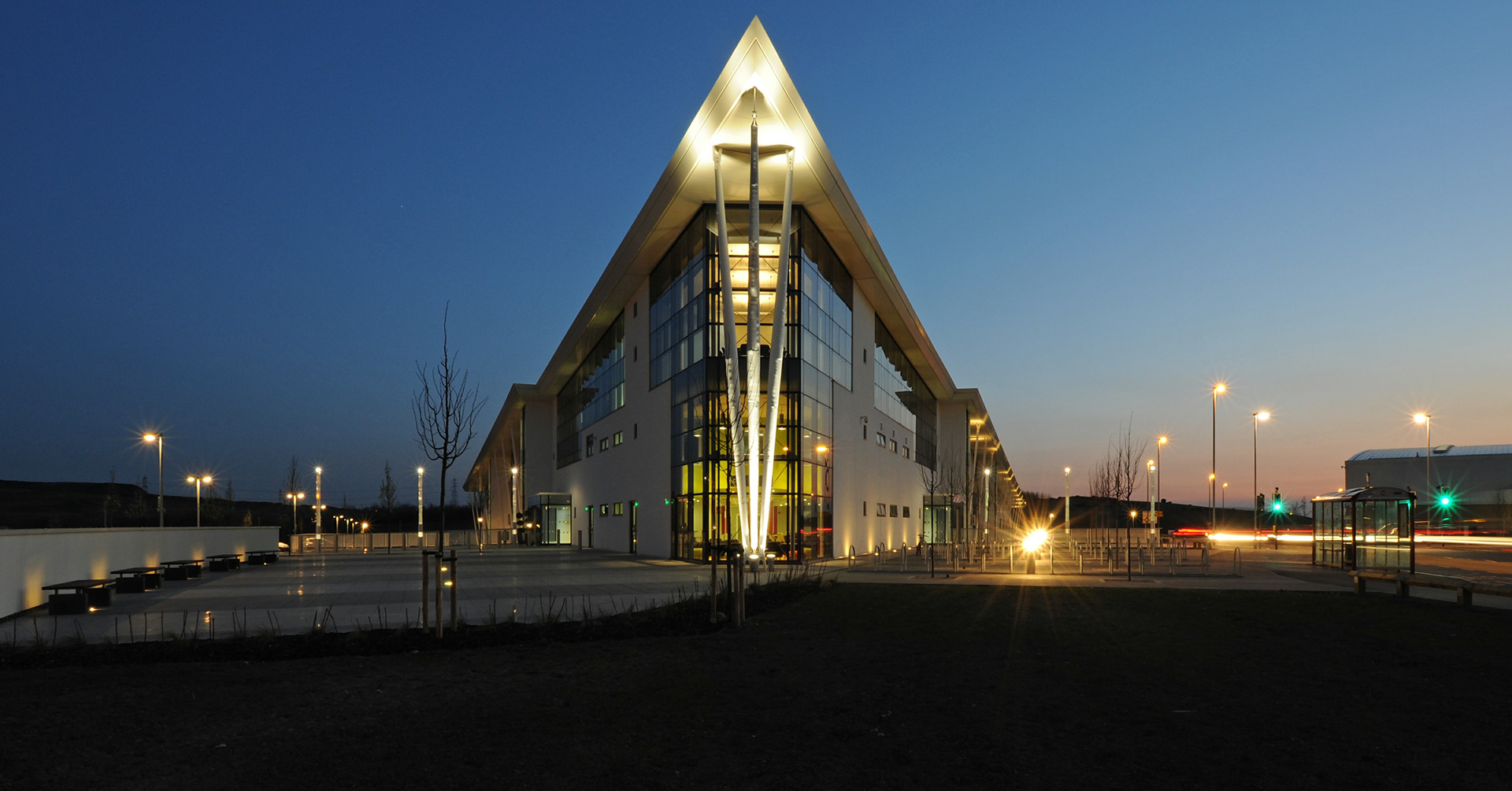 Moss Architecture . Interiors Ltd:
Lead consultants, architectural & interior designers, delivering the project through RIBA work stages 0 to 7, leading the multidisciplinary design team. To include working with the contractor on site to monitor construction quality developing construction work and tendering packages as construction progressed.
 - Lead Consultant & Design Director:

Tim Moss (MAI Ltd)                                                                                   

- 
Appointing Client:

Pick Everard LLP                                                                                                                   

 - 
D

eveloper & Contractor:
Waystone Ltd                                                                                                         

-

 
End Client:
Wakefield College 
Wakefield College Vocational Skills Campus, located in Glasshoughton, comprises of 13,450m² of flexible teaching and workshop accommodation set out over four floor levels. The scheme comprises a new build campus on a former colliery regeneration site. The accommodation comprises the college's provision of teaching spaces for construction skills, motor vehicle engineering, engineering, hair and beauty, IT and care and public services, with support and executive facilities.
The scheme
comprises the delivery of a sophisticated, sustainable intelligent building, achieved through a controlled process including designers, contractors and client, working collaboratively as a cohesive team to successfully deliver the clients key objective accommodation brief, design and built result excellence. This included coordination of many specialist designers' inputs, and the production and co-ordination of sequenced tender and construction information packages as construction progressed. This required managed inputs from the extended development and supply chain team, under the lead consultant, reporting to the Waystone development management team.
The triangular plan form responds to the site to maximise internal floor area and deliver the external layout, establishing an architectural gateway statement building.
The roof falls in a continuous rake at three degrees from North to South creating dramatic elevations, culminating in a glazed apex facing north to Leeds road having become a land mark approach.
The interior accommodation is set out over 4 floors that reduce in area in response to the falling roof. 
This provides opportunity for placing meaningful rooflight openings that provide top light deep into the interior spaces, minimising the need for artificial lighting and improving wellbeing and comfort conditions through delivering ventilation.
Motor vehicle, and engineering workshops are laid out on the lower floors within the wings, with teaching spaces and academic offices set out on the upper floors.
The Learning Resource Centre is located within the centre of the triangle at the heart of the scheme, developing a 14m high void area between wings and provides opportunity for future expansion of floors. The LRC is top lit, with a continuous roof light feature and includes a bridge link at first floor main entrance level connecting the wings. 
A kidney shaped floor void features rises through the building at the entrance, culminating in a geometric glazed roof light providing natural light and ventilation through the heart of the building interior.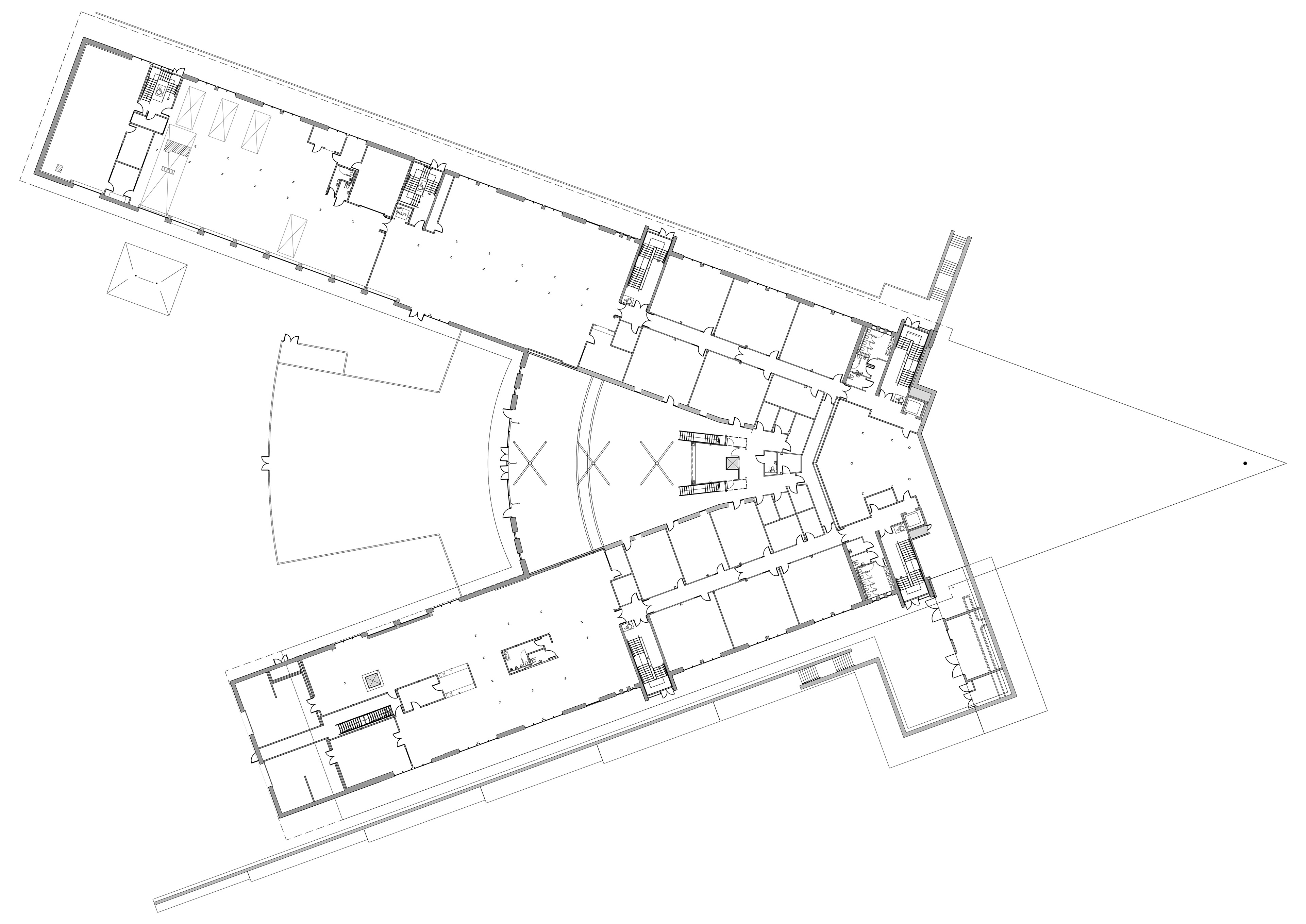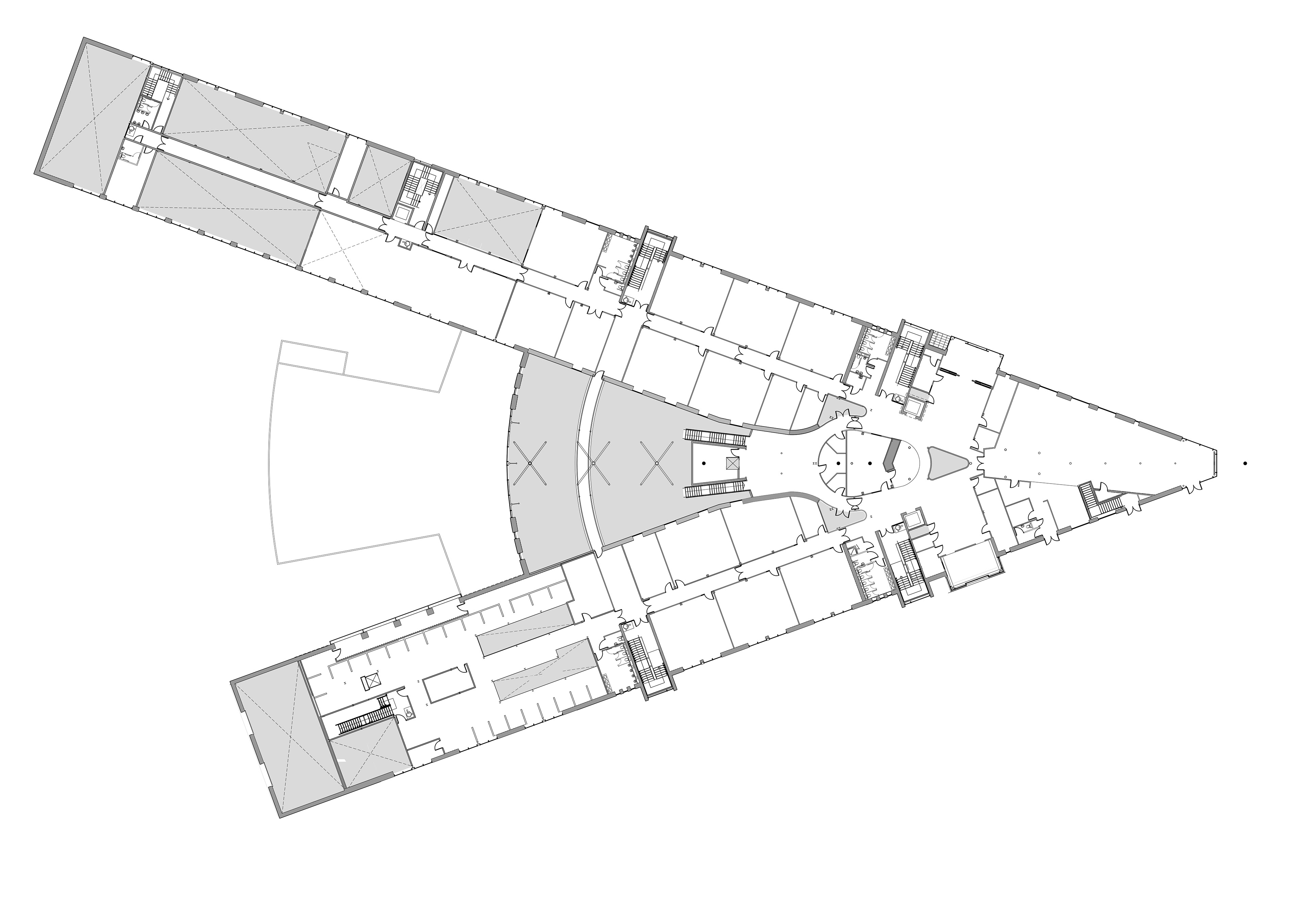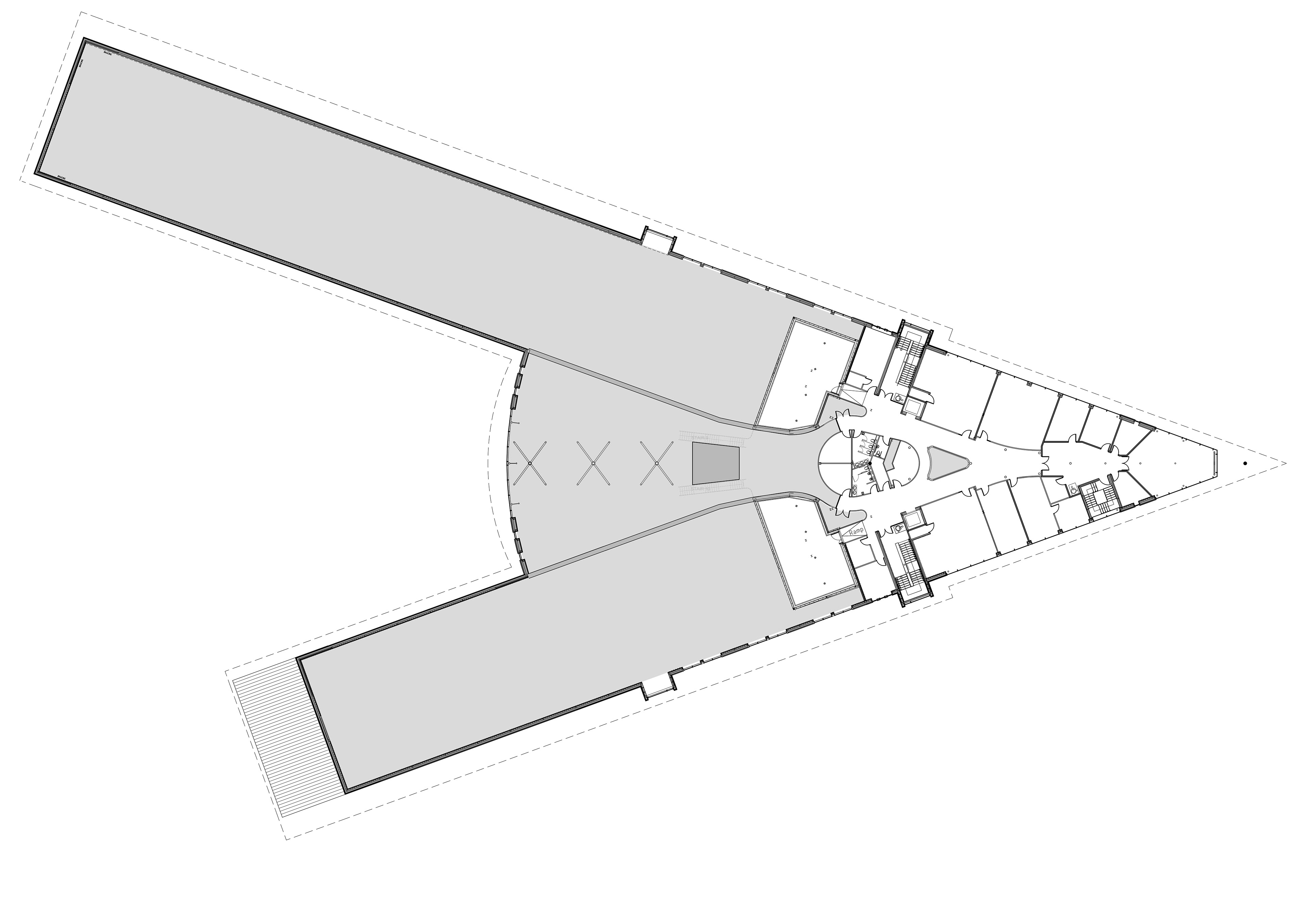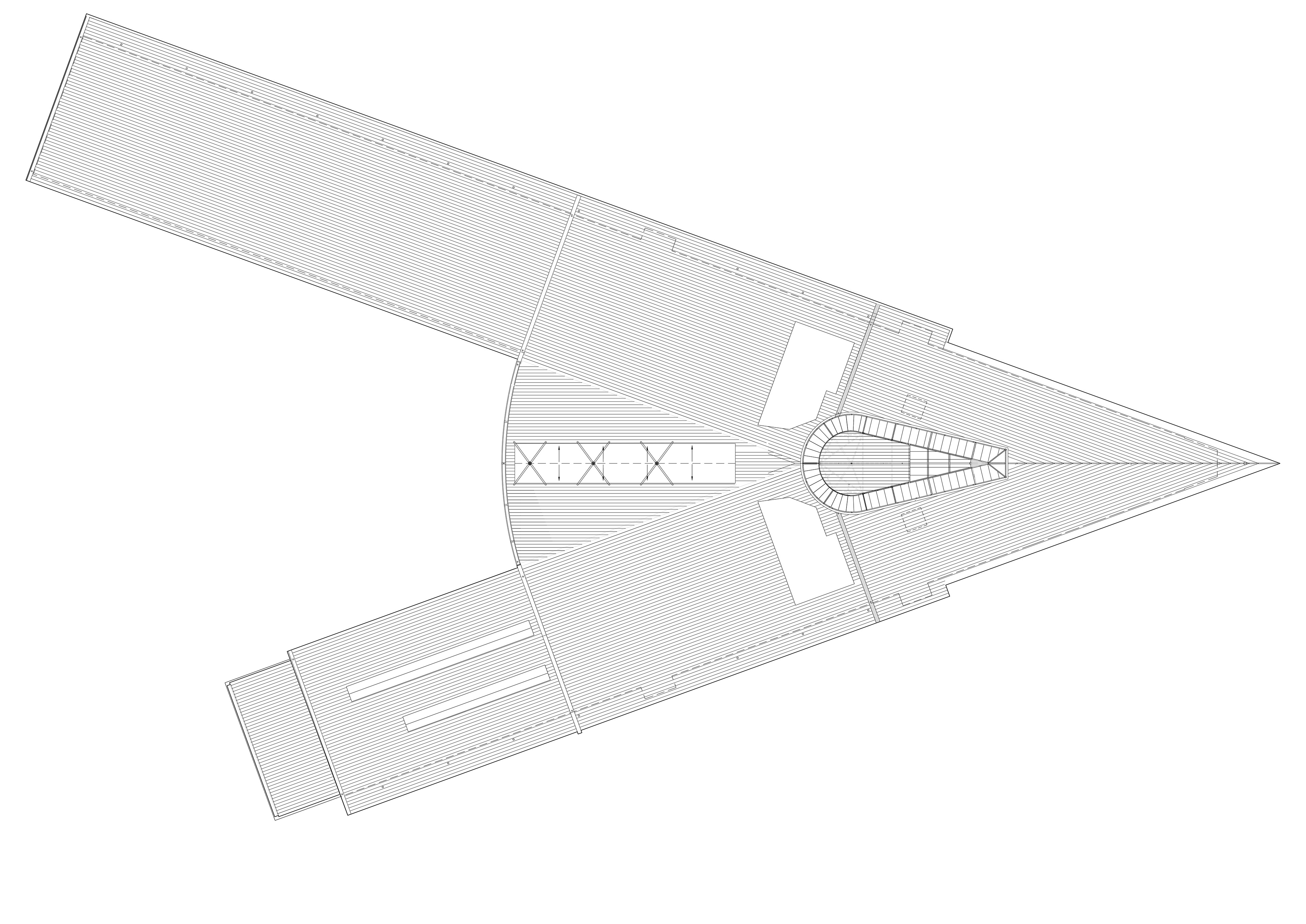 The site comprises of a gently sloping layout with geology of combined clay and coal strata formation with wet sandy pockets. 
Foundations and ground floor slabs comprise of tanked in-situ concrete raft having profiled perimeter edge beam and continuous soft spot strip foundation improving. Pad foundation bases are provided at steel column positions. Soft spots are dug out and filled with MOT 1 compacted fill. 
The ground floor slab level is split at ground to first floor level across the building East to West, with a storey height, reinforced concrete, and ground supporting retaining wall. Basement plant rooms are constructed in in-situ cast concrete and externally tanked. 
The ground floor slab is underlined with a gas proof tanking membrane due to the ground water pressure compressed by the retaining structure. Foundations are cast with isolation membranes to protect the concrete from the high-pyrites coal strata. 
The superstructure comprises a steel frame with in-situ cast concrete floors on Hollo-rib deck, selected due to the complex plan floor shapes around void area construction.
The roof comprises of an aluminium standing seam construction to include gypsum layer acoustic improvement. Having a continuous cover run of 140m and 160m down the wings, requiring expansion detailing to accommodate 350mm of linear expansion.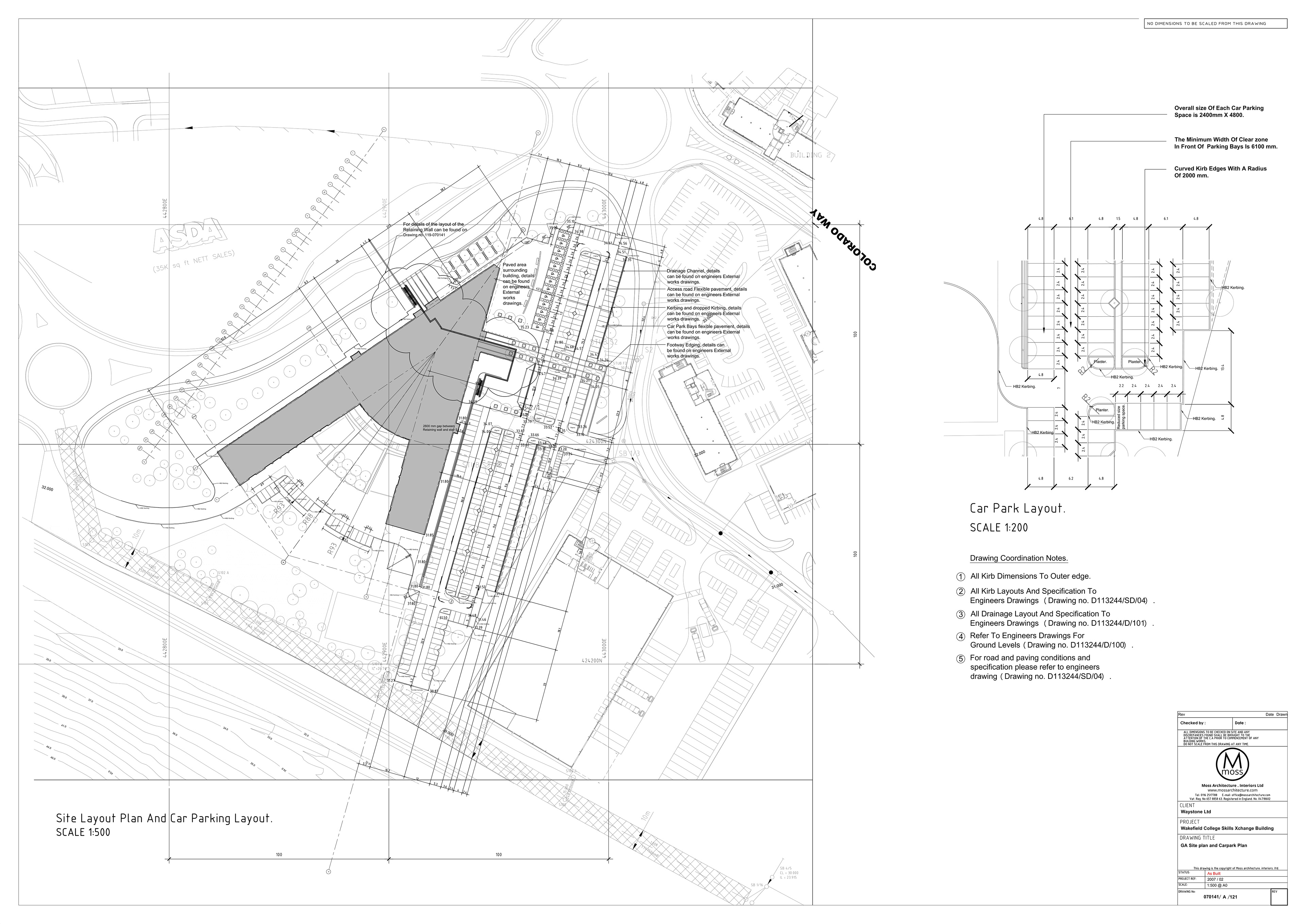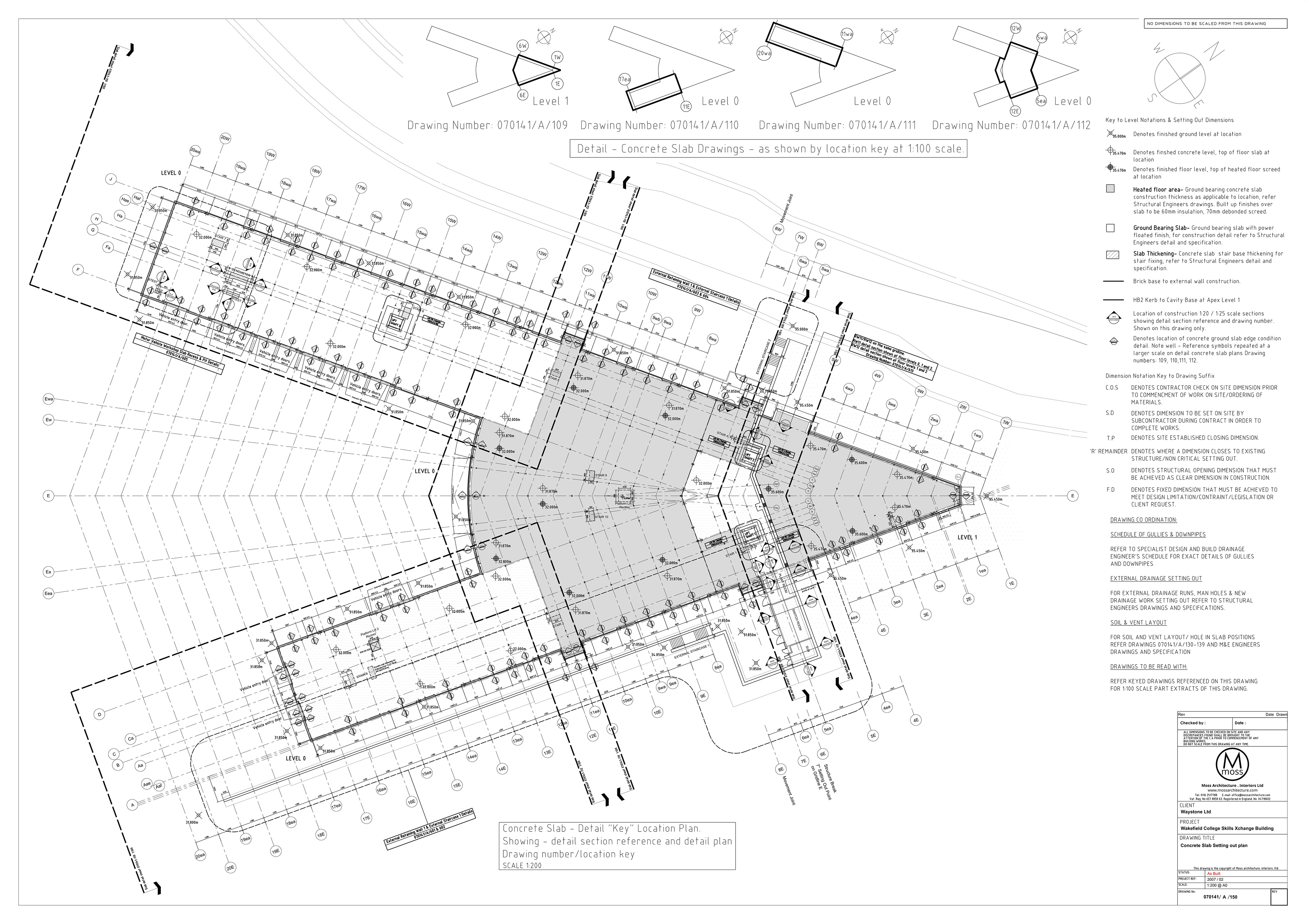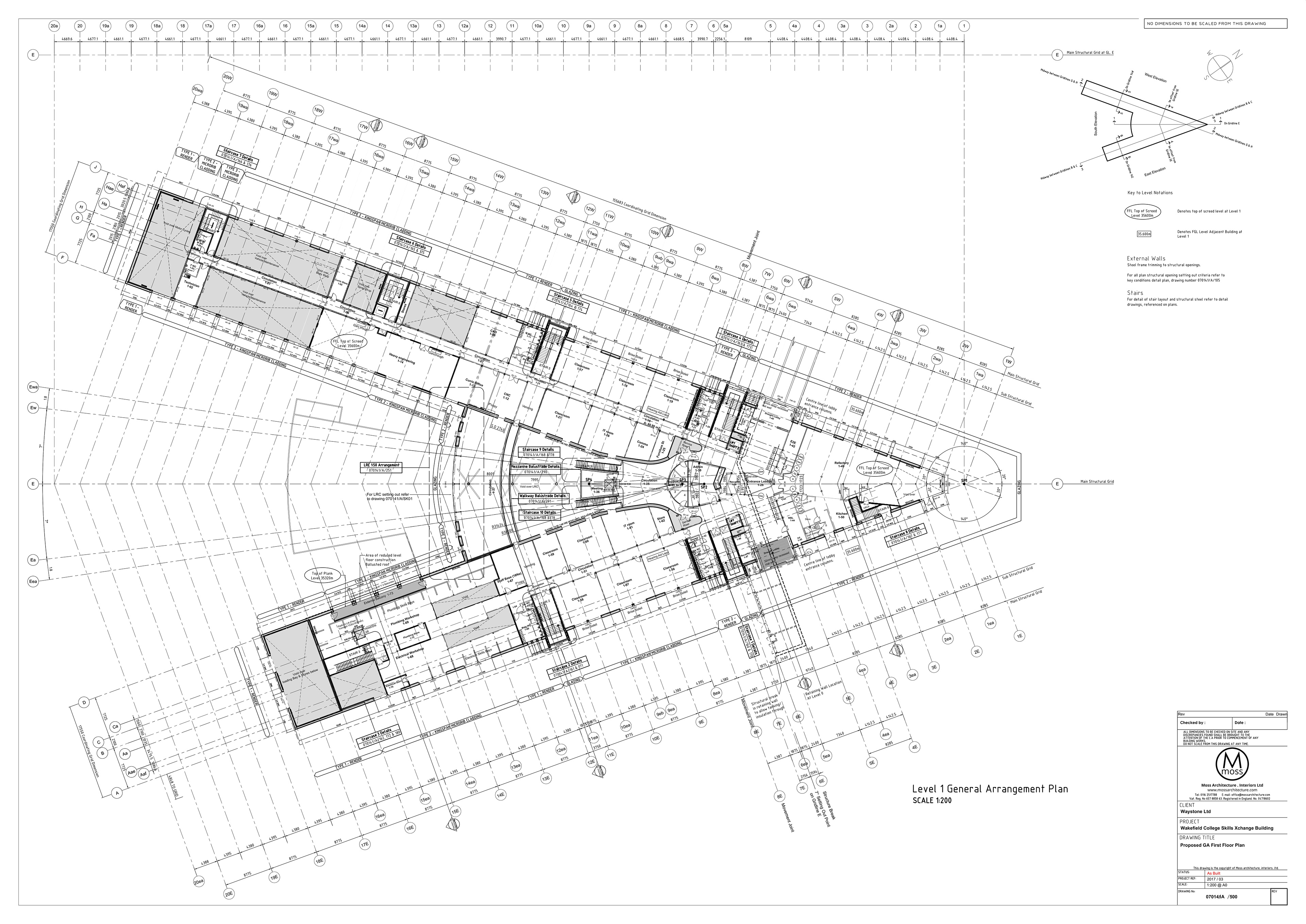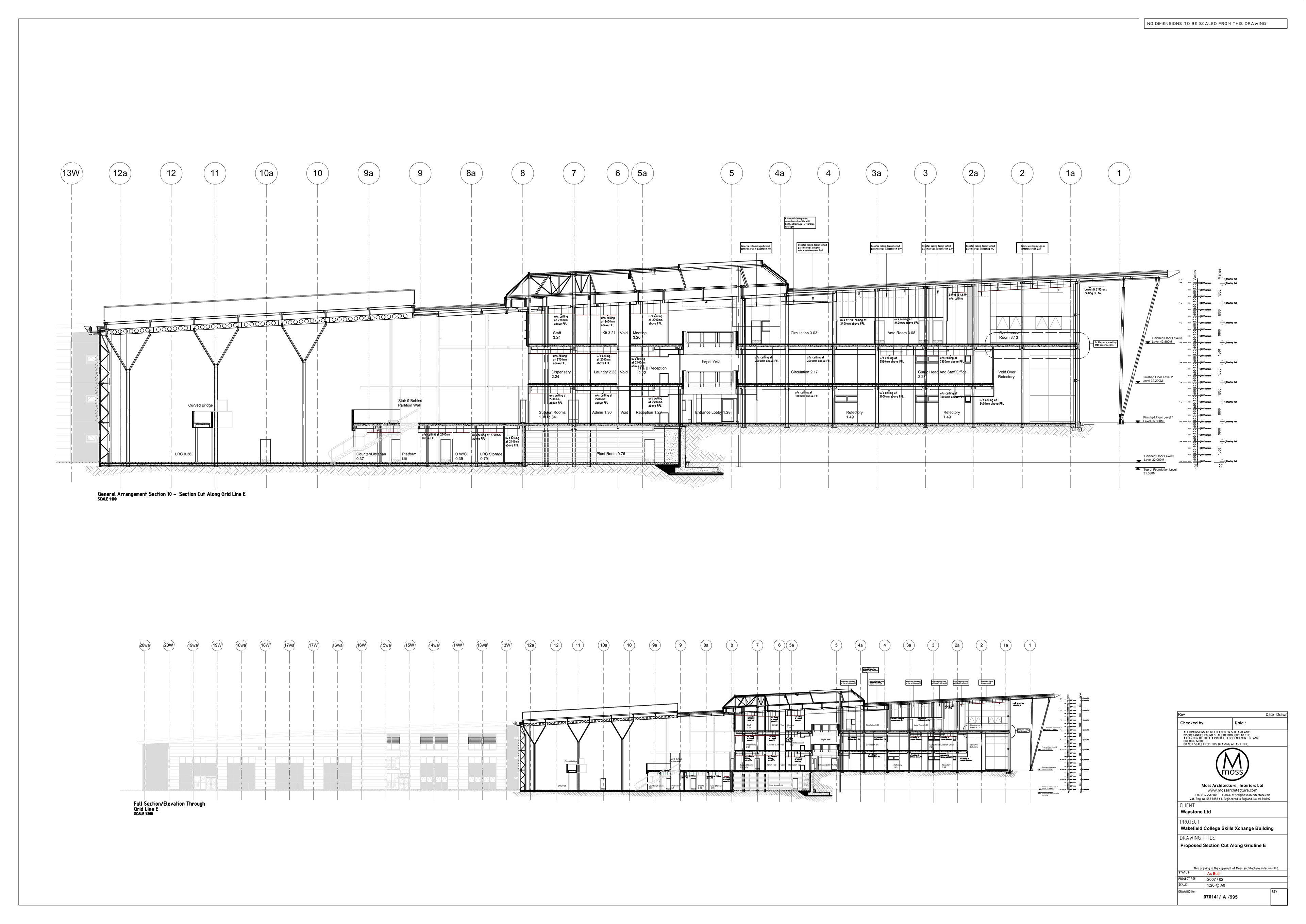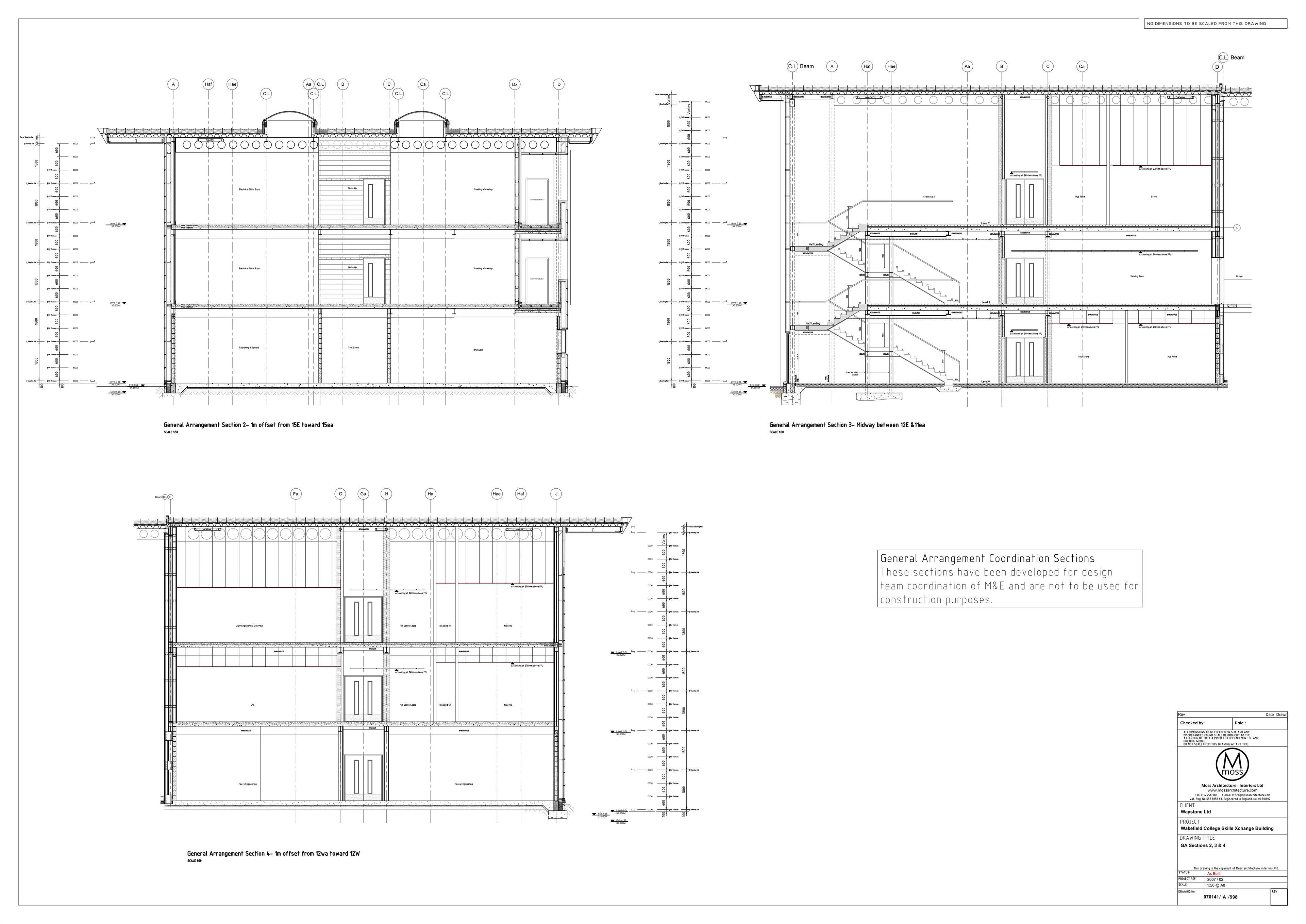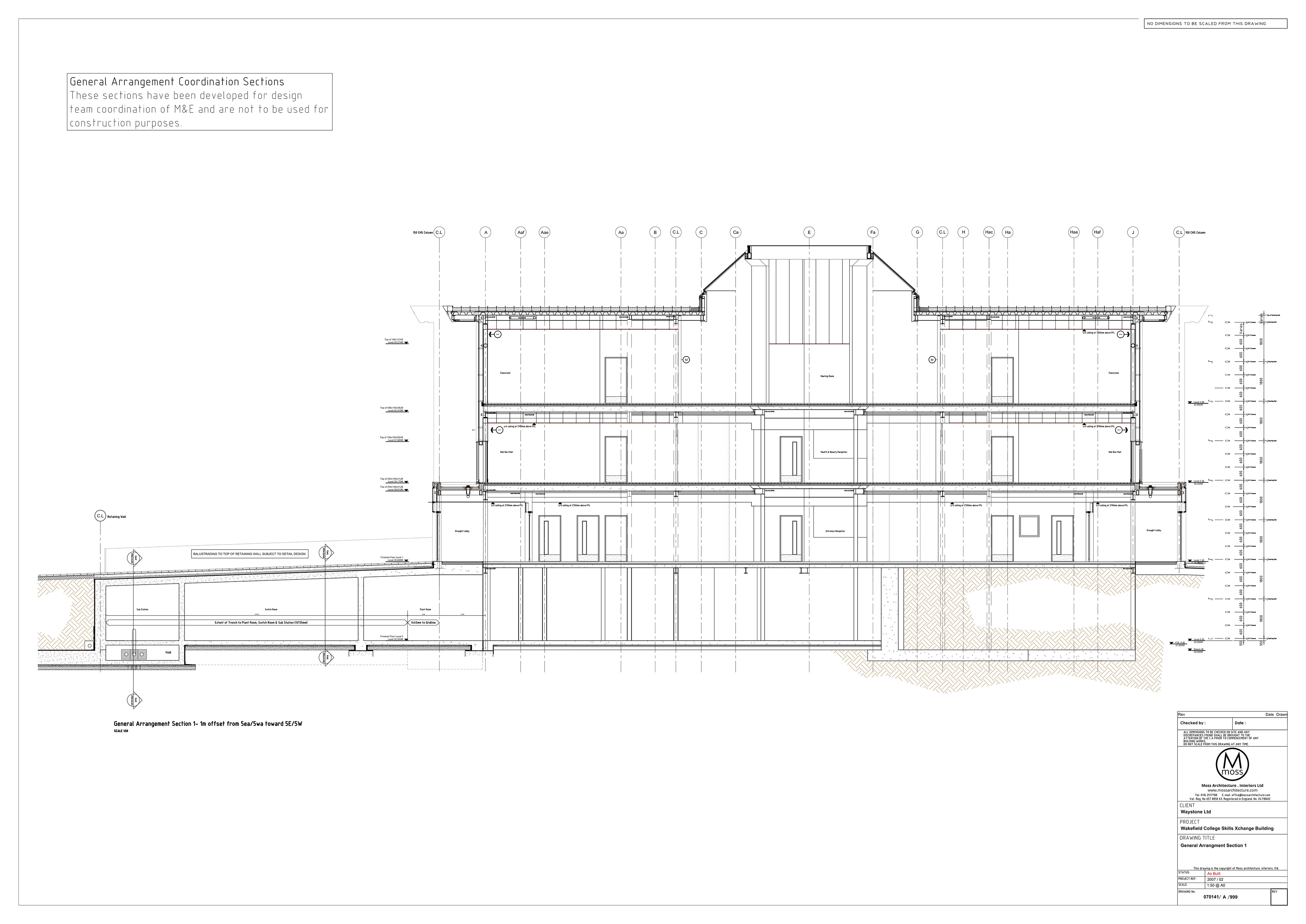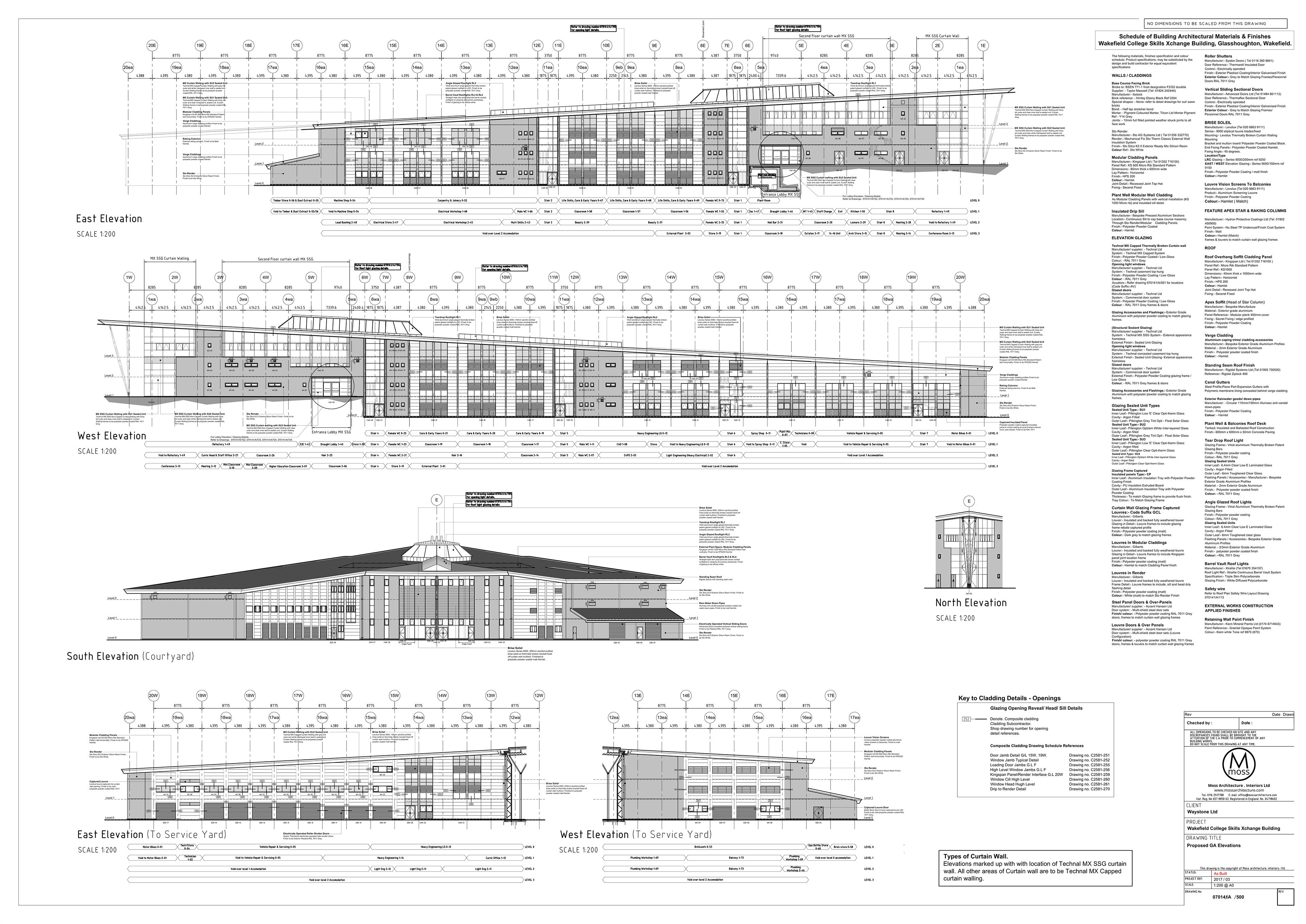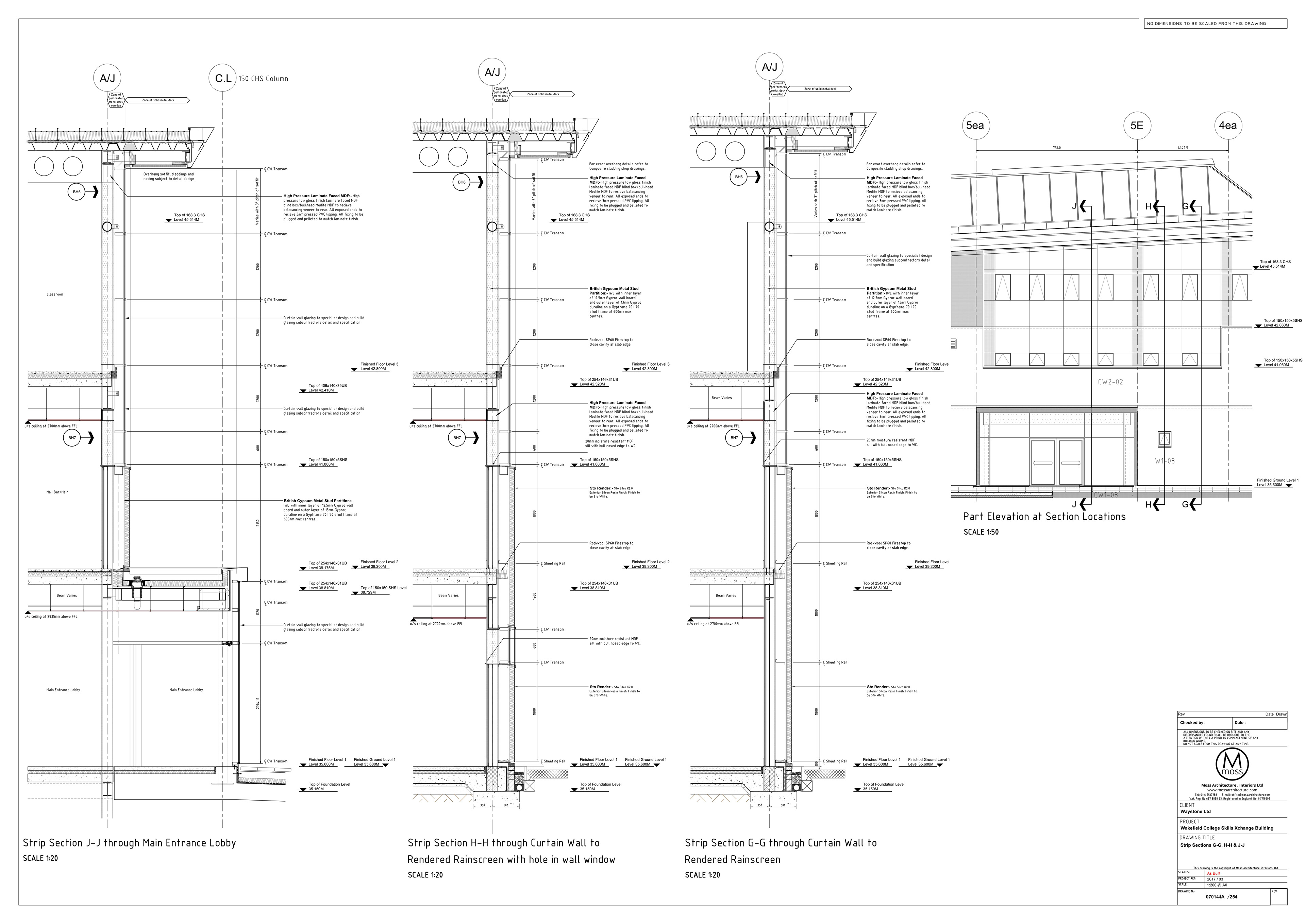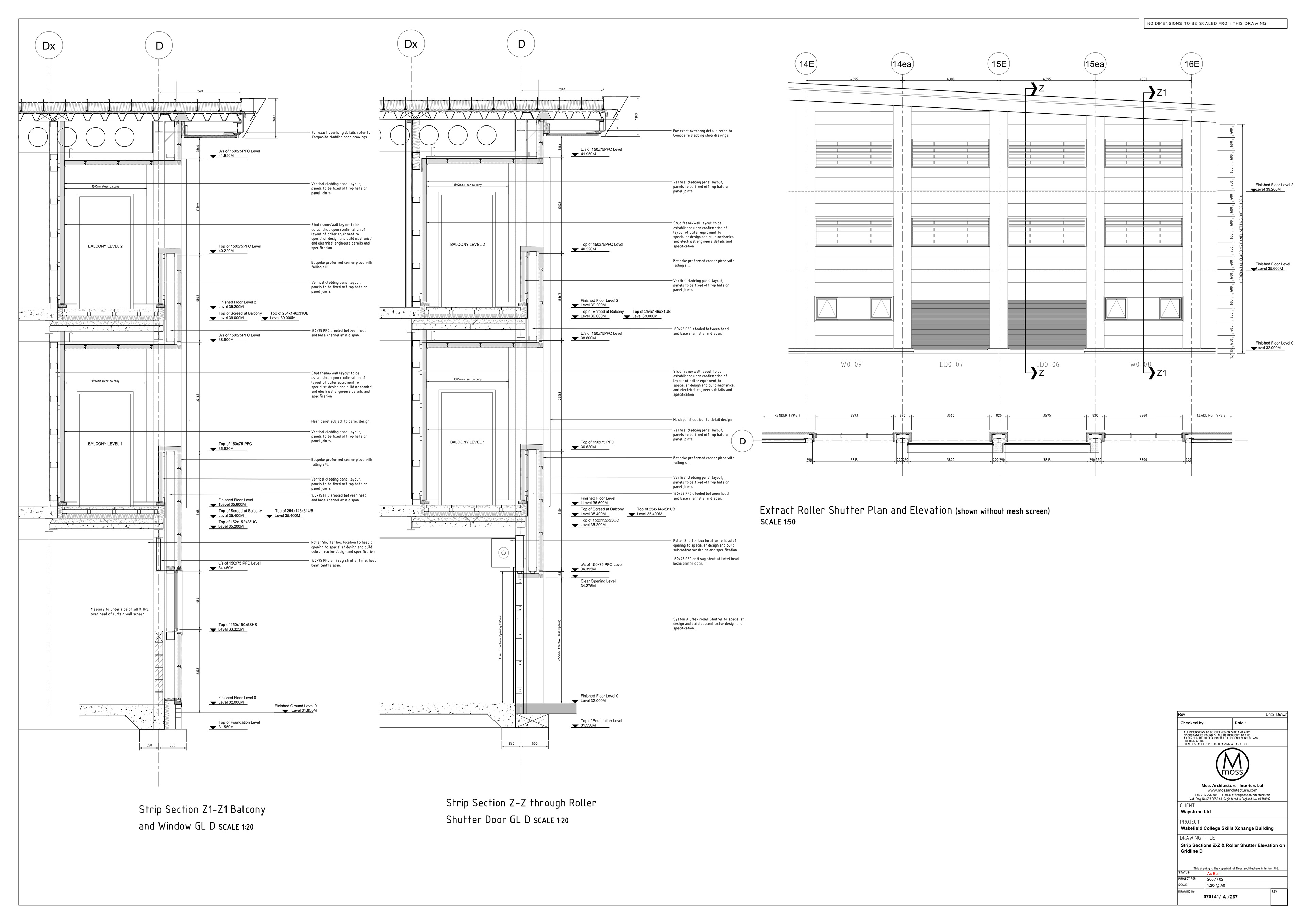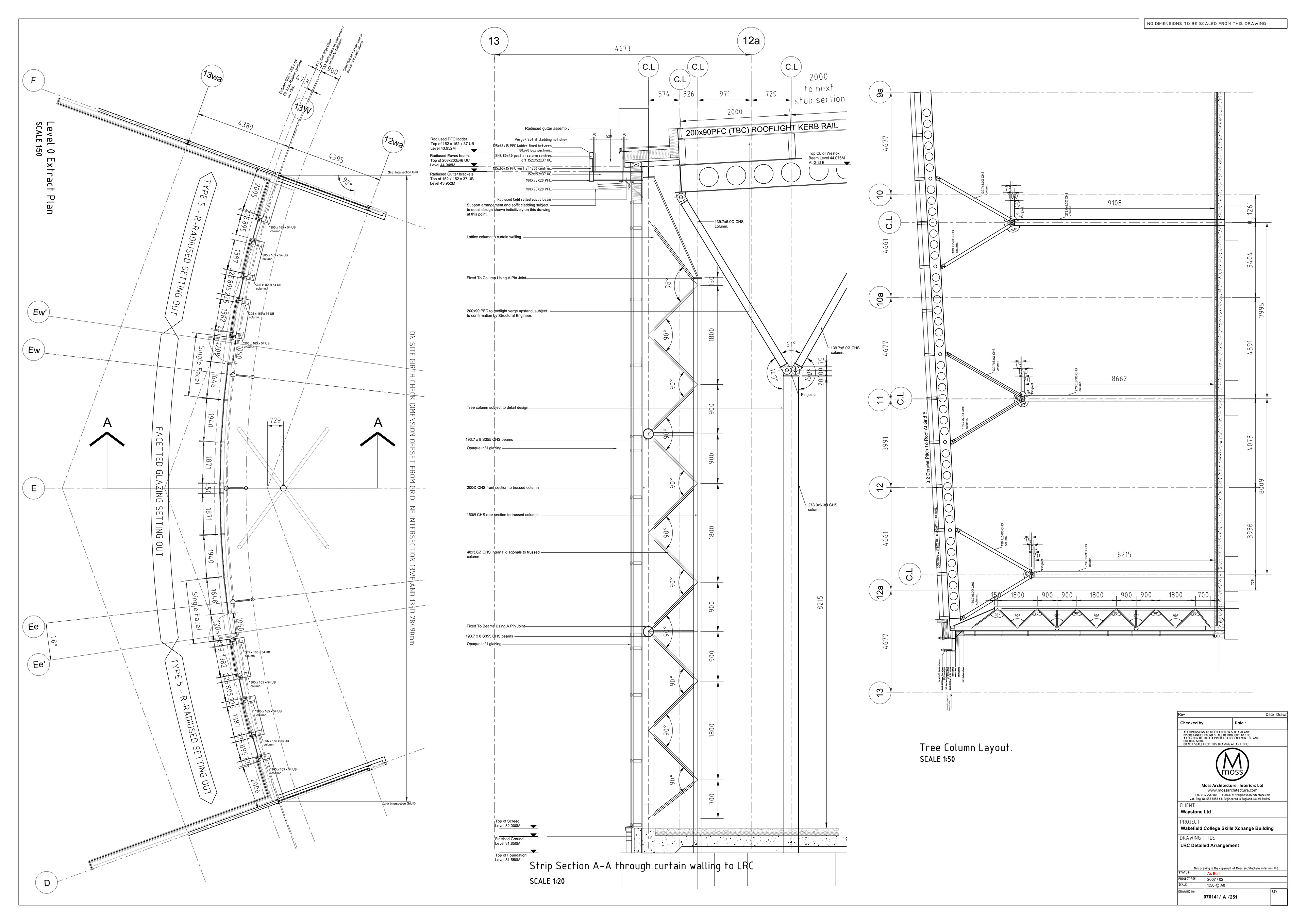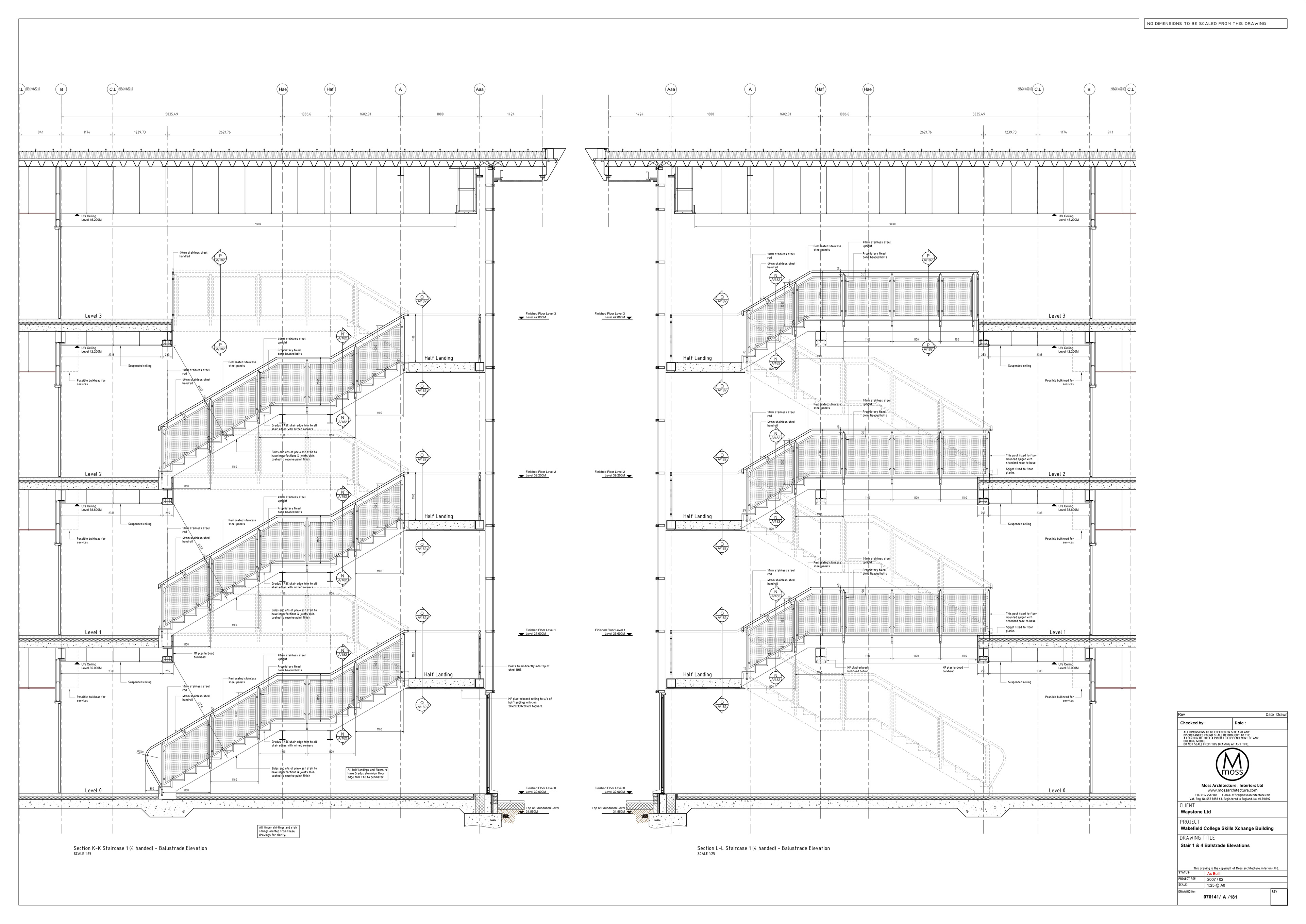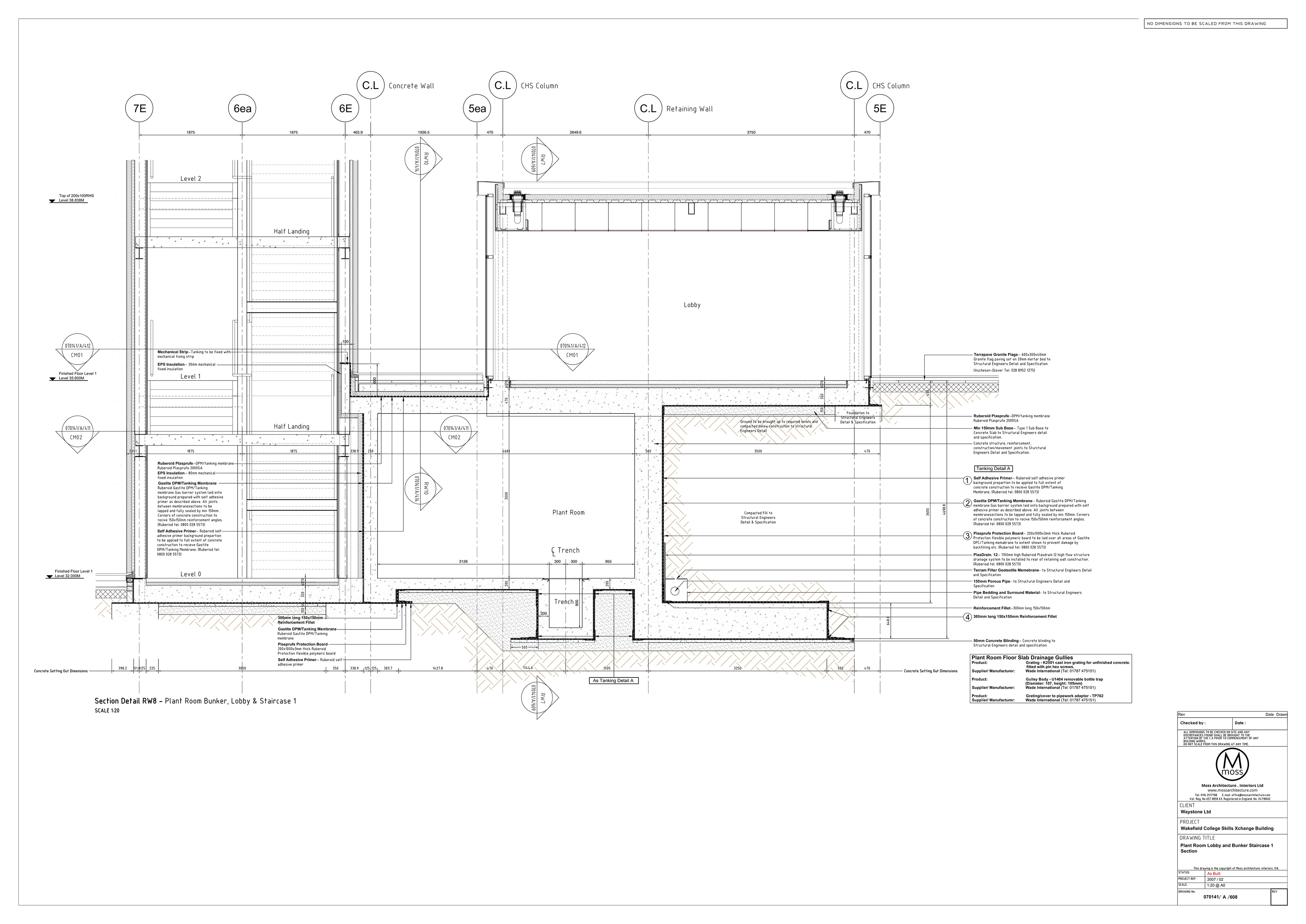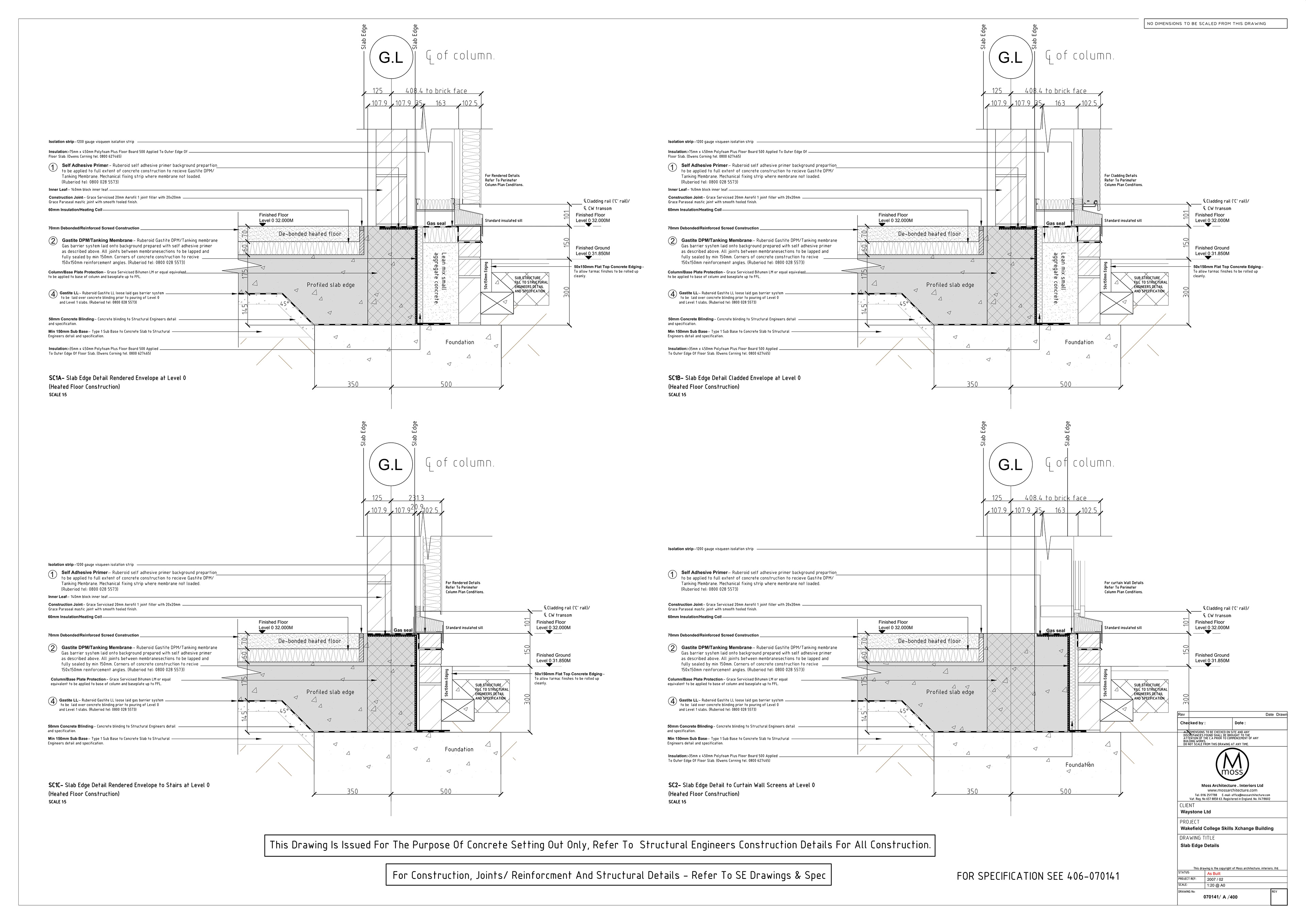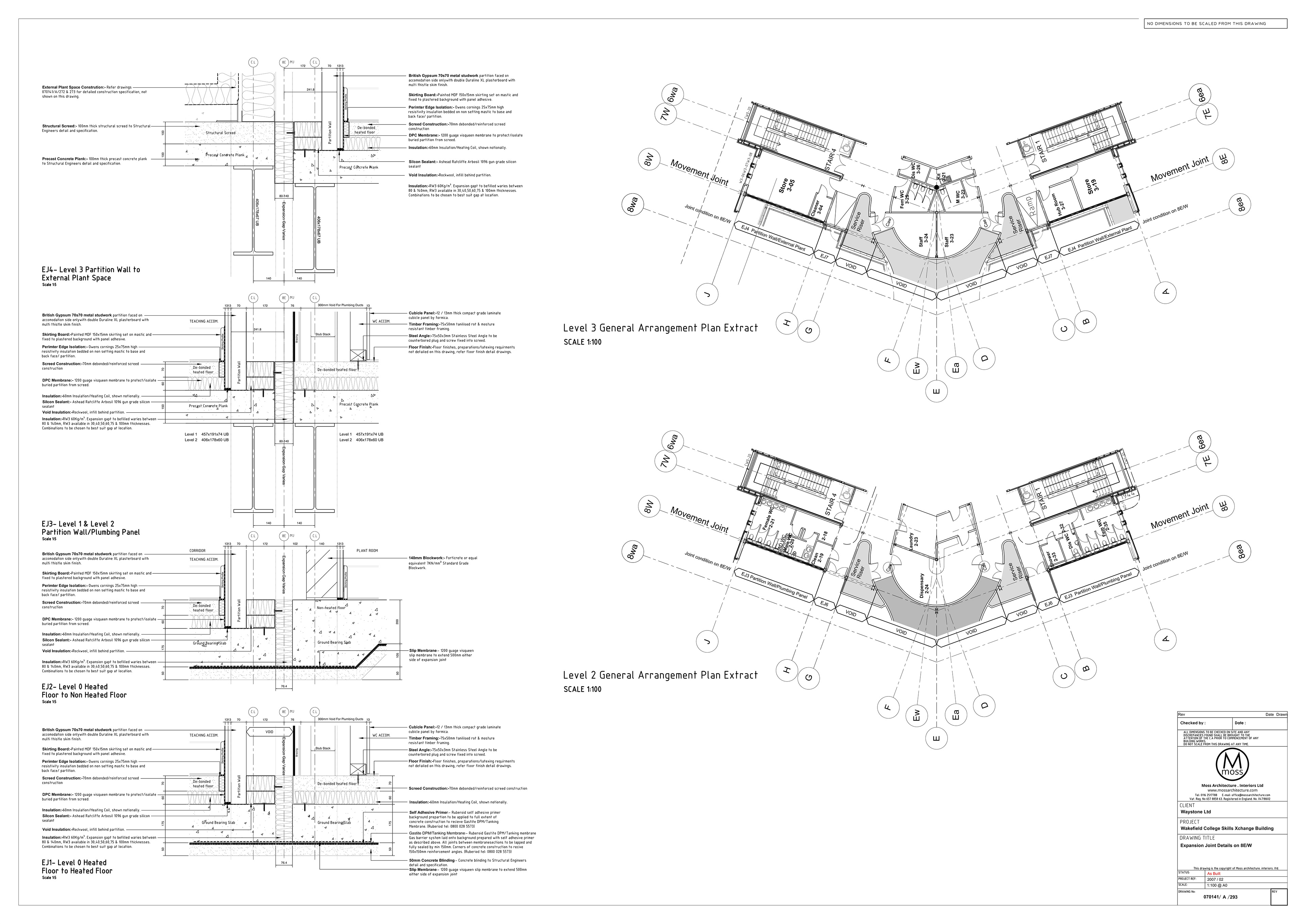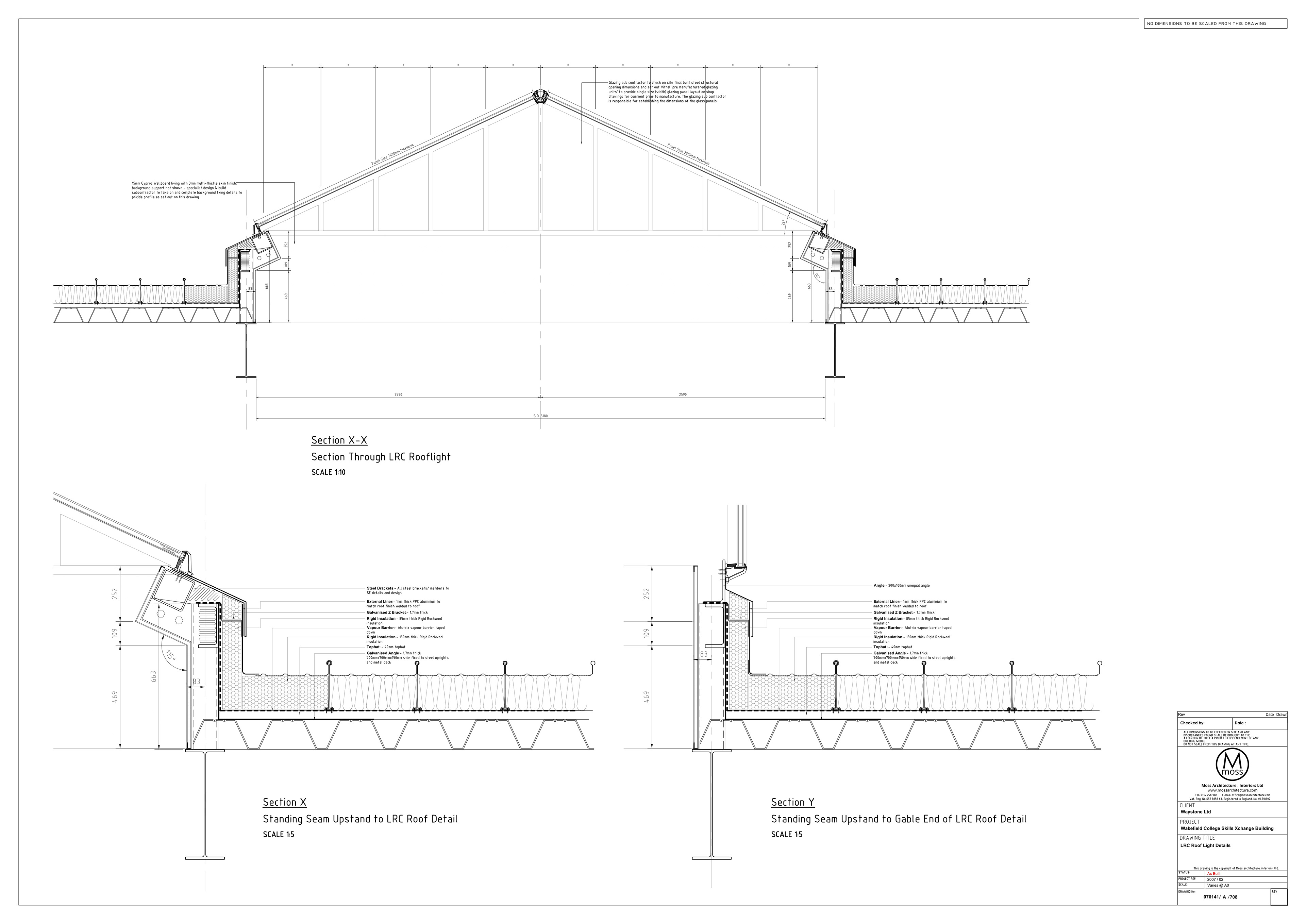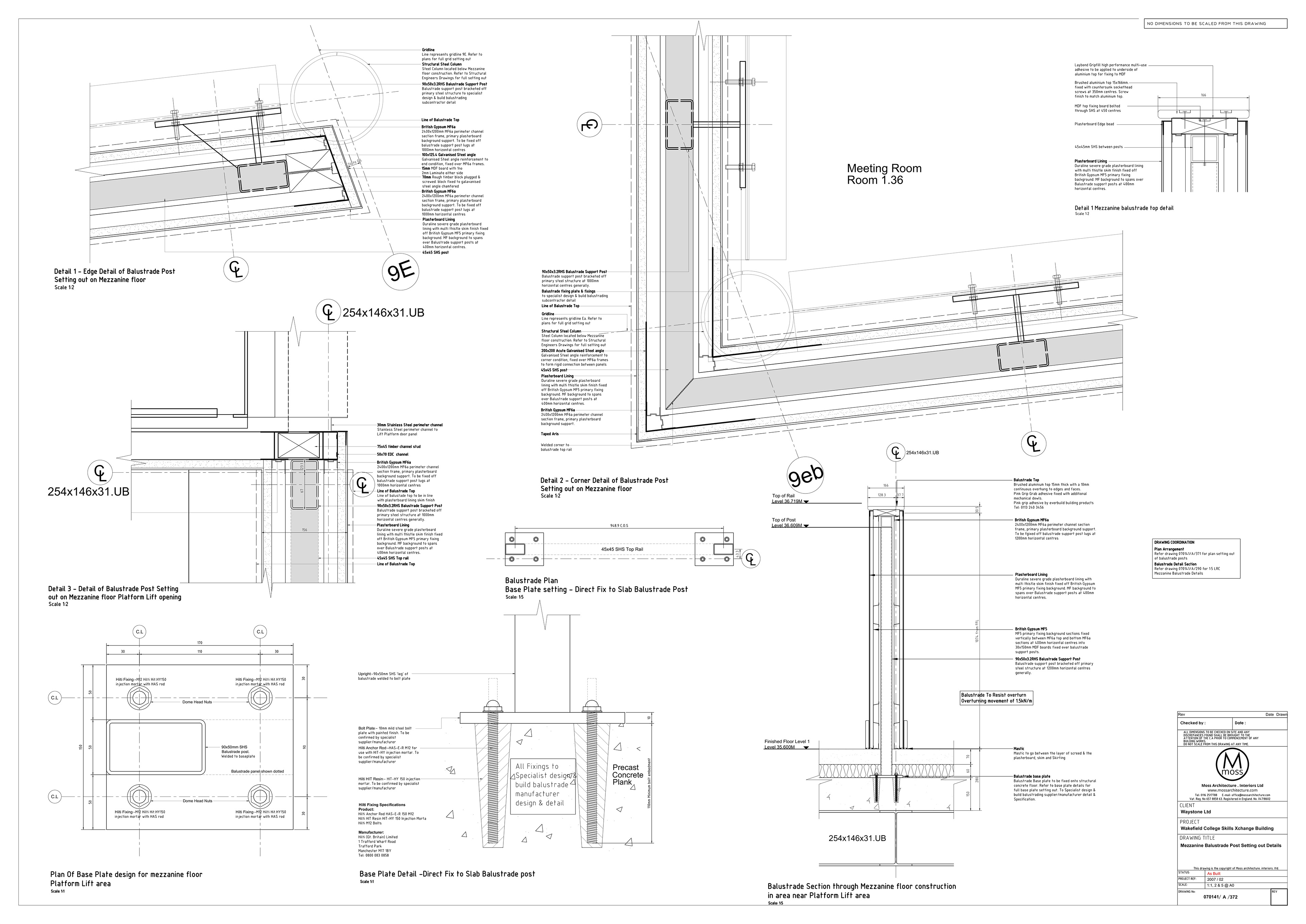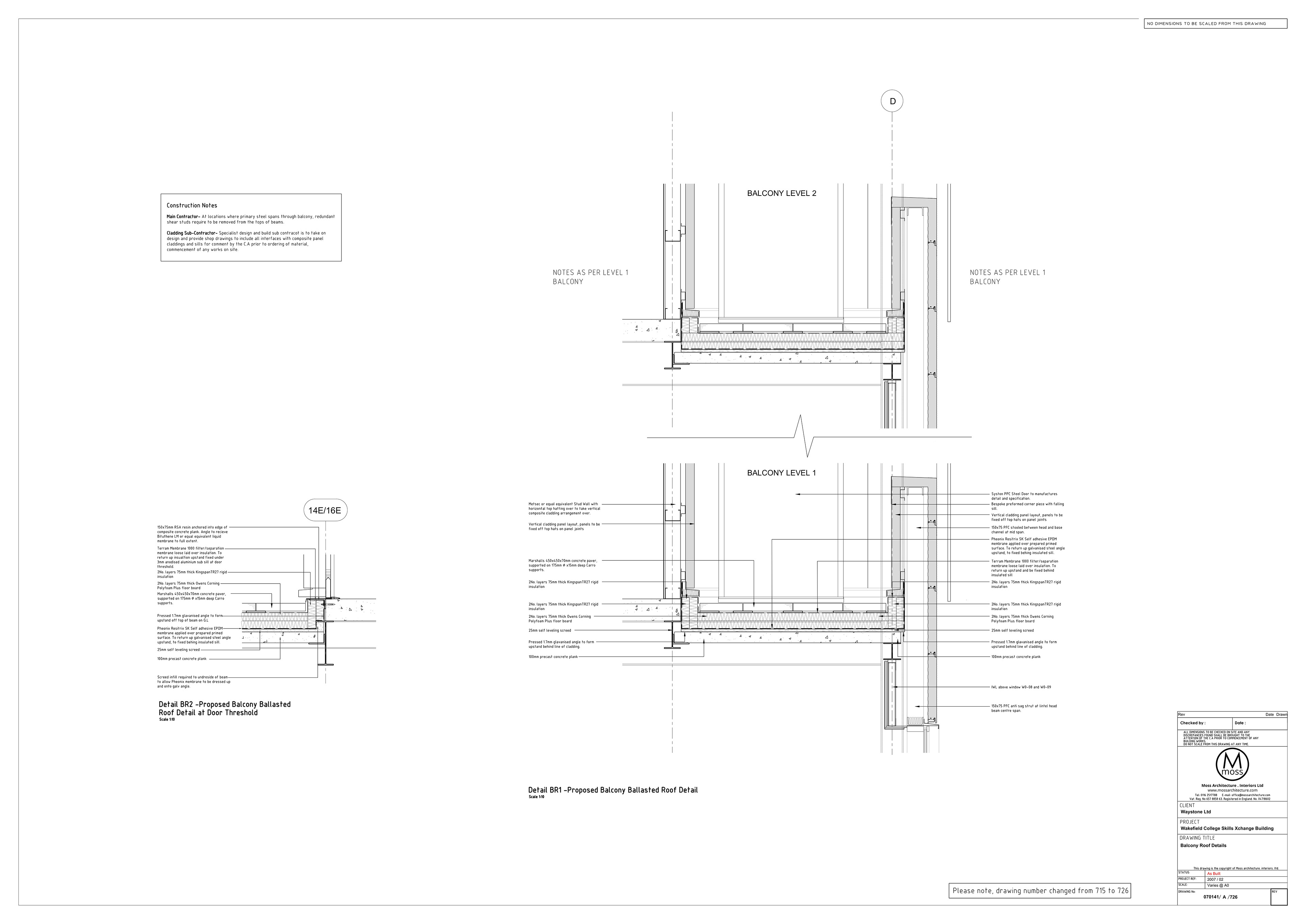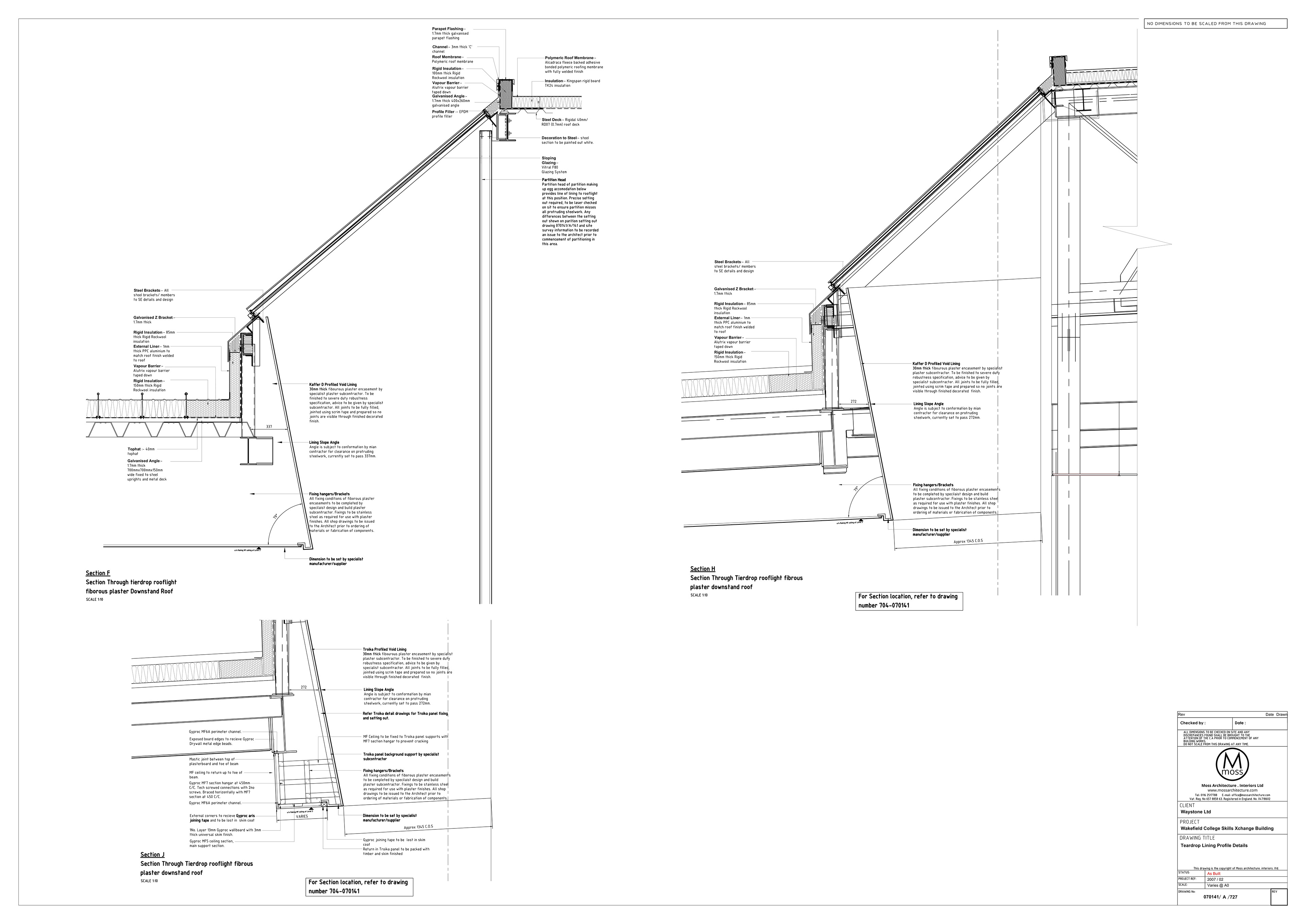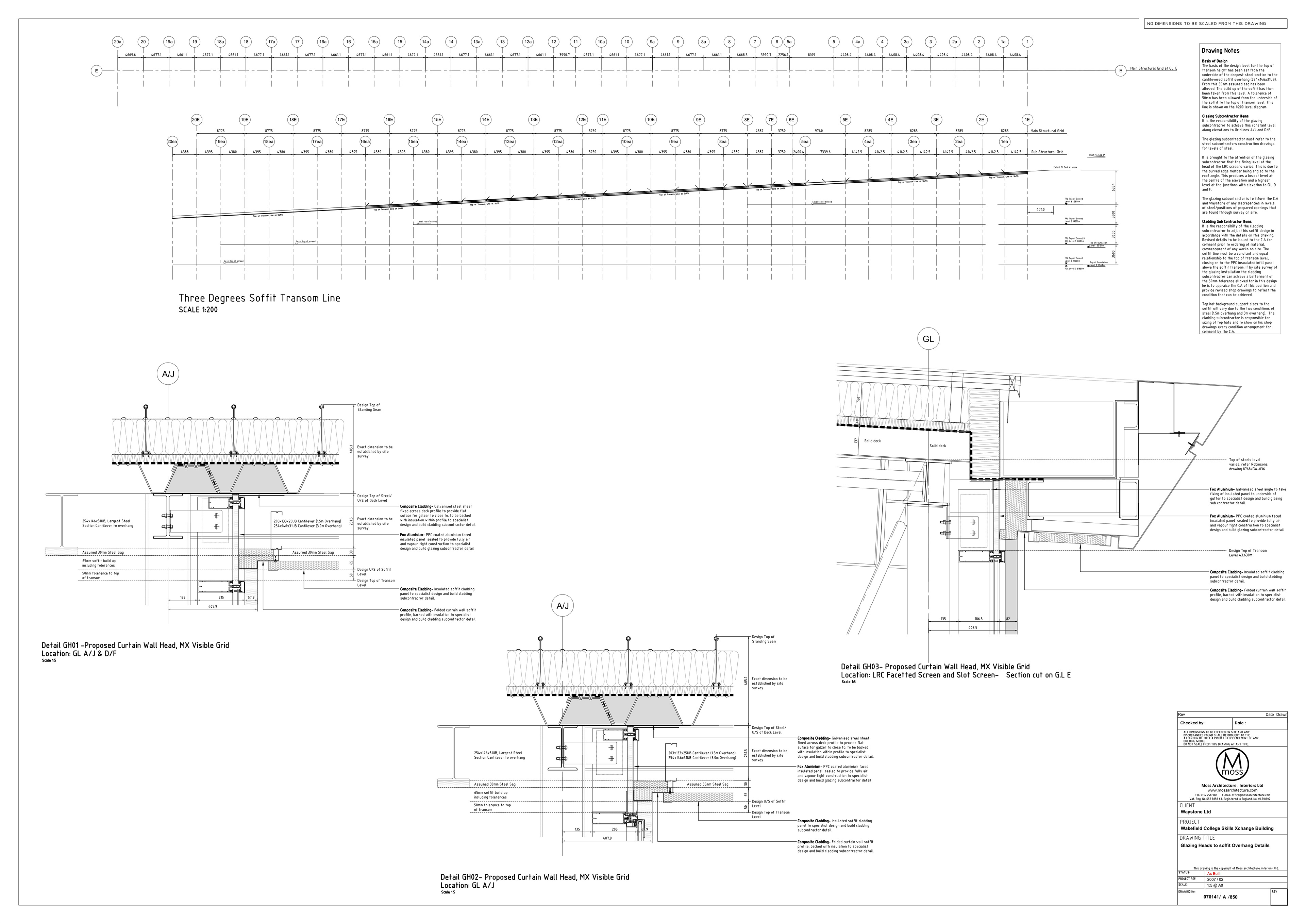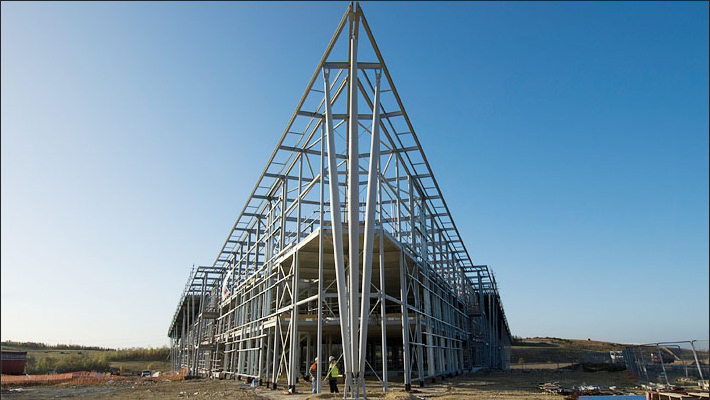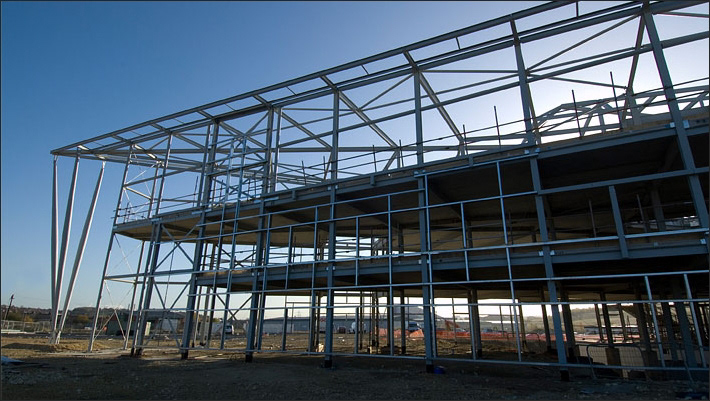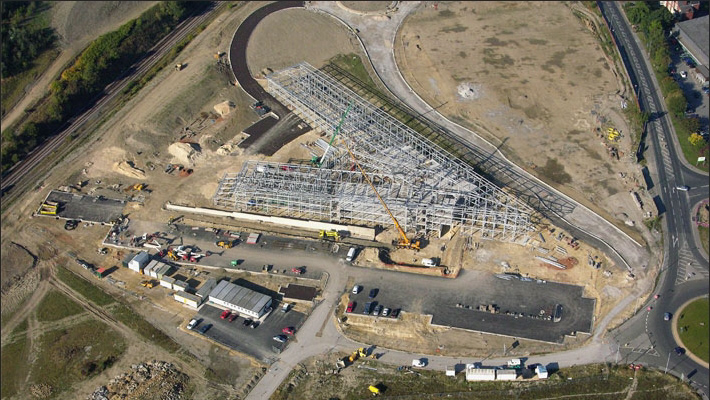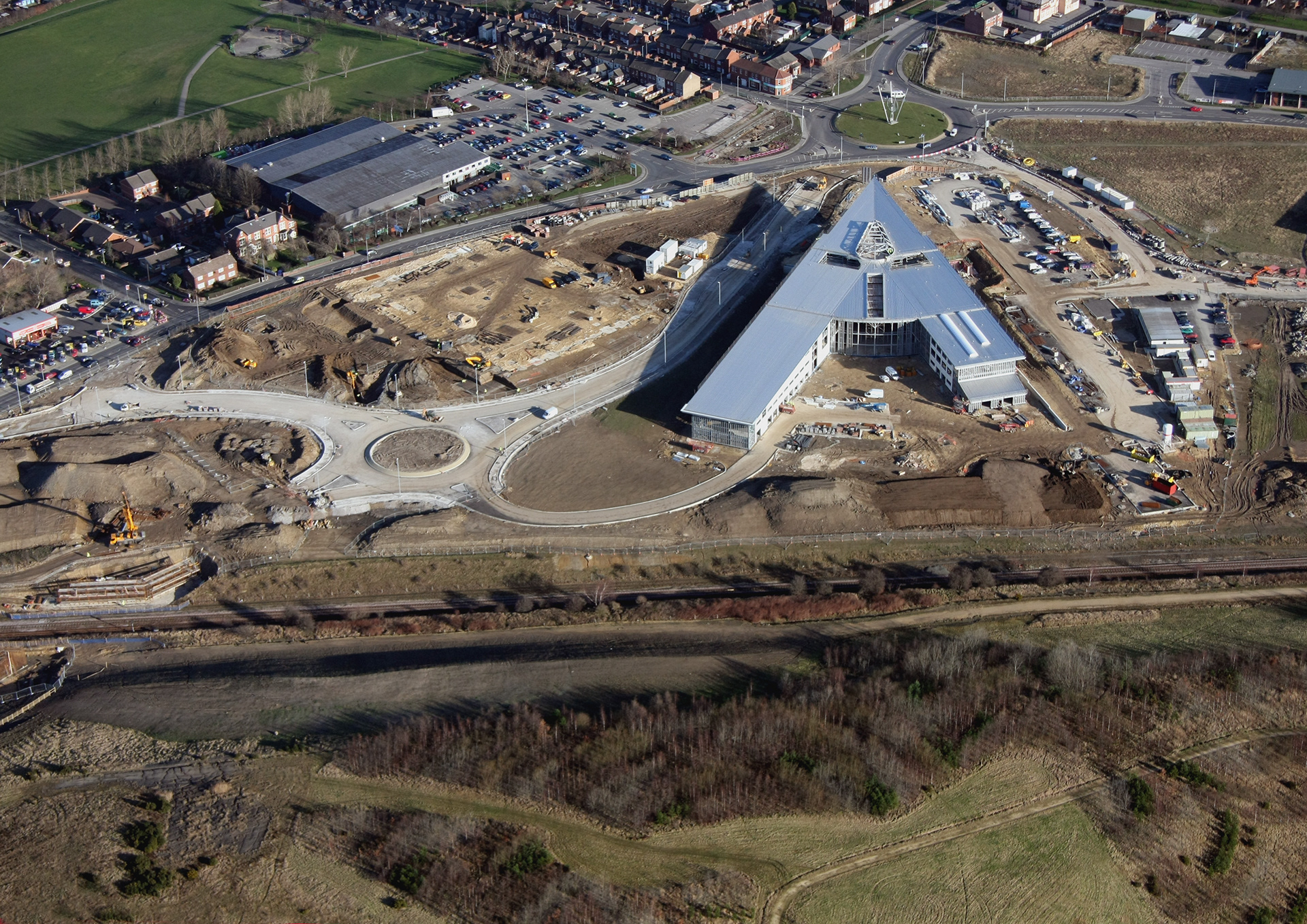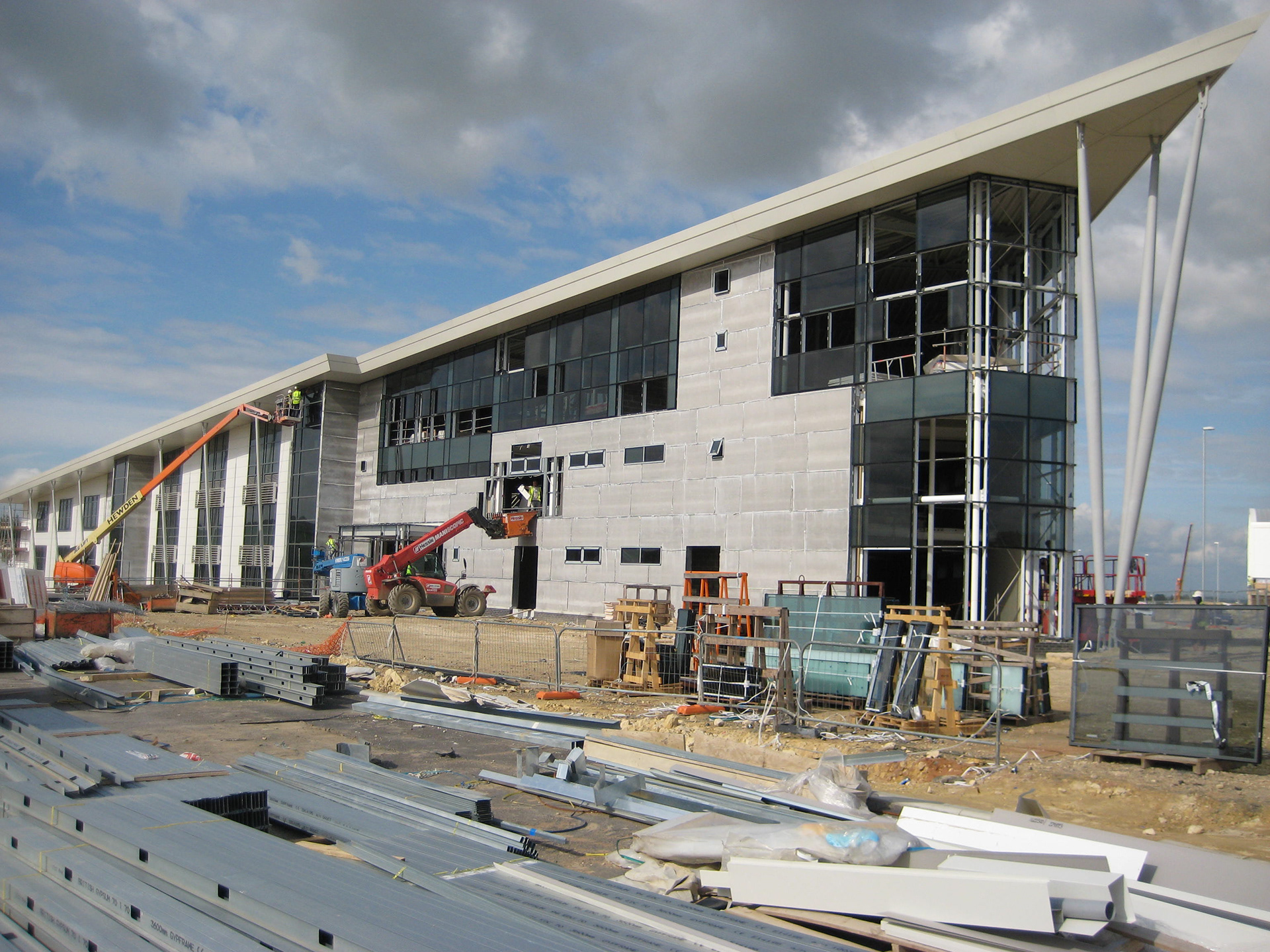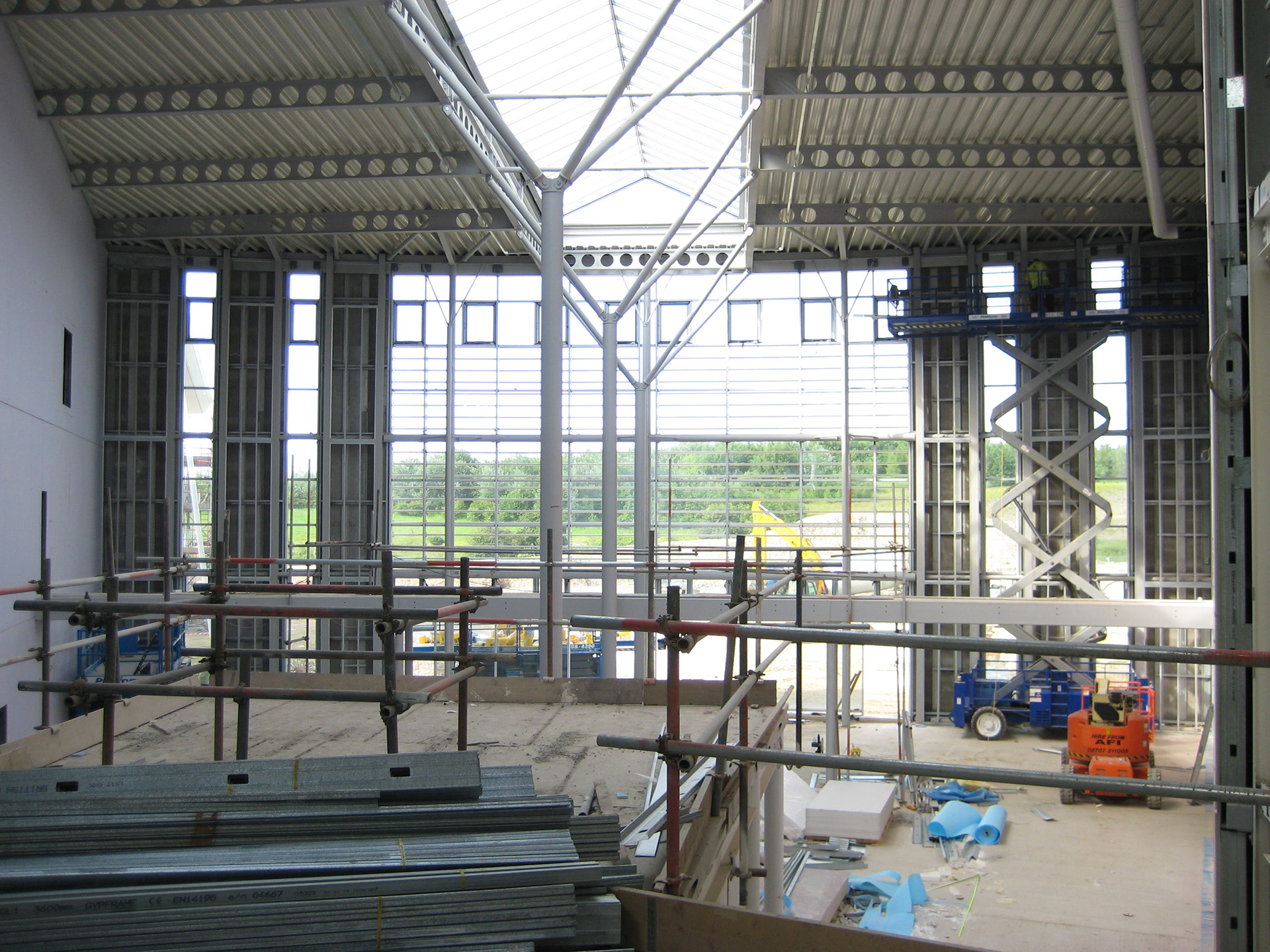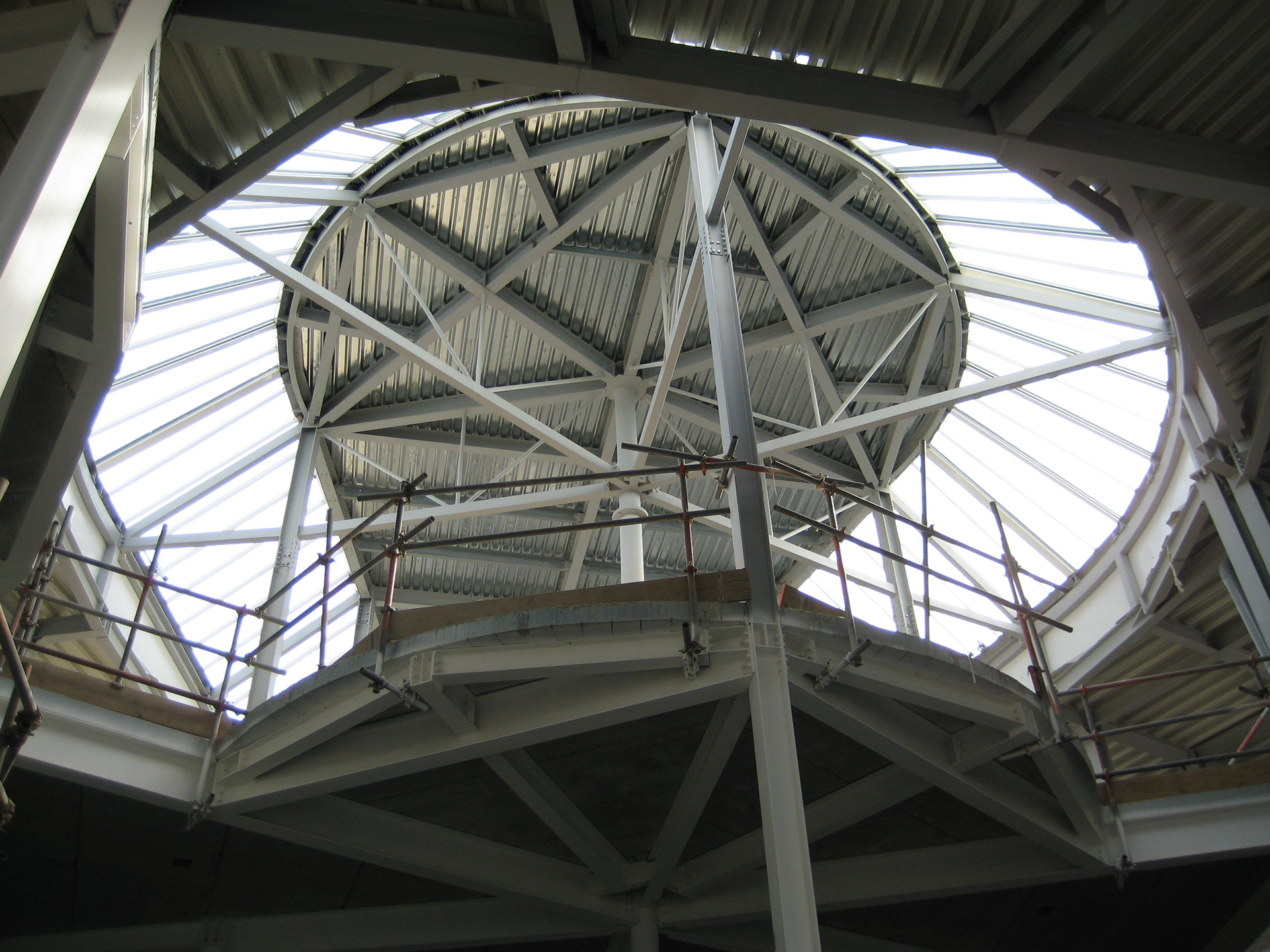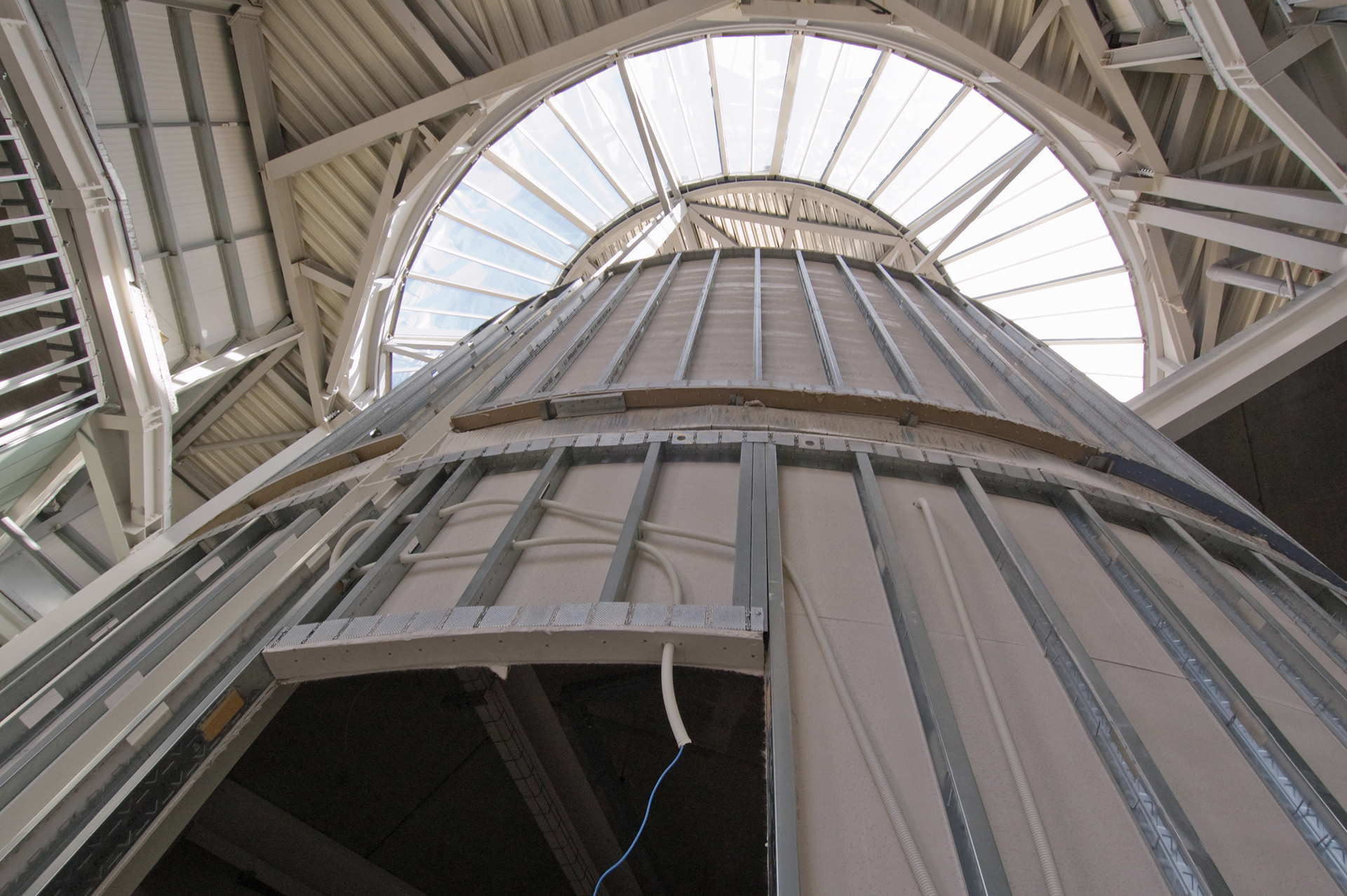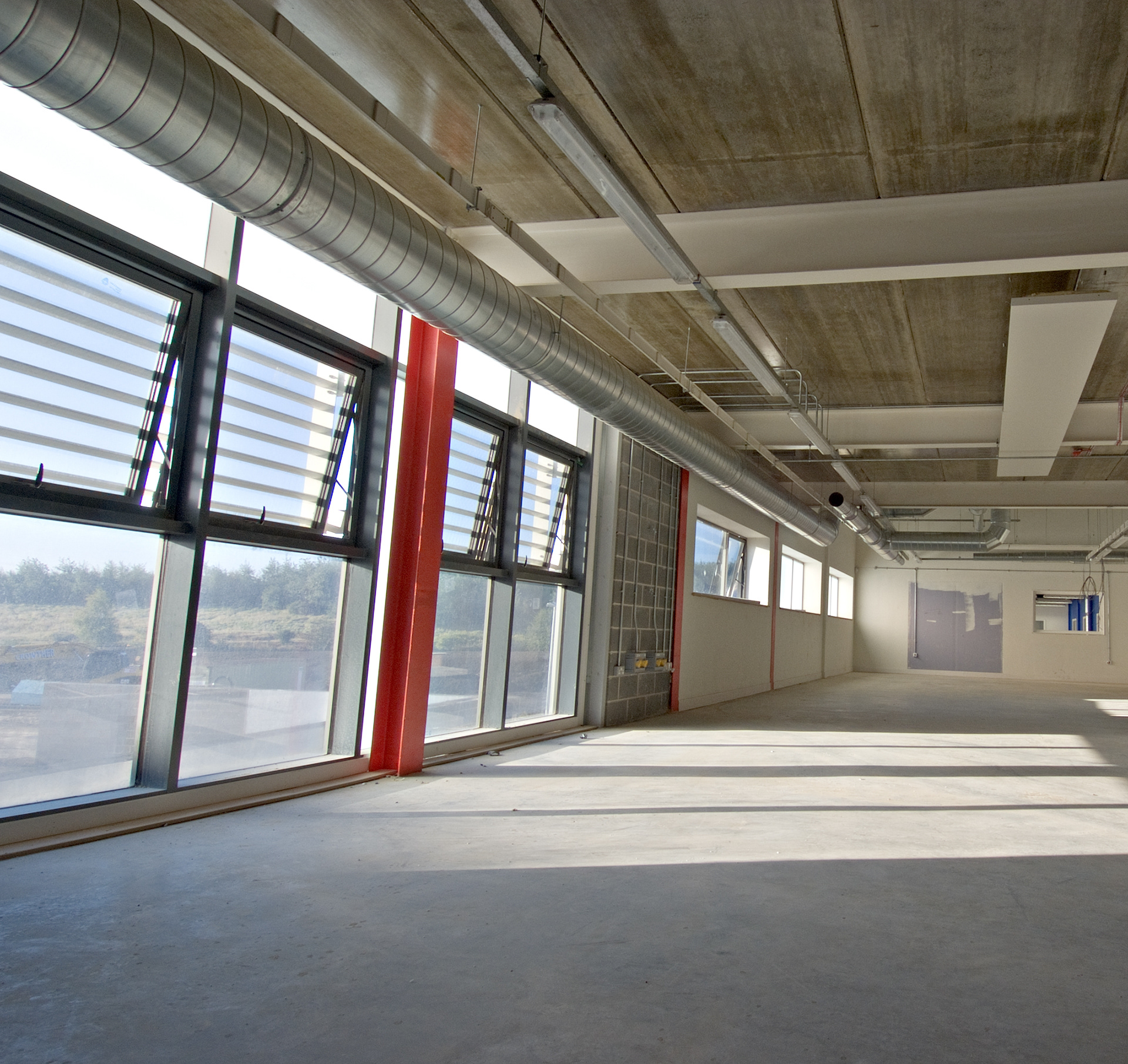 External walls are developed in Met-sec infill frames between floor slabs with built up and insulated Sto Render rainscreen construction and Eco panel (Mineral wool core) composite cladding. Internal linings are applied in masonry and independent wall linings to suit interior use at location. The external envelope is super insulated for energy performance. 
The treatment of the elevations is simplified using two cladding types reducing construction complexity and delivering a clean appearance, allowing the building form to speak. Including a highly glazed fenestration layouts to maximise natural light deep into the interior. Achieving a feeling of wellbeing through connecting inhabitants with views out. Delivering a dramatic effect when illuminated at night.
The fenestration glazing includes actuated opening vents that are controlled on air temperature and humidity sensors, providing natural ventilation, into the majority of the cellular spaces minimising the need for mechanical ventilation in the scheme.
Solar shading louvers are provided to the glazing to minimise and control peak solar gain. Further solar shading is provided to the fenestration glazing by the significant perimeter roof over sailing feature that both enhance environmental conditions and stance of the building form on the site. Argon improved solar glazed sealed units improve U-value efficiencies. 
Energy envelope construction is detailed to maximise air tightness including airtightness membrane detailing at glazing frame and cladding interface junctions. 
Fire stopping and acoustic isolation detailing is provided within the glazing frame structure and at floor level perimeters to improve acoustic performance between floors and achieve fire separation continuity.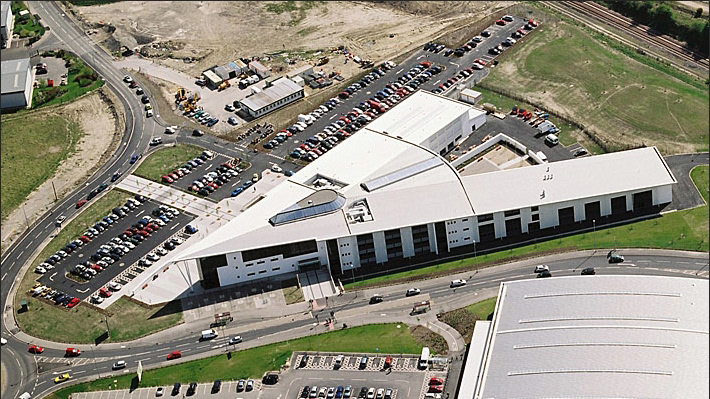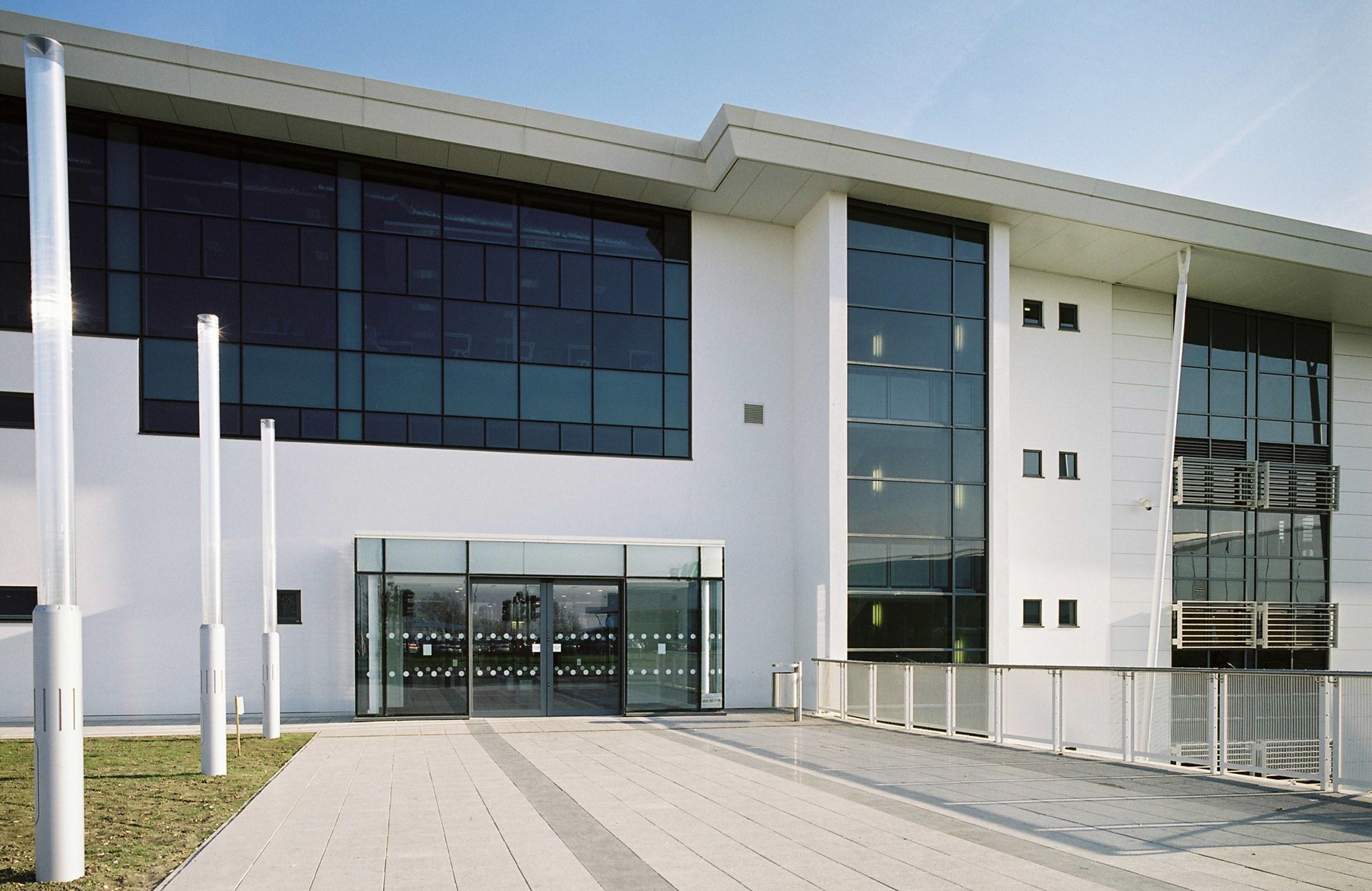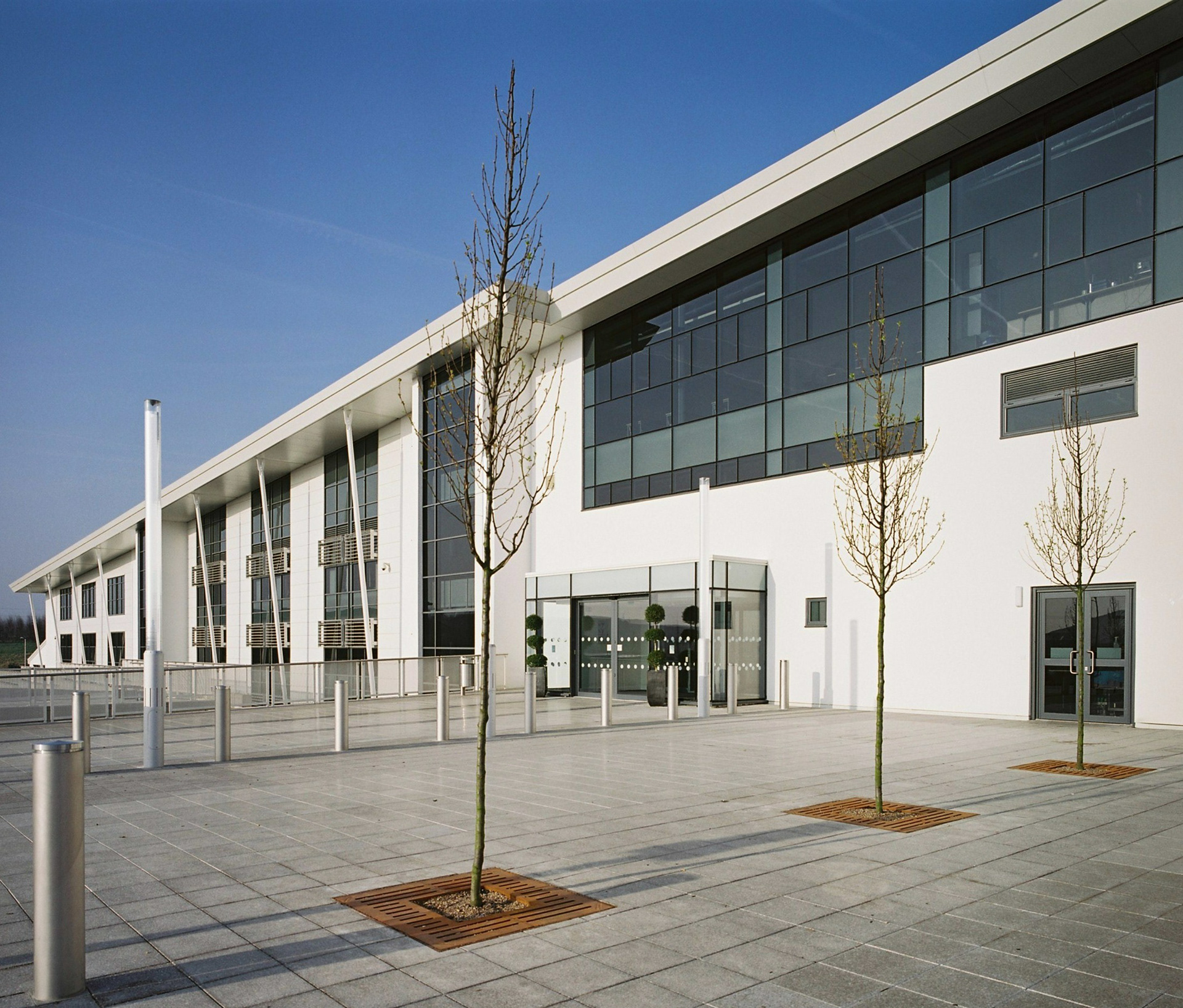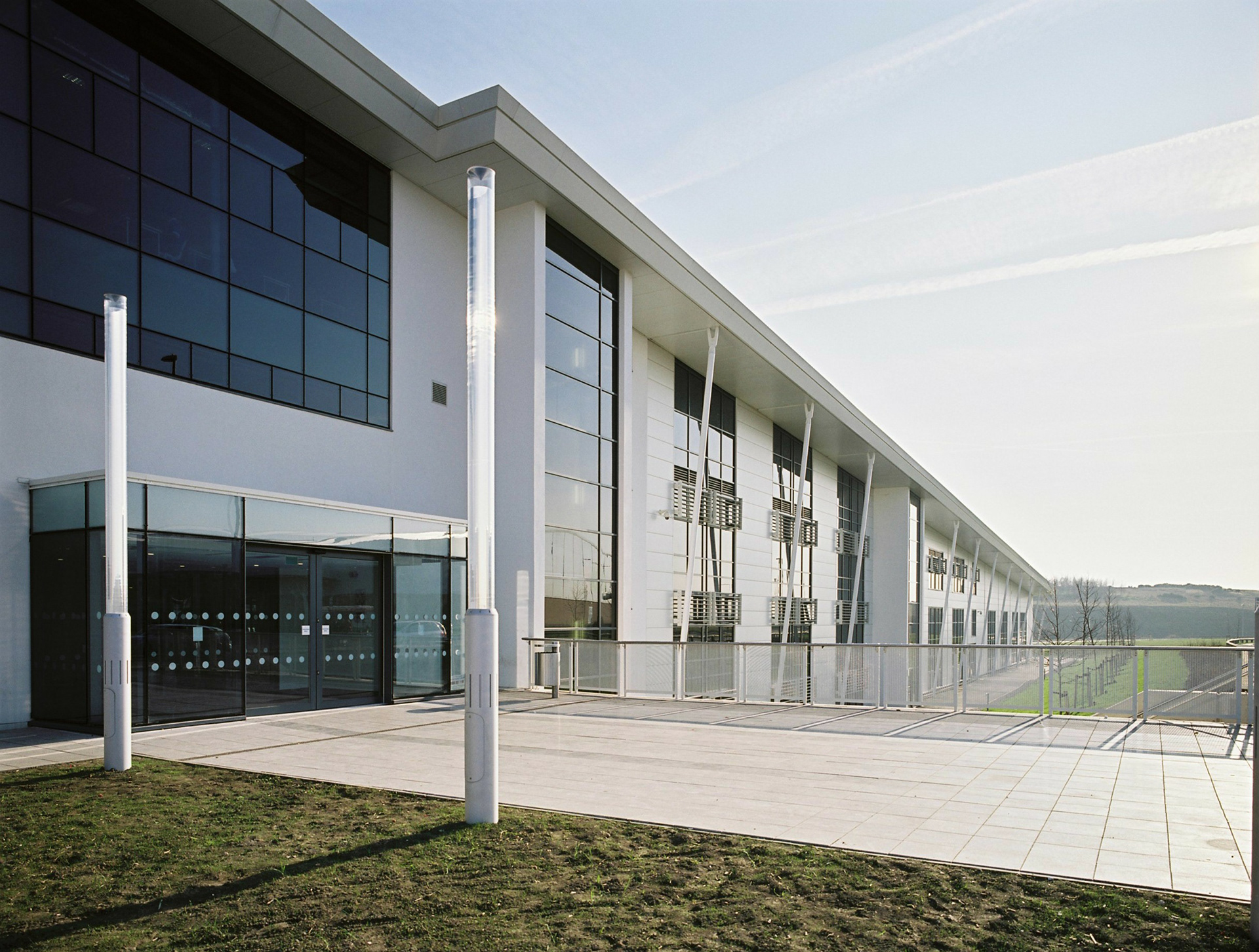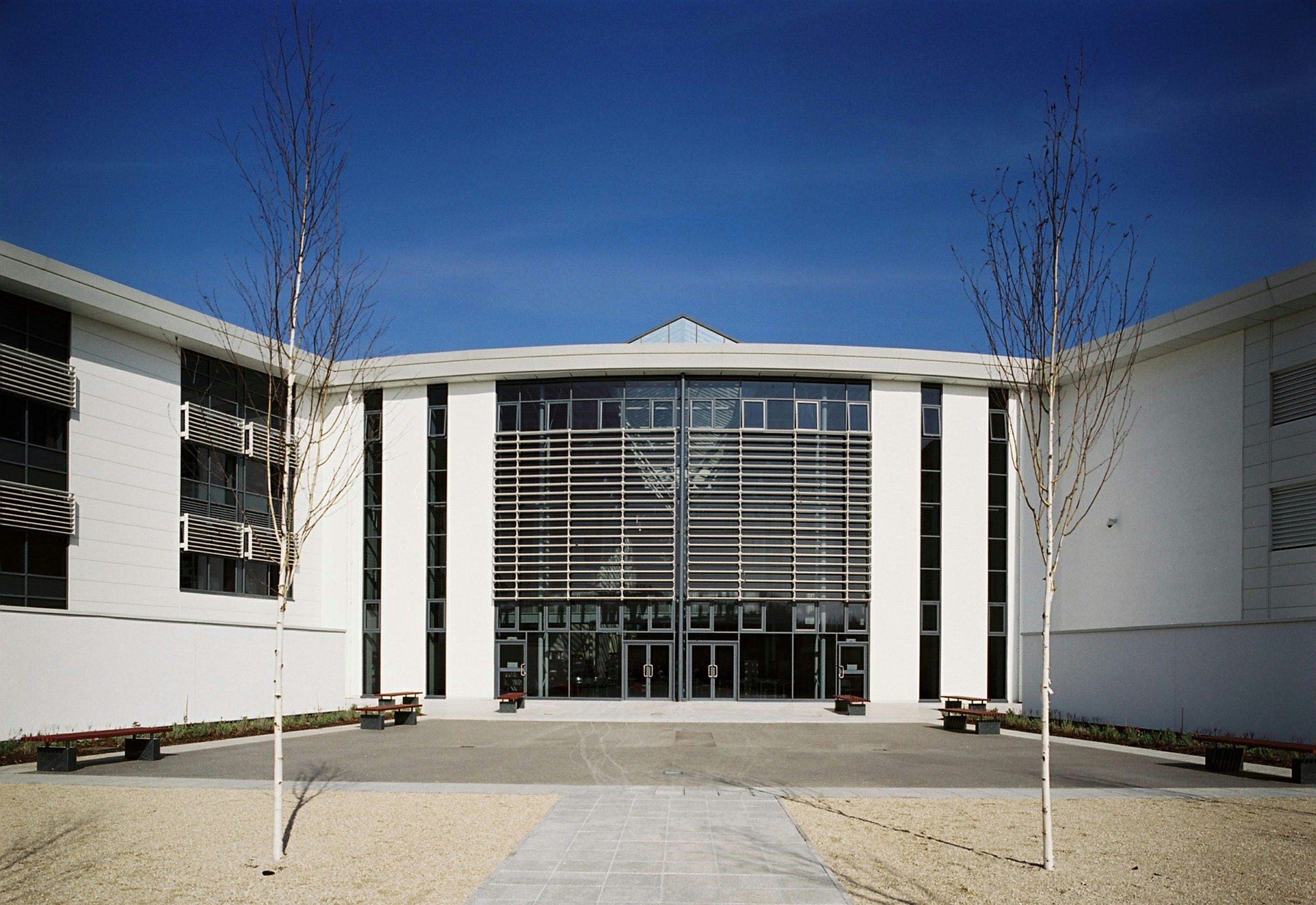 The interiors are strategically planned and set out with work shop and heavy engineering uses on the lower floors and teaching and academic uses on the upper floors. 
Interior partitions are provided in metal stud and concrete block appropriate to location and use with various types of facing boards and finish appropriate to robustness and appearance requirements.
Internal glazing is maximised to share daylight and afford views into work spaces to communicate work activities as you navigate the building.
Supply services are coordinated with flexible interior fitting out comprising loose fit equipment layouts that can be adapted, able to respond to changes in pedagogy. 
Acoustic raft ceilings are provided to teaching spaces with plank and open grid tile ceilings to circulation spaces enabling the concrete floor slabs to function as a heat sink and to enable passive ventilation circulation.
The sustainable design features passive ventilation through provision of actuated opening lights within the external wall glazing, atrium and void roof lights that deliver ventilation and daylight through the interiors. Ventilation is drawn through the building utilising the atrium and central floor void as stacks. Ventilation is shared into the circulation and central interior spaces through passive air cross transfer ventilation ducts that are noise attenuated and fitted with smoke and fire dampers, that are provided at high level in the ceiling voids through corridor walls. 
The natural heat sink of the concrete floor structures combine with passive free night cooling delivered through the BMS controlled opening lights combining to deliver high levels of energy use efficiency in minimising electric lighting and mechanical heating and cooling. 
The atrium and floor voids are isolated from each other. Each is located within its own fire compartment.
This project involved many innovative and unique design and construction detailing challenges, from the complex basement plant room sub-structure, to the development of the triangular roof that falls continuously over 160m in length. The geometric glazed roof light structures and internal kidney shaped void constructions, along with the strategic fire planning required to enable the natural ventilation.