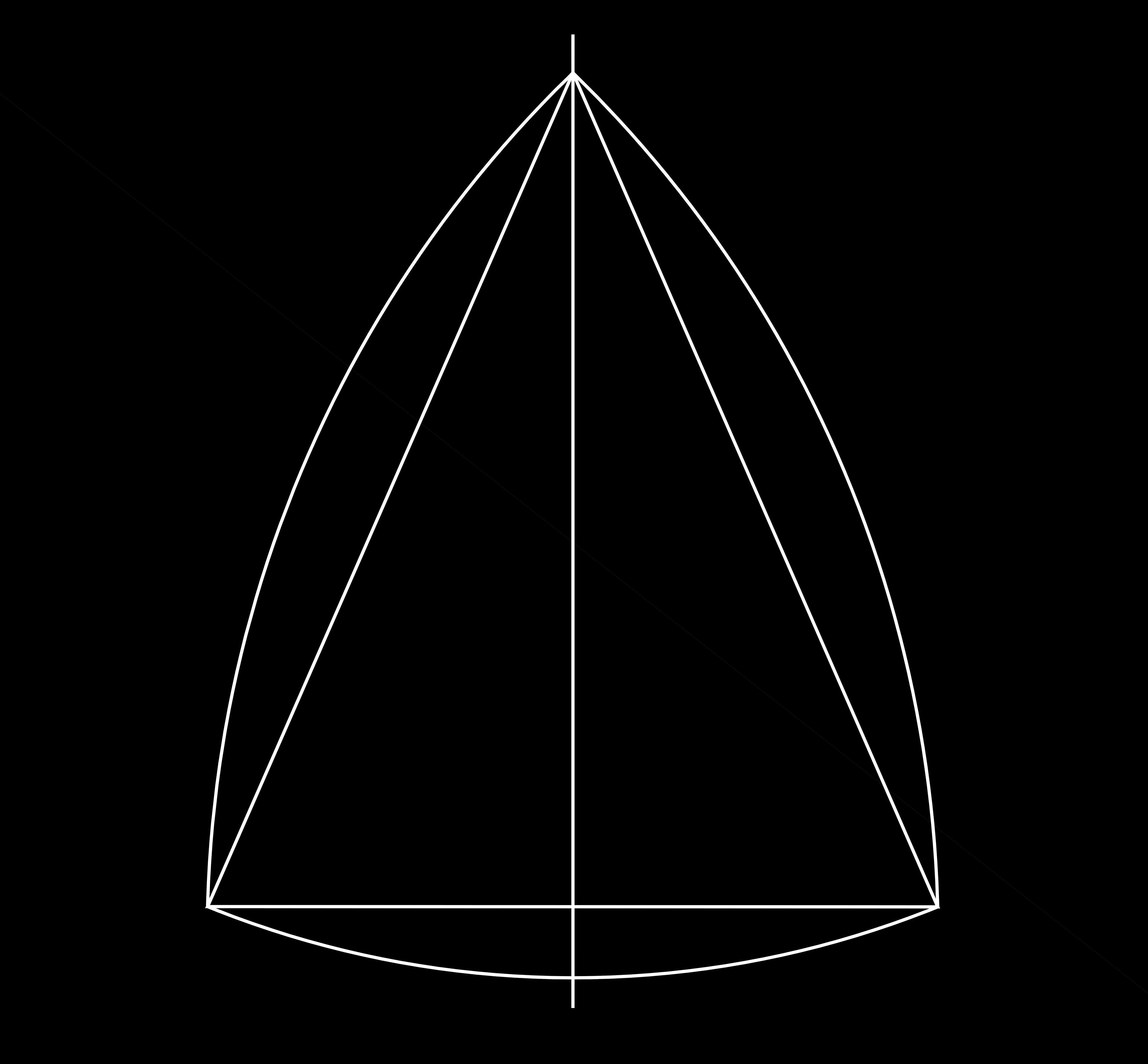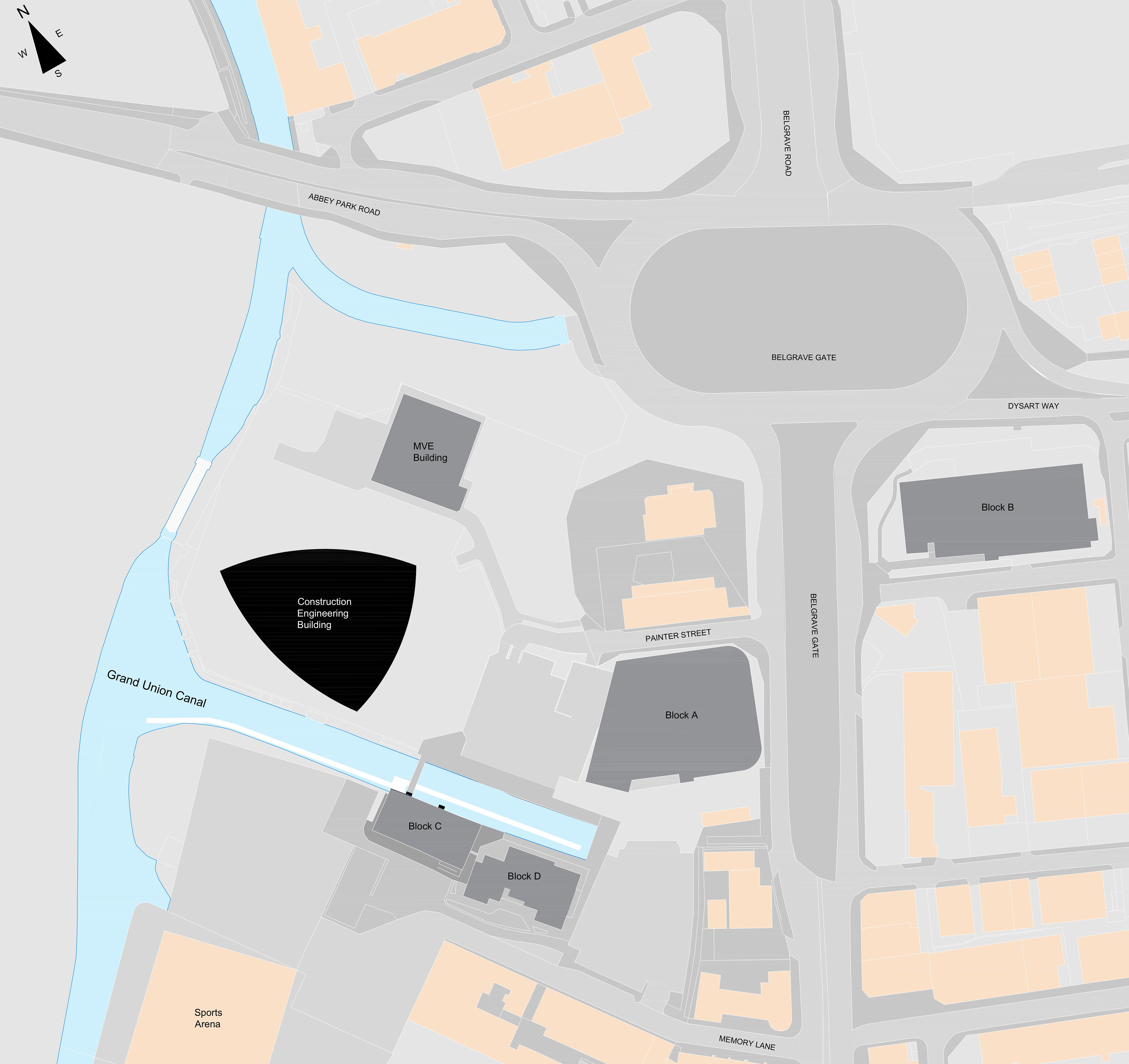 The development proposes a single storey 'top lit box' of 2,500 Sqm of workshop teaching space. The roof is supported with long span roof truss structure to remove internal columns. Delivering highly flexible and adaptable floor space capable of being planned for equipment and skills bay layouts with open plan floor area free of structural columns.
Providing an element of future proofing enabling the building interiors to respond to changes in pedagogy, equipment and curriculum requirements. Delivering longevity of use supporting the college with a flexible and sustainable building asset.
The building form derives from the site restrictions of existing sewer easements and the canal boundary along with the requirements for 3 large skills teaching workshop spaces.
Developing a triangular layout of stacked workshop sitting one above the other. The juxta-position relationship to the triangle based upon functional proportion requirements of the workshop layouts.
The interior is provided with ventilation and daylight via the roof as well as elevation glazing to perimeter spaces.
The massing of the building developing curved elevations in response to maximising daylighting and controlling solar gain through the orientation of the building on the site. 
The building sits across the canal headland entered through a corner cut out, approached via a paved courtyard space shared with the Motor Vehicle Engineering building. Establishing a central social space between building entrance.
Clad in larch open batten unitised cladding panels providing a sustainable highly insulated wall, that will weather to silver grey. Solar glazing is blue tinted.
The landscape is designed to provide context and soften the edges through naturalised planting and ornamental trees providing shading to the building elevations and opportunity to develop bio diversity.
The development is located at the College Abbey Park campus on approximately 3.5 acres of vacant land. Where we previously delivered the college School of Motor Vehicle Engineering to the Northern boundary of the site.
The site involves significant ground enabling works, located within a flood zone 2 area requiring the site level to be raised for development.
Appointed Project Managers and Lead Designers continuing our working collaboration with Leicester College. Leading the project brief, design and site scoping studies, developing a multidisciplinary design proposal with cost estimate, project programme and delivery plan to support a client funding bid.
The Construction Engineering Building comprises the college provision for:
- Electronic & Electrical Engineering
- Manufacturing (Heavy) Engineering
- Plumbing & Heating Engineering
- Electrotechnical Engineering (Electrical Installation)
- Developing purpose designed workshop and practical areas with accessible classrooms and                  specialist laboratories for teaching construction and manufacturing engineering skills
GIFA

: 2500 Sqm single storey skills teaching accommodation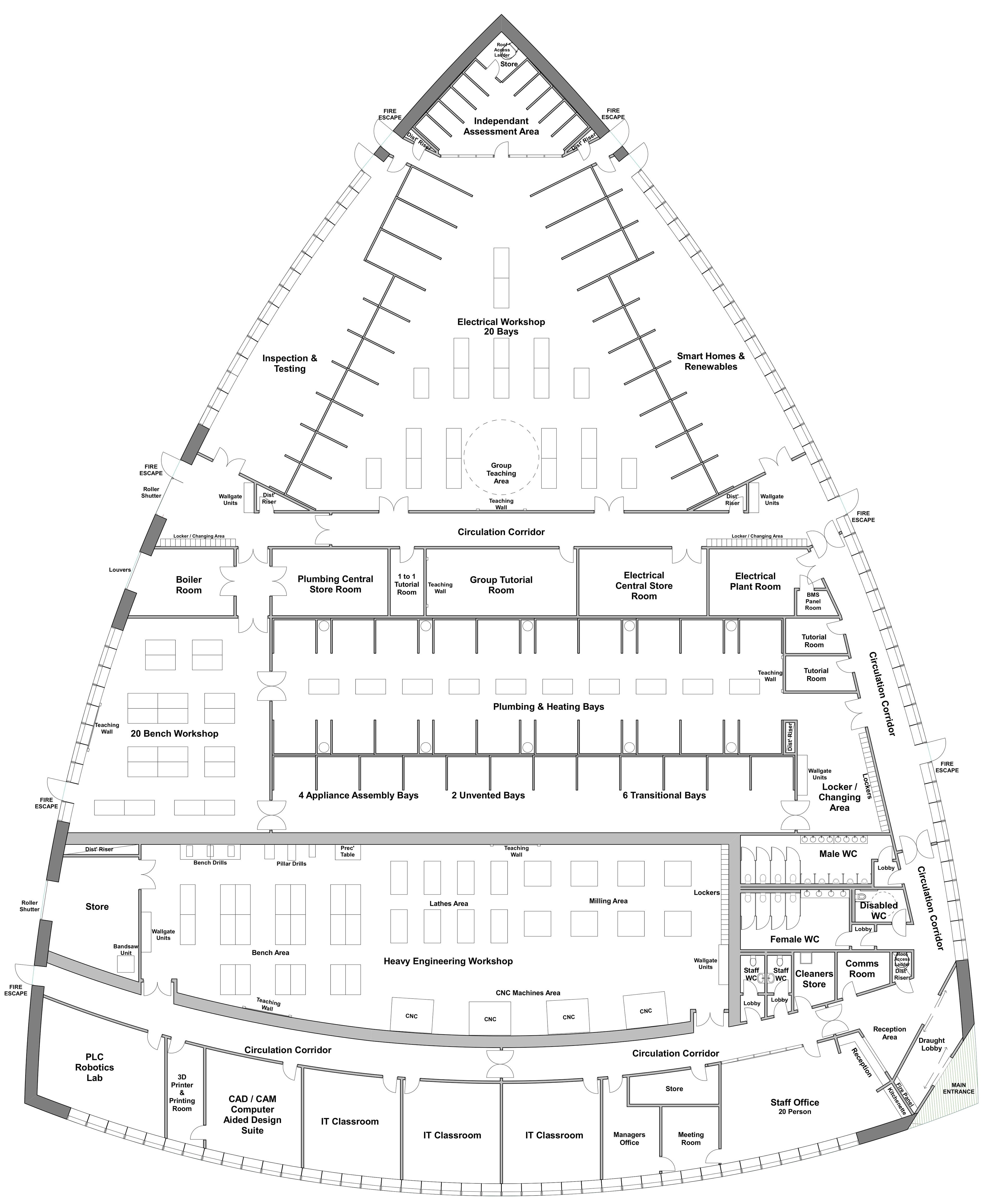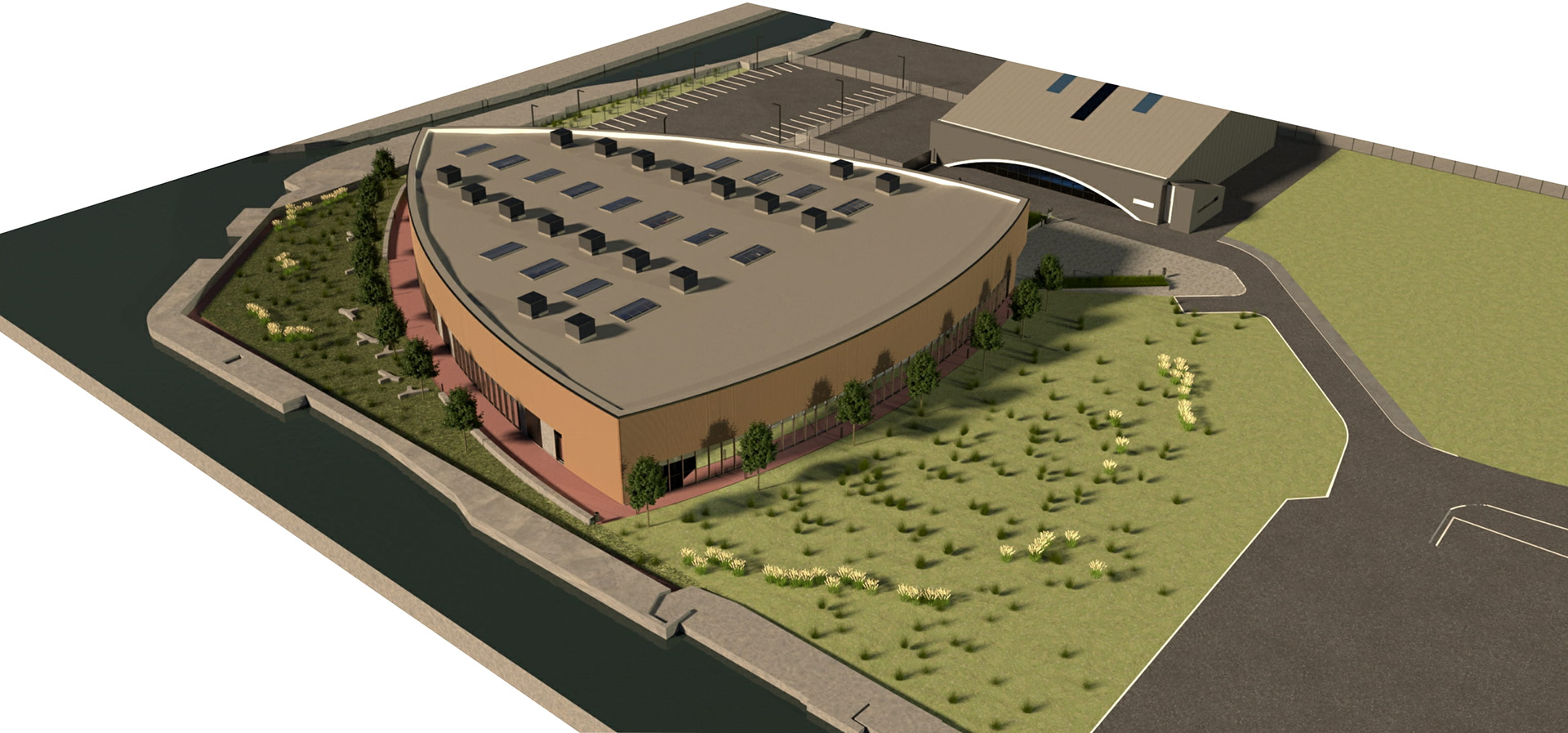 The external elevation is 8.0M in height, having a clear internal height of 5.0m to the underside of the roof truss structure. 
Services distribution, lighting and heating are suspended and routed through the roof structure to keep work shop areas clear of obstruction
Specifically set out and sized opalux roof lights deliver plentiful diffused shadow free top light into the workshops. The roof lights include actuated opening vents that will assist the Mono-draught passive ventilation and extract units in summer with night time purge cooling.
The building is set on its long axis to NW / SE across the site, maximising daylight collection and considers the site restrictions that inform the building shape, site position and orientation. 
To assist daylight collection and solar shading the building elevations are set to a slow compound radius that exposes different areas of the glazed elevation to sun and shade. 
Solar gain is controlled through use of solar glazing with external vertical mullion fin shading projections. The ribbon glazing elevations are restricted to 2.5M in height. 
Energy through solar gain is stored in the partition lightweight concrete lining panels and concrete floor slab to the building perimeter improving the energy performance of the building. 
The curtain wall glazing includes opening lights for ventilation to control heat build-up in perimeter rooms and circulation. NVHR ventilation units are included to all class rooms delivering tempered fresh air into the classroom spaces.
The interior fresh air environment is delivered through application of the following principles:
- Isolation of fumes at source
- High levels of envelope insulation
18 roof mounted wind driven Mono-draught fresh air ventilation and used air extraction units, deliver fresh air ventilation direct into the main workshops removing need for ducts.
A central ducted fume extraction system is provided to skills work bays to remove fume hazards at source.
Fume extraction in workshops is to be provided through use of plug in down draught extraction tables. Heating is provided through roof mounted convection heaters to the large workshop spaces.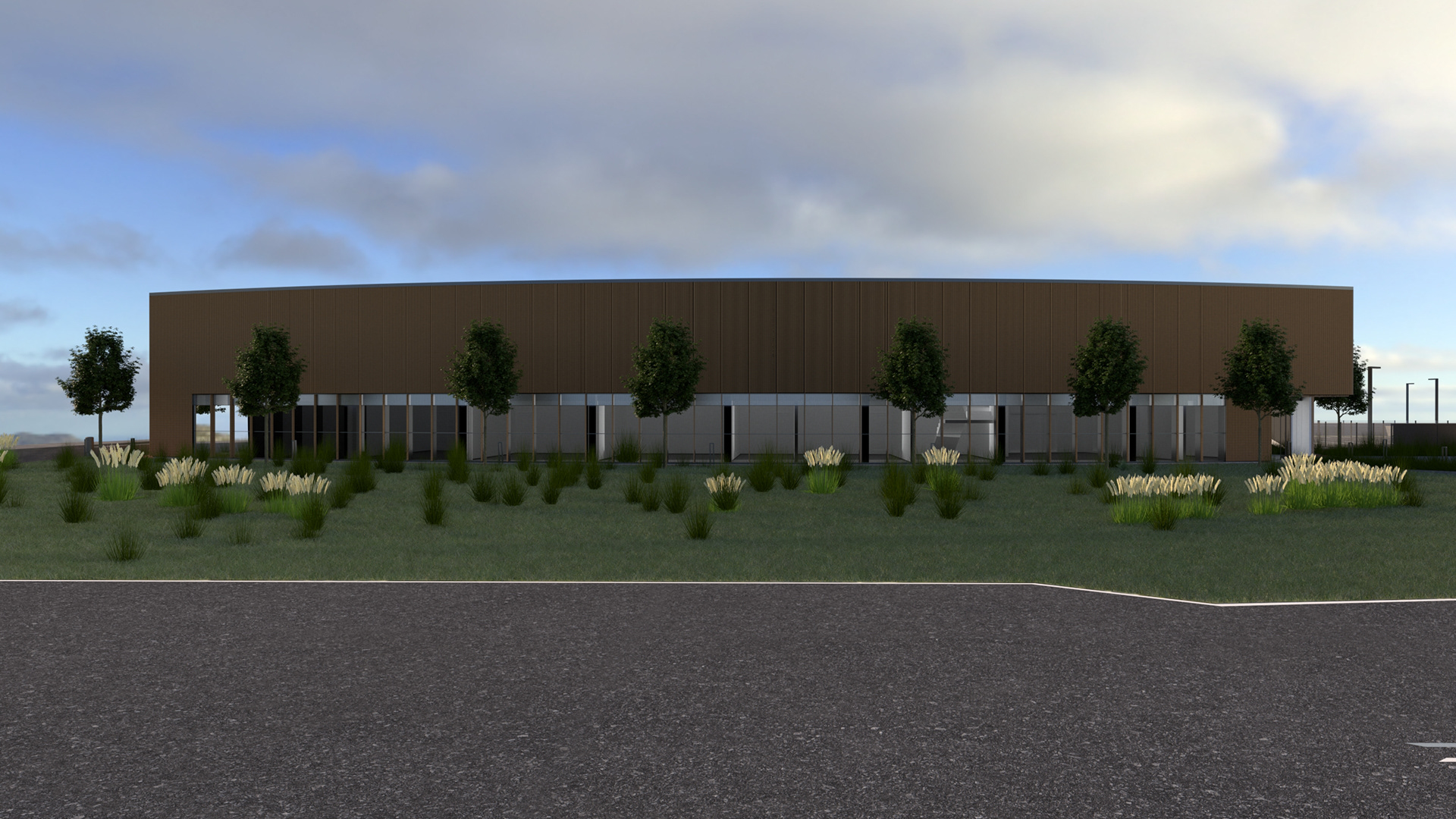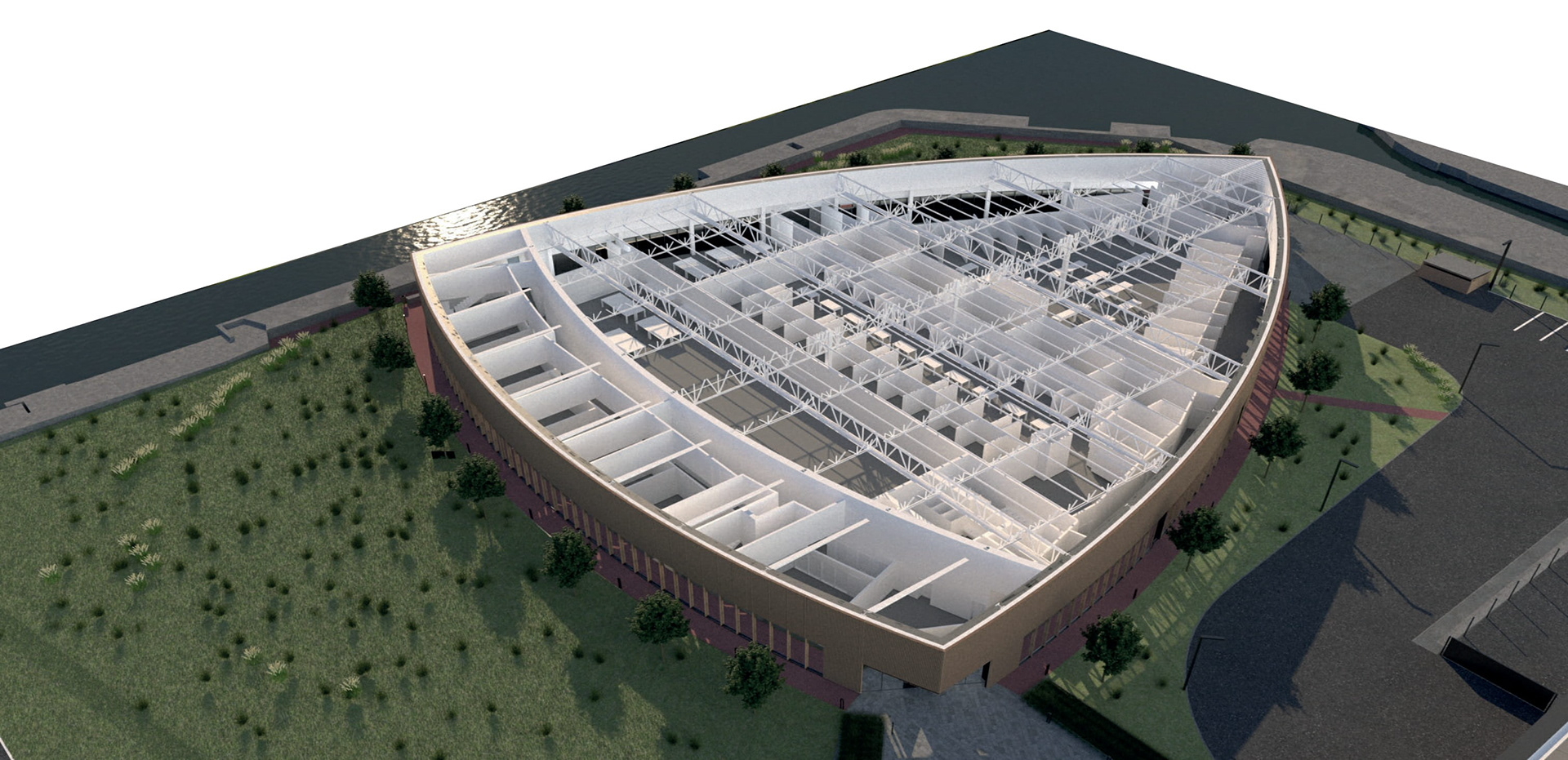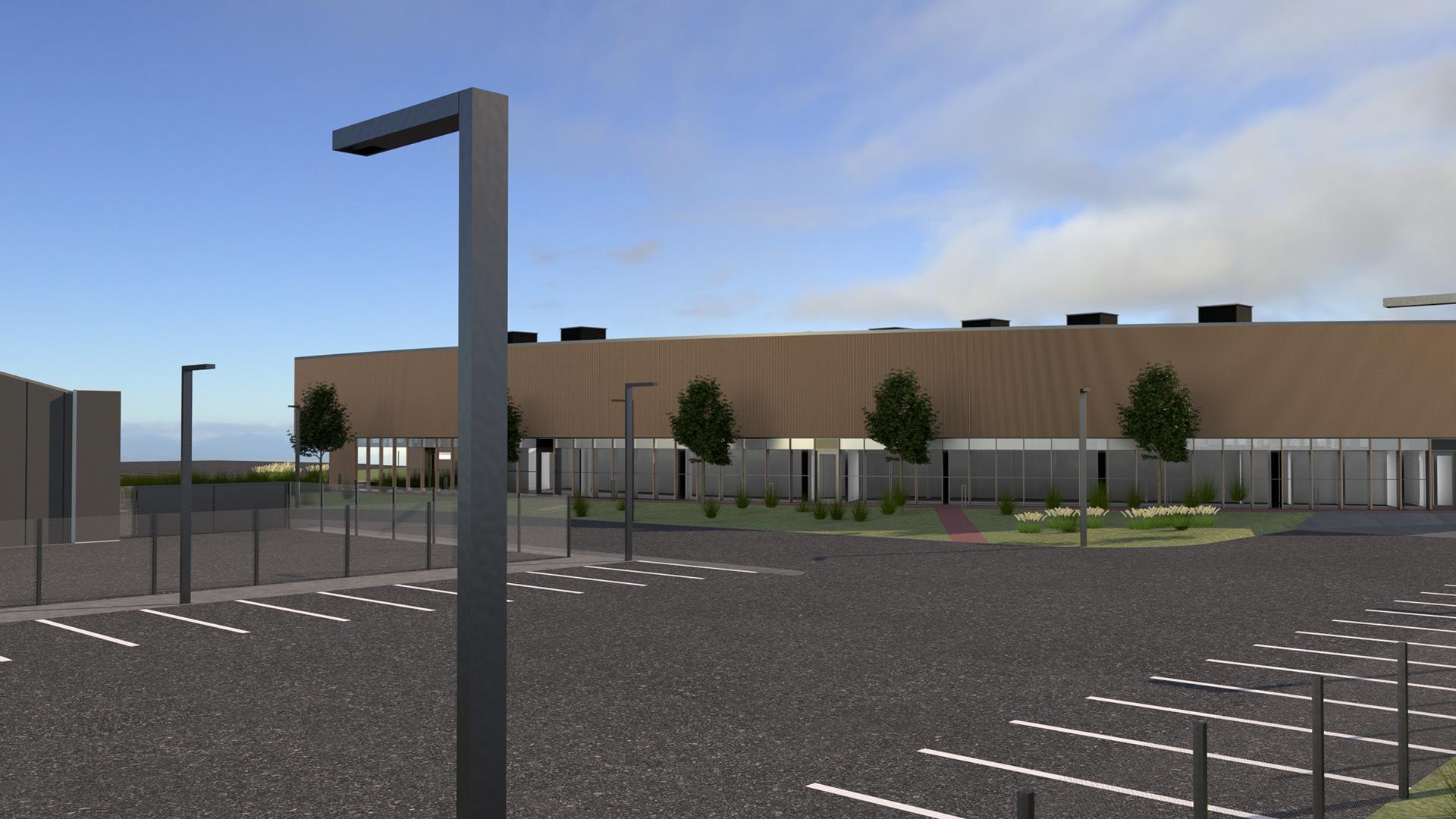 Power, data and compressed air services are distributed overhead and brought to floor level bench and equipment with services drops.
Providing none fixed use floor space that allows for specialist equipment and furniture layouts to be rearranged providing highly flexible skills teaching space that can accommodate changing pedagogy requirements through minimal intervention.
The low energy solution is optimised through:
- Consideration of the building form
- Site orientation, maximising day light to the interiors
- Control of solar gain through considered glazing design
- Use of solar gain heat sinks
- Right amount of glazing
- High levels of building envelope insulation
- Passive wind driven ventilation
- Silva-cell tree Irrigation & SUDS retention scheme
Delivering a highly sustainable low energy use building.
The building orientation is prominent across the headland to the grand union canal  developing an imposing stance to the building upon approach.
The hard landscaping includes for a new vehicular approach road and separated pedestrian paving.
A 30 car, carpark, complete with electric car charging points and a deliveries drop off area including a skip bay and crusher, paladin bin store is provided.
Secure cycle parking is located close to the building entrance. External LED dark sky lighting scheme is provided to approaches, car park and paths.
The South West elevation overlooks the canal side made fully accessible by the orbital paving around the building.
The space between the canal wall and building is landscaped with a mixture of ornamental scale trees and combination of long grass, mown grass with wild flower mix planting to encourage bio diversity. An area of bog garden with wet land plants enhances canal side biodiversity.
To encourage use of the canal edge landscape seating and tables are provided.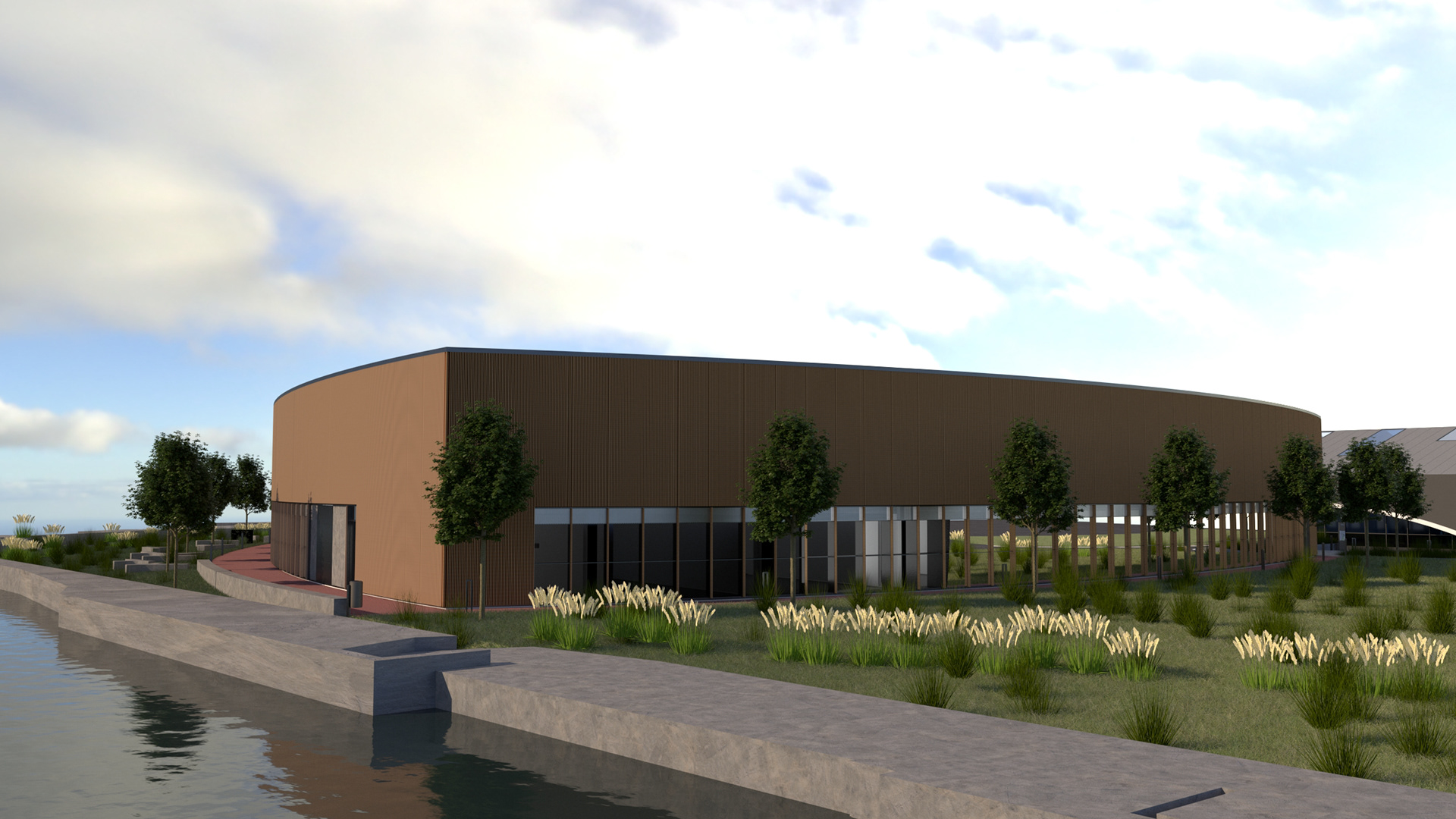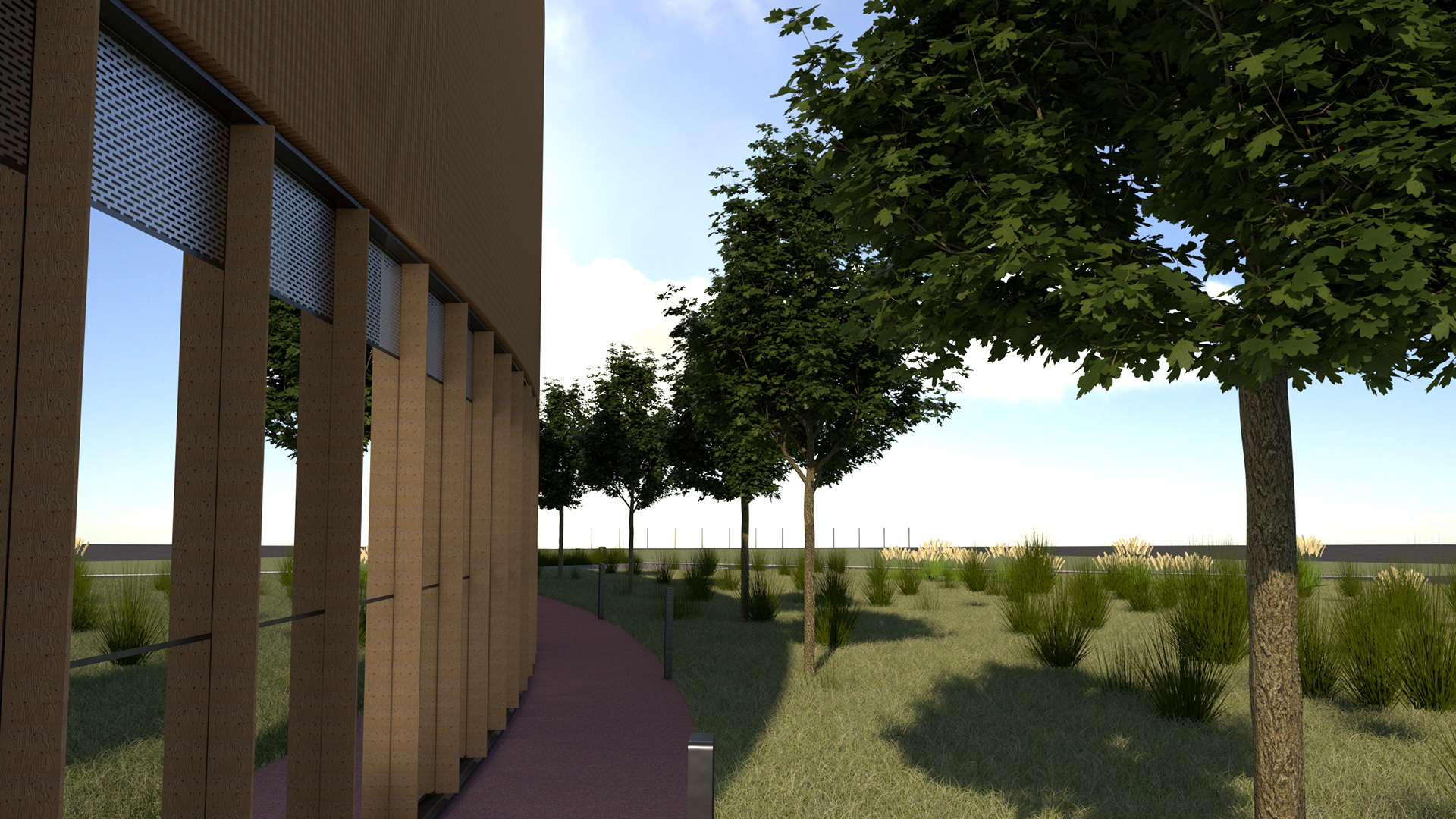 Ornamental trees around the building enhance the green spaces and provide bird and insect habitats and provide natural solar shading to the glazed elevations.
The ornamental shading trees utilise some of the surface water through use of a silva-cell linked root irrigation and ground water retention system as part of the SUDS solution.