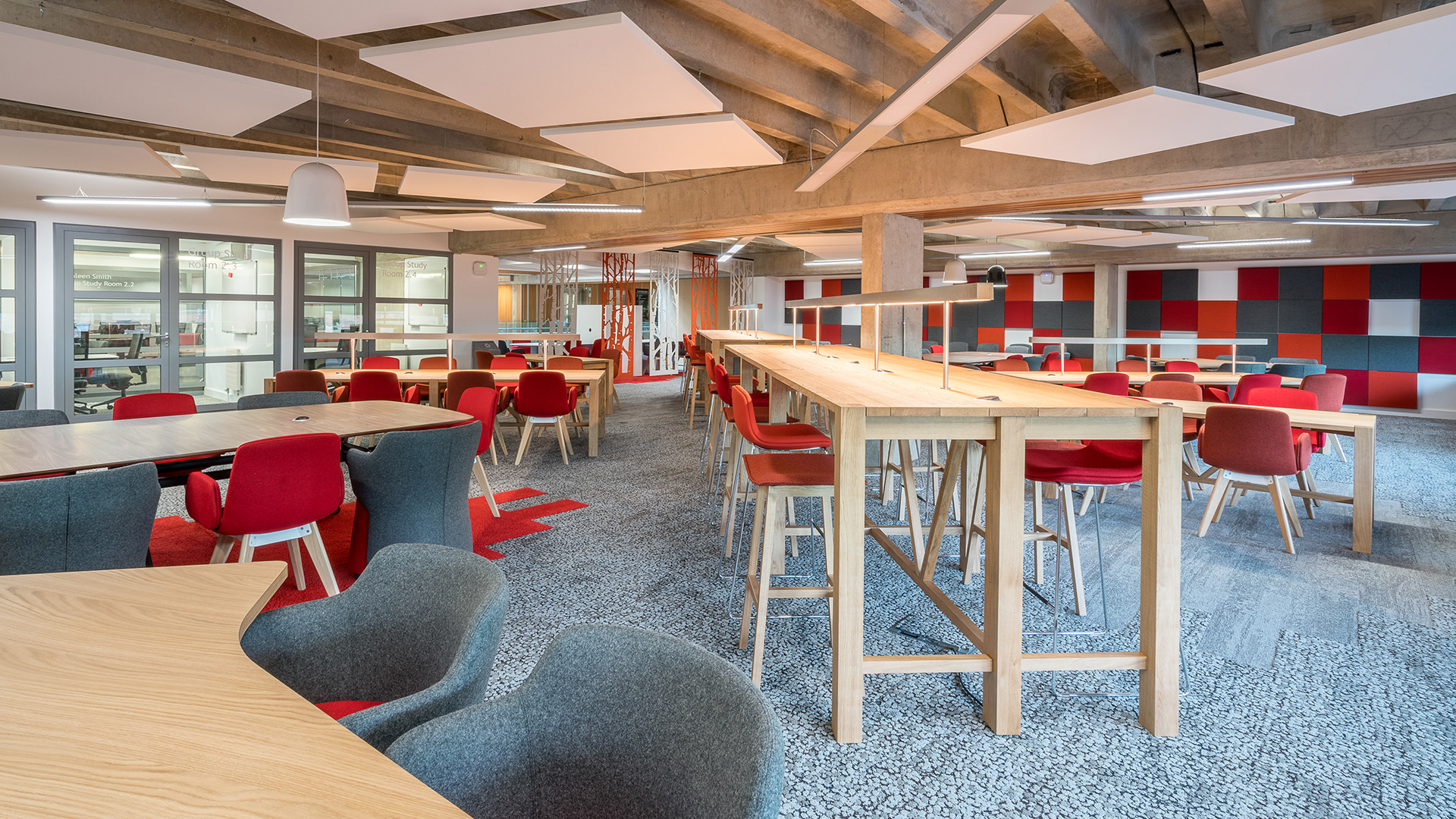 A key challenge facing higher education institutions is how to provide an active and engaging learning environment for the millennial generation of students to develop their skills for work in a rapidly changing environment. 
Typically, these students expect to be digitally connected 24/7, having real-time access to truly global learning resources through mobile devices and web based presentation and social media interaction and communication. 
The challenge facing higher education providers is how to create active and engaging learning environments within existing education buildings and infrastructure. To assist in developing leaning activity and skill sets that work alongside teacher-led learning and instruction. 
In considering this, the client brief explores the challenges of pedagogy, design and the opportunities available in both pedagogy and design to create new collaborative learning environments, activities and spaces within the existing David Wilson Library building.
The interior solutions developed include re-planning of three floors of the library, the renewal of lighting through out and power and data connectivity. The interiors are developed to be engaging and flexible, maximising use by the widest learner and staff audience.
Design for Collaborative Learning
Consideration is given to the development of group learning activities and also the individual learner. 
'Learning Room Types' are developed in the open plan floor areas. These comprise of furniture table and seating arrangements and flexible screens, and the purposed interior design. This includes consideration of comfort conditions, lighting and task lighting, acoustic control, finishes and colour. Shaping the ''Room Type'' levels of interaction and division in a flexible way that is controlled by the user. 
The purpose developed floor plans comprise of a combination of room type learning environments to include:
- Individual learner in a group environment
-  Formal collaborative group learning
-  Informal collaborative group learning
-  Task group problem solving and presentation
-  White board ideas walls
-  Space for social interaction and informal sharing of ideas
All learning groups and individuals have the ability to connect through mobile devices to the internet through WIFI connection. 
Specific direct plug in and display screens are provided to group tables for team problem solving and formulation of results and presentation. These tables allow for multiple plug in and interaction by the group on fixed display screens. 
White board writing walls are provided for early stage thinking that enable formal and informal groups to mingle and develop ideas through constructed learning sessions or informal discussions. 
Different types of seating and tables of differing heights are set out into room groups developing the defined learning room spaces, divided by mobile hanging screens, arranged to divide or disappear dependant on the users need. 
Through this, the needs of individual learners, formal and informal learner groups are met. 
Social space formed with soft seating lounges are provided promoting the informal sharing of ideas outside of the learning room environments. The physical internet.
Quiet room spaces are developed for individual learners sub divided from the main hubbub through strategic positioning and deployment of screening. Acoustic control baffle ceilings and task lighting, combine to effect a quiet room ambience, triggering a sensory response to the quiet room areas when entering the space off the main floor. 
Formal seminar rooms are provided with interactive screen teaching wall and furnished with 'Node' chairs that can be wheeled whilst seated and include writing tablets, avoiding the need for fixed tables. This approach to furnishing provides for both formal teaching and expansion of the informal group learning activities when the rooms are not in timetabled use. 
The seminar rooms can be simply rearranged for group learning or formal lectures by the user groups without the need for prior setting up. The lighting and plug in facilities are developed to maximise flexibility in the use options of these rooms. 
The collaborative learning floors redevelop the library for 21st century learning requirements, developing the widest response to meet the needs of the millennial student. Delivering attractive, comfortable, flexible learning solutions within the context of the existing library resource and environment